The Geodynamics division of the European Geosciences Union is looking for a new Early Career Scientist representative (ECS Rep)! Our current ECS Rep (Anna Gülcher) will be stepping down at the EGU General Assembly 2022, which means that the amazing opportunity is open for you to take on this role! In this blog, Anna talks about the tasks involved in being an ECS Rep, the advantages of taking on this role, and encourages everyone interested to contact her!
What is an Early Career Scientist (ECS) representative?
Early career scientists (ECS) make up a significant proportion of the EGU membership and it's important that their voices get heard. To make sure that happens, each division appoints an early career scientists representative: the vital link between the Union and the ECS membership.
EGU has 22 scientific divisions, of which Geodynamics (GD) is one. Every division has a president (ours is prof. Jeroen van Hunen, Durham University), a team of scientific officers, an excellent blog team, social media managers, and an ECS representative.
What does an ECS representative do?
There are several playgrounds where the ECS-representative is active:
Communicate with the GD division president and the whole GD team
Participate in the EGU-wide meetings between ECS representatives of all divisions. All ECS representatives within EGU meet virtually ~bi-monthly and in person at the General Assembly. During these meetings, issues such as future initiatives, how to get more of the ECS membership involved with the Union, and how ECS activities can be improved, are discussed. There are also discussions on new ideas, recommendations, questionnaire results, short-course organisation and much more!
Provide, and engage in, ECS opportunities such as networking events
Engage with other scientists and motivate them to contribute to the GD program
Collect content and contribute to the GD outreach, such as the blog and social media (optionally)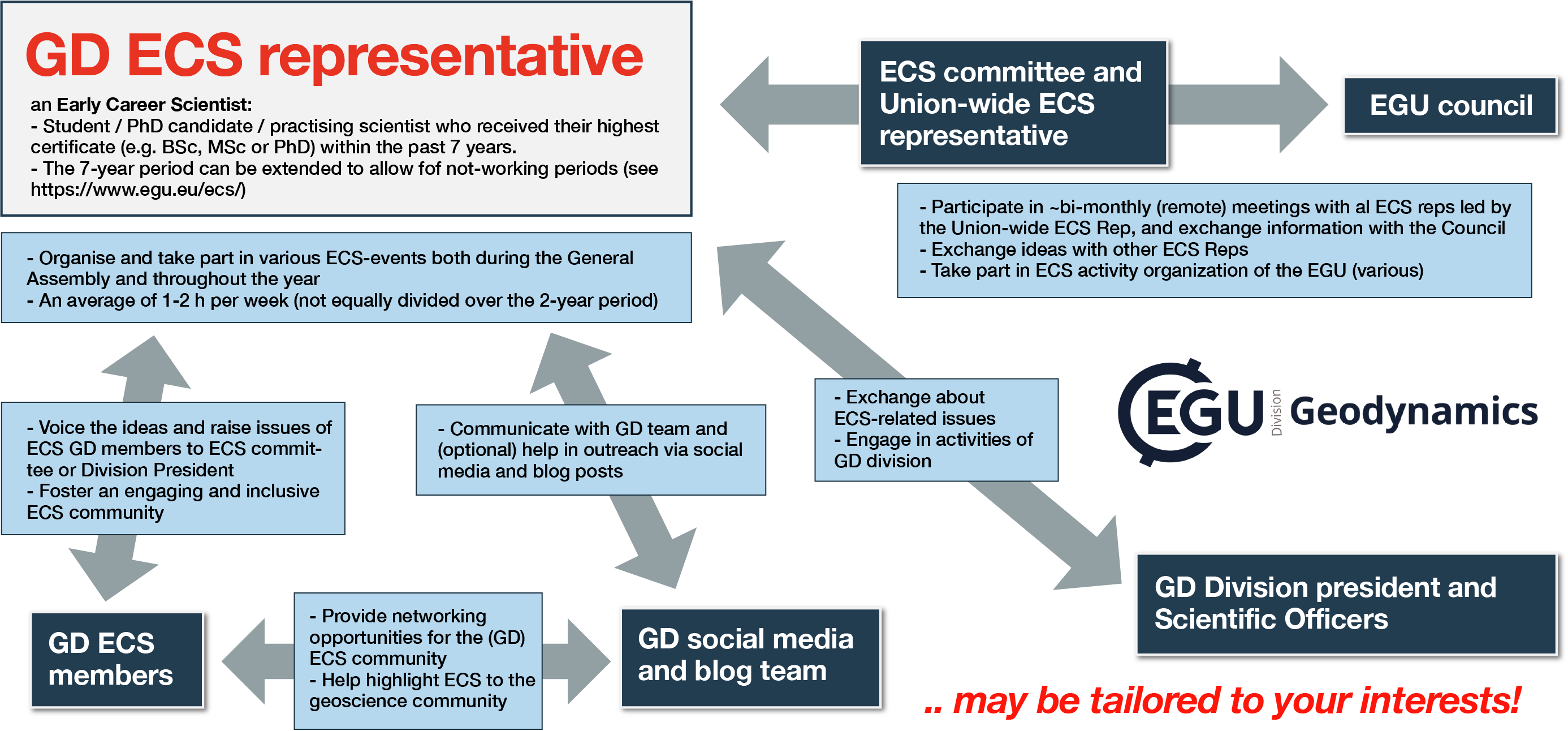 Importantly, within GD, the ECS representative can take on tasks according to their areas of interest!
Why become an ECS representative?
Being the ECS rep for an EGU division is a great experience. You have opportunities to interact with scientists from all over the world, including those outside your own scientific discipline! Apart from the many networking advantages, being an early career scientists representative is a great opportunity to build on your communications/organisation skills and boost your CV! Being an ECS rep also gives a look into the operations of EGU and may open many exciting opportunities to go further into science outreach, communication, and or management! How cool is it that you can influence the activities of Europe's largest geoscientific association!? Finally, GD has a wonderful ECS committee and it is very rewarding to work with this amazing and enthusiastic team!
If you are looking for an opportunity to become more involved in the Geodynamic division and with the Union, this is your chance!
Interested or want to know more? Get in touch!
The ECS representative position is open to anyone who:
is in the early stages of their career (Master student, PhD candidate, post-doc)
is willing to provide guidance, support, and leadership to the community of early career scientists in Geodynamics
wants to form connections and build their communication/organisation skills
If you want to know more about the position, please contact the current ECS Rep and ask any questions you may have. If you'd like to apply, please send your CV and a paragraph expressing your motivation to Anna Gülcher by 31st January 2022 (we encourage anyone to apply as soon as possible). We look forward to hearing from you!
You can find more general information here: https://www.egu.eu/ecs/get-involved/.