If you want to be a blog editor about natural hazards… This post is for you!
The EGU Natural Hazards Division Blog Editorial Team is looking for new motivated blog editors to join our interdisciplinary and inclusive team. Now you are wondering why you should join us. There are plenty of good reasons, indeed. In this blog post, we will do our best to convince you that becoming part of our editorial team will be a very satisfying and enjoyable experience.. and we will do it by listing all (or at least the main) "reasons why". 
P.S. If you wanna join… just send an email to

ecs-nh@egu.eu

. 
Reason 1. You can be part of an inclusive and motivated team 
Our editorial team creates a safe environment to share ideas, test and improve your skills. We are a team of seven early career scientists from six different countries with very diverse backgrounds in the natural hazards field, spanning from volcanology to climatology, passing through disaster risk management, resilience, landslide monitoring, wildfires, and paleoseismology. Diversity is the keyword!
People with more experience are always welcome to tip off first-time colleagues, and we support each other by providing an internal peer review of all the articles we publish. This is not only a way to support, but also to improve the quality of our posts.
Reason 2. You can write without restrictions
Scientific writing does not always rhyme with creativity. Peer-reviewed articles usually need to follow specific templates, and writing about science can sometimes become a bit… boring! Scientific blogging, on the other hand, leaves much more freedom and space for creativity.
"I love being creative and scientific blogging allows me to express myself in many ways. There aren't so many restrictions as in academic writing, and I get to decide how I wish to talk about a topic, who to interview, and what perspective I want to give to my article. Writing about science in your own way is fun." Mina Voskaki, Editor-in-chief 
The formats can be the most diverse: interviews, insights on specific topics related to the natural hazards field, and reports of the main outcomes from key scientific conferences, to mention some of them. 
Reason 3. You can reach your audience
People will read you! Our blog is visited every year by more than 26,000 people and every year we publish around 25 posts on average.
"The most fulfilling moment since I joined the editorial team was a few months ago. I was attending a conference in London, and I noticed someone was reading one of my posts. What an incredible feeling!"  Mina Voskaki, Editor-in-chief
Writing a blog can become a way to present your work. As more people become aware of your research, it has the potential to support new collaborations, allowing you to build your network.
Reason 4. You can have an impact outside of academia
"I like to write not only about natural hazards but also about some cross-cutting topics in geoscience that can make a difference, such as gender balance or EDI. It is also an opportunity to document more about these aspects that are becoming more and more crucial to ensure equal access to natural hazards knowledge and education." Silvia De Angeli, Blog Editor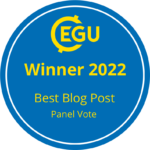 Our blog does not only cover scientific-related topics. Among the most read posts of 2022, there are two contributions addressing the issues of equity, diversity, and inclusion in geoscience: "This is a man's world" – Challenges in being women in science, and Breaking the glass ceiling in diversity, equity, and inclusion in geosciences. This last post by Shreya Arora, which reports an inspiring interview with Dr. Kuheli Dutt, Assistant Dean for DEI at the Massachusetts Institute of Technology (MIT), has received an award as "Best Blog Post of 2022 – Panel Vote" by the European Geoscience Union. We are proud of this achievement!
"Being an editor for EGU Natural Hazard Division for more than 3 years and being part of the EGU community now has been an extraordinary journey. Writing blogs and interviewing experts have offered me great insights into the burning issues in and outside academia. One of my blogs was awarded the Best Blog Post of 2022 – Panel Vote. I believe the  EGU NH blog offers a great platform to disseminate scientific results to wider audiences and bridge the gap between the scientific world and policymakers." Shreya Arora, Blog Editor
Reason 5. You can develop soft skills to enrich your CV 
Have you heard about soft skills? They consist of a combination of people, social, and communication skills, character traits, attitudes, and mindsets, as well as social and emotional characteristics, among others, which are sought in all professions. They are essential to complete your CV. Communication is one of the most appreciated soft skills when looking for a job, and writing a blog would definitely improve it! 
"My first post was in 2020 about an extreme rainfall event that triggered disasters in the region where I grew up in Brazil. Unpretentiously, and with much fear of being so exposed, my post was released, and months later it was featured by PreventionWeb of UNDRR, which is the United Nations Office for Disaster Risk Reduction. Being part of the blog editorial board was also highly appreciated by recruiters as a testament to my communication skills in job interviews. Therefore, besides being very rewarding to contribute to science communication, it is an opportunity to be sharp with developing various skills that will contribute to your career and networking." Paulo Hader, Blog Editor
Is this for you?
We actively seek beautiful minds to join our editorial team to contribute with new and original ideas. Would you like to determine if this is for you? Write about a natural hazard-related topic you are passionate about (for example, your research topic, a paper you enjoyed reading, an exciting project you worked on, or an initiative) and send it to us. Your post will go through our editing process, and we will publish it as a guest author contribution. If you enjoy the process, you can join the regular editorial team. The commitment is voluntary, and we are flexible enough in the planning to make this work for everyone in the team. 
Would you be interested in giving this a try? All it takes is a bit of inspiration… and to send an email to ecs-nh@egu.eu 😉