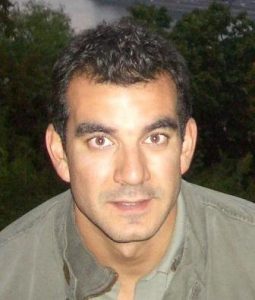 Today I have the pleasure to interview Dr. Evangelos Tziritis, a brilliant scientist and a friend. He will talk to us about Natural groundwater quality hazard and its implications. This blog aim is to discuss Natural Hazards. Therefore, today we will focus on the natural component of water quality, disregarding anthropogenic sources. 
Evangelos is a Research Scientist at the Soil and Water Resources Institute of the Hellenic Agricultural Organization "Demeter". His main research domain is focused on environmental hydrogeochemistry, as well as on other aspects including hydrogeology, aquifer vulnerability, geostatistics, isotope hydrology, water resources management, and environmental monitoring of water reserves. His record of achievements includes more than 10 years of experience in geo-environmental projects of basic and applied research in liaison with private firms, stakeholders, and academia. He has published more than 50 scientific papers in peer-reviewed journals and international conferences.
Today we are going to talk about Natural Groundwater Quality Hazards. What can you tell us about it? How would you define the Natural Groundwater Quality Hazards?
Natural groundwater quality hazards are defined as the natural factors that adversely influence the environmental quality of aquifer systems. In contrast to anthropogenic factors which are purely man-induced (e.g. agricultural or industrial impacts, domestic sewage and wastes, seawater intrusion due to overexploitation, etc), the natural causes are triggered solely by geogenic factors, such as the weathering of geological formations; the impact of diagenetic processes; the influence of geothermal fields, etc.
Groundwater quality is dynamically affected by external (e.g. precipitation) and internal (e.g. lithology) factors, which may alter the initial, potentially pristine, chemical composition of the solution.  Groundwater moving through rocks and soils may pick up a wide range of inorganic compounds including major and minor ions, heavy metals and metalloids, some of which are toxic in certain concentrations (e.g. Cadmium, Selenium, Arsenic, Copper, Boron, Lead, etc). It should be noted that natural hazards define along with other characteristics the hydrogeochemical background on an aquifer system, thus they are not related to contamination (defined as the deviation of the natural background values of a constitute) but rather to a relative enrichment of specific chemical constitutes, which depending on their overall concentrations and unique attributes (e.g. toxicity, bioavailability, etc) may be detrimental to natural and anthropogenic environment.