Today we will shed some light on permafrost thanks to Dr. Dmitry (Dima) Streletskiy.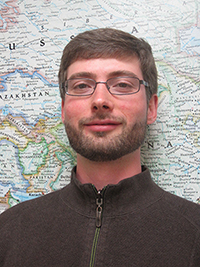 Dima is an Assistant Professor of Geography and International Affairs at the George Washington University. He leads several research grants focusing on various aspects of climate change and its impacts on natural and human systems in the Arctic. Streletskiy is the President Elect of the United Sates Permafrost Association and the Chair of Global Terrestrial Network for Permafrost.
If you want to see some videos on the topic, feel free to check the following links:
Video on youtube from Siberia field class on permafrost and urban sustainability: https://youtu.be/ZlblSd4g4gE
Video on youtube from Alaska field work https://www.youtube.com/watch?v=LqYcOiCQOGk
Dima has also agreed on sharing some pictures collected during his research. So, if you are curious, just scroll to the bottom of the interview and enjoy the view!
Hello Dima, could you please briefly define what permafrost is for our audience?
Permafrost plays an important role in global climate change, functioning of arctic ecosystems, and human activities in the cold regions. Permafrost is soil, rock, and any other subsurface earth material that exists at or below 0°C throughout at least two consecutive years, usually for decades up to millennia. Permafrost stands for perennially frozen ground ("existing more than two years"), not permanently frozen.  I think that this is one of the major popular misconceptions about permafrost. Permafrost is not permanent and is a rather dynamic phenomenon, which makes it increasingly relevant in the context of natural hazards. Even more dynamic, is the active layer, the layer overlying the permafrost, which thaws during the summer and refreezes the following winter affecting many biological and hydrological processes in permafrost regions.