Last year, we left you with an inspiring post about scientific blogging, where Giulia Roder, one of the authors of the EGU-NH blog, shared her 'blogging survival kit'. Today we continue the series of EGU WEBINARS: Digitalk: online (geo)science communication exploring 'the best vlogging recipe' with Iris van Zelst, a researcher at the German Aerospace Center with a great passion for geoscience communication and creator of the "Science Sisters" interview series on YouTube. 
YouTube is the most popular social media service on the web and somehow shifted the traditional idea that science communication was for professional communicators: viewers moved from passive consumers to active communicators, allowing scientists (and passionate amateurs) to enter this 'digiworld'.
Vlogging is a form of blog for which the medium is video. Since the content of a blog can be whatever you can write (a story, a review, or an interview, for example), also a vlog (or video blog) content can be anything you can tell in a video. Do not imagine vlogging as a person talking alone in front of a camera.  It's just about being creative! For Iris, vlogging means youtubing. Indeed, she recommends opening a YouTube channel as a first step to approach vlogging. But remember that one is not born a Youtuber. To do so, you need a plan, and for this reason, Iris is offering you the easiest and most effective 'recipe' to start your vlog. 
Recipe settings
Before starting, you need to work out a (basic) plan. First of all, you have to define your goal and put pen to paper on the main reasons behind your choice to make vlogging, whether to entertain people, sketch what the life of a researcher is like, or start an honest conversation about academia. Second, you need to set your target audience. Are you talking to the general public or your peers? Your choice will also reflect in the video's layout: you can decide to be the only focus of the video, or share the screen with a peer and develop the video in the form of an interview. Once you have done these preliminary settings, you will be ready to get into the recipe's core. 
Just start! But start with the right reasons, because if you are developing it for fame or money, you probably would fail it quickly and lose interest at the same rate, abandoning your project.
Iris imperatively says: "just start! But start with the right reasons, because if you are developing it for fame or money, you probably would fail it quickly and lose interest at the same rate, abandoning your project". Your enthusiasm is the driver, and yes, you should consider losing money at the beginning. Iris adds that learning new skills and having a creative outlet really motivated her because "the first 50 videos you will produce will be crap, but you can get the most of them while you persevere in this direction". Of course, you may ask yourself which kind of ingredients (equipment) you need to use; well, they are optional as soon as you are eager to have them for other scopes. A phone camera and a microphone are enough. But, please, be sure to have a high-quality mic, "because people's ears are much more easily offended than their eyes", reminds Iris!
The first 50 videos you will produce will be crap, but you can get the most of them while you persevere in this direction.
List of ingredients  (Pre-Production)
Are we really ready to start? Pre-production is the first obstacle to overcome. A successful recipe requires a selection of fresh and high-quality ingredients, and the same applies to vlogging. Here is the list of key ingredients to grab:
The idea. Nothing can be done without an idea. Be creative and do not put any limit on your imagination.
Reach out to collaborators. Even if you feel not brave enough, even if you feel rejected, Iris reminds us that fortune favours the bold.

So, don't be afraid and contact anyone you would like to engage.

Write the script. The script reports the text of your video but also includes the sequence of the camera shots and angles you have to set to perform the video you have in mind. Iris suggests having a Slack channel with yourself to save your ideas and procedures, and keep an eye on previous published/written material (to 'recycle' some good ideas, or just be inspired).
Prepare costumes & props. It may seem useless, but you can track, as a checklist, all steps and the scenes are readily available before filming. 
Making the cake (Production)
All the ingredients are there. And you are ready to get your hands dirty. Let's make the cake!
Set up your camera and microphone.

Sometimes, to ensure high-quality recordings, it is better to record video and audio separately and merge them in post-processing, as in the case of a music video.
Once you have that,

film the video

from multiple angles, costumes, and takes (in case you screw it up!). Use a little remote control to start to record remotely, but remember to hide it up from the video.
Don't forget to garnish (Post-Production)
To cook like a professional chef, you need to understand the importance of food presentation. Nothing completes a delicious meal without appropriate garnish choices. Indeed, effective post-production is the way for a professional result. 
Video editing takes the longest, but it is where you create the most of the video. Here, you will definitely:
Cut the different takes and put them together

Cut out mistakes

Make it pretty: boost the colours, polish the sounds, add background music, insert objects or text

Add an end screen
If you are lost among the different available video editing software, Iris is coming to your rescue. She says: iMovie! If you are a Mac user you are lucky because iMovie comes for free. The cons? Well, it does not do all the things you are looking for, and you may end up frustrated, but you need to start with something accessible and easy-going before understanding your needs. 
Then you use a thumbnail to catch the eye of the observer on your YouTube content. Thumbnails play a huge role in making people click on your video. According to YouTube, 90% of the best-performing videos have custom thumbnails. Online you can find a lot of tutorials on how to create eye-catching YouTube thumbnails.
Cooking Time
Vlogging once a week permits a good turnaround and keeps a good following by your network. However, no one says how long it takes from grabbing the ingredients to obtain the final garnished cake (for the whole pre-processing, processing, and post-processing). Writing the script is quite rapid, Iris says. Filming takes approximately 30 mins to 2 hours depending on the style of the video (pssst…! interviews take the longest time). The nightmare starts with the Post-Production phase because it may take days for very few minutes of vlogging, especially at the beginning.
Don't miss out on the next post of the 'geoscience communication series'. We will explore social media communication with Roberto Guardo, understanding the main differences among Facebook, Twitter, YouTube and Twitch.
About Iris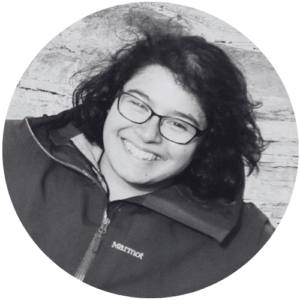 Iris van Zelst is a postdoc at the German Aerospace Center, in Berlin, where she studies the evolution of Venus. She is an active member of the Geodynamics division at EGU, where she is the editor-in-chief of the blog. At the beginning of 2021, she started a youtube channel to shed light on postdocs life. Thanks to her "Science Sisters" interview series on youtube, she recently won the AGU Sharing Science grant. Besides, she has won the 2021 EGU Public Engagement grant to develop an educational card game about the geological time scale. To discover her YouTube channel, just click here!
Post written by: Silvia De Angeli and Giulia Roder
Post edited by: Valeria Cigala and Gabriele Amato