Today I got the chance to grab a coffee with Mr Fujitsuka, an ex-officer of the Ministry of Environment of Japan in charge of disaster preparedness, management and recovery. The reason why I decided to interview Mr Fujitsuka is that he helped in first person to manage the recovery process during Typhoon Hagibis that paralyzed the eastern coast of Japan on the first week of October. But, before exploring the disaster aftermath, it is necessary to draw a complete picture of the meteorology of Typhoon Hagibis. Hagibis was a powerful tropical cyclone, considered by the media as one of the most devastating typhoons to hit the Kantō region since Ida[1] in 1958. During Ida, Fujitsuka remembers his wife's parents saying "nemiminimizu" that literally means when you sleep suddenly water comes until the ears level, so something unexpected and of big magnitude.
The nineteenth named storm of the 2019 Pacific typhoon season, Hagibis, developed from a tropical wave located 320 km north of the Marshall Islands on October 2nd. After five days of rapid intensification, the storm exploded on October 7th, with 10-minute sustained winds of 195 km/h maintaining this intensity for 72 hours. After passing the Mariana Islands, Hagibis began an eyewall replacement cycle, which caused the rapid intensification phase to end, making landfall at Izu Peninsula as a category-2-typhoon. This rapid speed of onset and intensification phases made it quite unpredictable and preparedness was difficult to be managed properly, "causing some extreme alarmism on the population" Fujitsuka add. The Japan Meteorological Agency observed said a record-breaking heavy rain of 1,000 mm in Hakone-machi, southwestern part of Kanagawa prefecture, and 500 mm at 17 locations in Kanto-Koshin region and Shizuoka prefecture. About half an hour before Hagibis made landfall, a magnitude 5.7 earthquake occurred off the coast of Chiba Prefecture, and a tornado struck Ichihara City, which killed one person and left two people injured. Three disasters coincidently stroke the east coast of Japan during the same day.
Early warning and preparedness were quite effective. The Japan Meteorological Agency was able to provide technical assistance to support preparedness in the face of the rapid development of Hagibis (and generally of all cyclones) using real-time data from the Himawari-8 satellite. Hourly updates were released, updating trajectory, velocity and inundation/landslide risk maps on their website.
Emergency services were operating promptly providing 800,000 evacuation orders across 11 prefectures and advising over 230,000 people to head to evacuation shelters. However, "some people were reluctant to evacuate", Fujitsuka says, that made the preparedness phase more difficult to manage. The remaining population have been ordered to remain inside one's own house protecting windows and external properties. Tokyo shelves were quickly cleared and the city was literally empty after 12 am when the major train connection have suspended their operations. Shop windows were also sealed. Emergency communication was delivered in multiple languages (by twitter and meteo apps) that permitted everyone to be prepared for the 'unprepared' and an emergency free WI-FI was activated. The Government held a disaster management meeting among officials from ministries and agencies being concerned for personnel dispatch and securing emergency power sources in the event of outages. "Japan is well prepared for evacuations" says Fujitsuka. He continues explaining that in Japan is the second country in the world for the number of rescue helicopter after the United States of America. Risk culture is very much integrated into the nations' education. In fact, there are several events throughout the year, e.g. may is the month for flood protection in which not only school attend some trainings and special lectures, but in which also officials and technicians do monitoring reports and allocate investments. September 1th instead is Disaster Prevention Day. This day commemorates the 1923 Great Kantō earthquake and is a day on which disaster preparations are taken nationwide, especially in the Kantō region.
Back to typhoon Hagibis, the consequences were tremendous. The typhoon triggered heavy flooding (some agencies estimated 300 rivers overflows in Japan), with 270,000 of homes lacking power. Around 25,000 hectares of land were flooded and triggered more than 850 of landslides and mudflows. Ten trains of the Hokuriku Shinkansen Line in Nagano City were inundated by floodwaters, leading to a loss of USD 300 million. Ninety-five people have been confirmed dead, and several others went missing. Several international sport events have been cancelled or postponed (the Japanese Grand Prix and three world cup rugby matches), giving a lot of media coverage throughout the world.
The country was still recovering from the impacts of Typhoon Faxai, that struck the same region one month before, where three people were killed, and 346 others were injured. More than 390,000 people were urged to be evacuated, leaving almost 1 million households without power and a total damage estimated to be USD 8.10 billion.
After the Second World War, the Japanese government has invested a lot in hard and soft countermeasures, enlarging the rate of "success" in the recovery process, Fujitsuka reminds. However, people still neglect to evacuate and delegate their safety to the authorities in charge. The recovery process in which Fujitsuka has been involved was the waste management. Volunteers, municipalities' officers and Self-Defense Forces personnel worked nights and days for cleaning up the disrupted areas. One public agency declared to have removed more than 86,000 tons of waste dated back to November 2nd just in the prefectures of Miyagi, Fukushima, Nagano and Ibaraki. Overall, it has been surpassed the 2 million tons of waste. When speaking about disaster waste, it is meant bedding, furniture, vegetation, road installations, etc. The most difficult part of the waste removal, recall Fujitsuka, is the selection of temporary storage sites and then the definitive removal (it is expected to take several years to dispose). The waste disposal has been difficult to manage due to the malfunction of several garbage incineration plants that suffered after being flooded by the typhoon. Nearby municipality accepted promptly to collect, store and burn typhoon waste (e.g. Toyama Prefecture). Generally, the debris produced is of ease decay, possibly causing infection outbreak, posing significant obstacles to recovery efforts.
Many volunteer agencies and cooperatives quickly mobilized to contribute to recovery efforts, such as the Japan Co-operative Alliance that examined the state of damage to help flood victims. Likewise, consumer cooperatives actively took action distributing relief supplies (e.g. drinking water, food, powdered milk, sanitary products, plastic sheets to cover damaged roofs and other essentials to various locations) and helped local producers to sell their products. Financial co-ops offered mobilized loans to help people rebuild houses and livelihoods and allowed withdrawal of deposits without the presentation of passbooks and seals. The insurance business helped by making prompt payments to members in need and simplifying procedures for those in affected communities. To give some numbers, 500,000 buildings were damaged by Hagibis (plus the 50,000 by Faxai). However, the uncertainty of estimating the cause of damage made difficult the insurance claim. Some houses have seen disaster from winds and some from flooding (or both).
Several documents and assistance numbers have been created and put in operation to help the recovery of the flood victims. The Disaster Connection Japan Network, an organization comprising some 40 nonprofit and volunteer groups engaged in disaster-relief activities, created the "Recovering From a Flood Disaster" manual (https://blog.canpan.info/shintsuna/) that elucidate residents on the procedures necessary for obtaining public assistance, tips on cleaning flooded homes and contains a list of questions answered by those who have been in the same situation.
Fujitsuka recalls his outstanding career in disaster preparedness and recovery. He was in charge of recovery management during 2011 and 2015 Japan earthquakes with a special rehabilitation commitment in Fukushima. In his long experience, he can say that the occurrence of disasters is not changed; however, the magnitude of those increased. By taking into consideration typhoons occurrence, he is noticing an extension in the typhoon season, also with a related change in the rainy season, both temporally and spatially and an increase in air temperature. "People need to recall past disasters and still learn from them because in the future their impacts can be stronger and stronger" he concluded.
[1] Typhoon Ida was as one of the strongest tropical cyclones on record reaching peak winds of 325 km/h. Ida caused torrential flooding to southeastern Japan, resulting in 1,269 fatalities, over 1,900 mudslides and estimated damage of USD 50 million.
---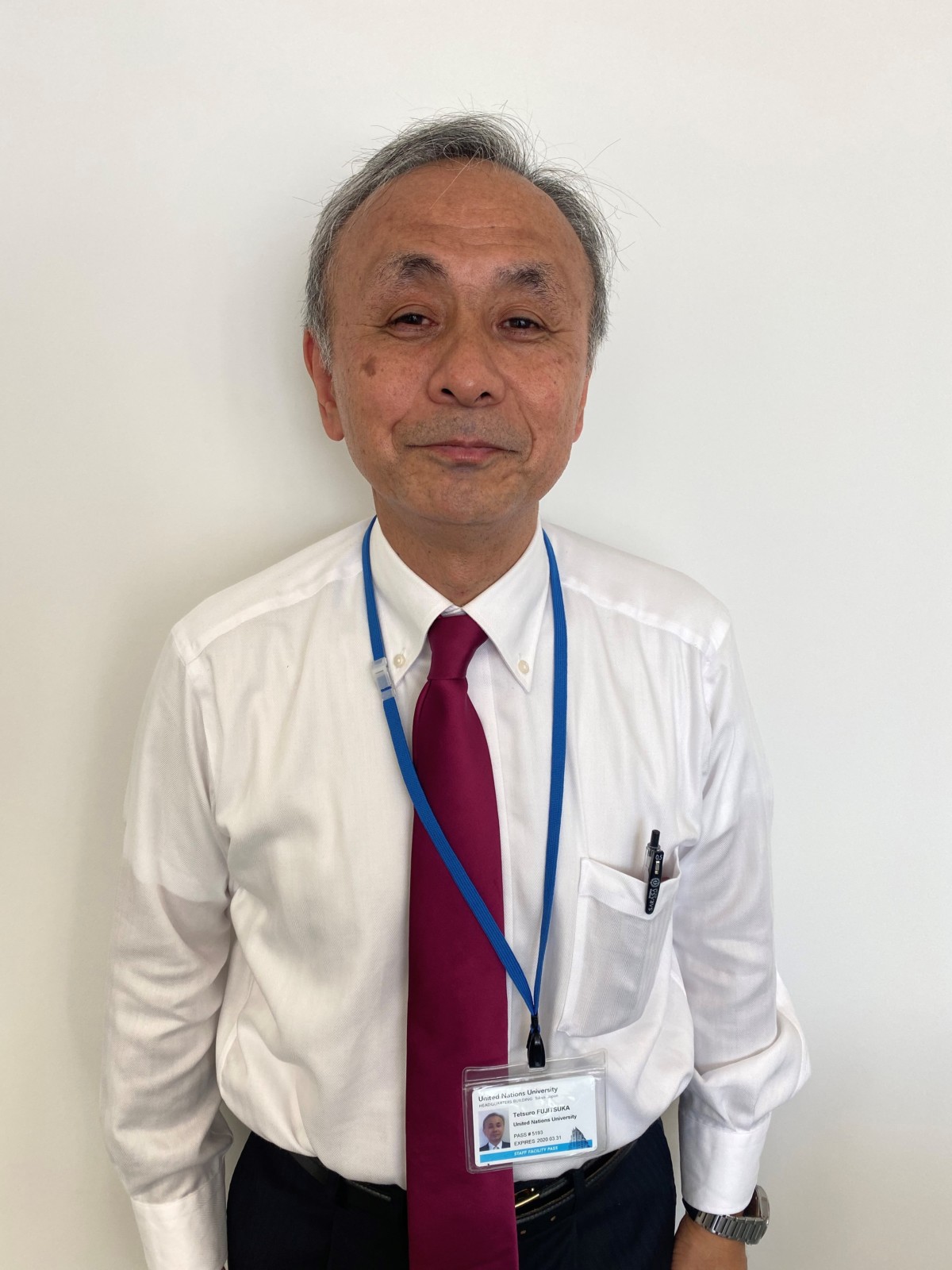 Tetsuro Fujitsuka is a retired official of the Ministry of Environment of Japan with a special role of advisor at the United Nations University, Institute for the Advanced Study of Sustainability (Tokyo, Japan) for the Water for Sustainable Development Project. He graduated on Civil Engineer at the University of Gifu with a thesis related to flood protection structures such as river banks and water flow mechanism in-ground and technologies. Several international commitments have marked his career. First, he joined the Ministry of Constructions of Japan, working on flood control and forecasting, water management and pollution control. Then he joined the Ministry of Foreign Affairs, and lately JICA in Indonesia to continue his commitment on groundwater pollution control and treatment, green purchasing, eco-labelling, environment education and waste management being ad advisor of the Ministry of Environment of Indonesia.
---