Hello and welcome back to the EGU Geodynamics blog in 2021! We are starting the new year of blogging with an exciting announcement: We will have a new monthly feature on the first Monday of the month called 'The PhD Chronicles'. Just pretend today is the first Monday of the month, please. It was right after New Year's Eve, okay? I didn't have time to write this sooner. Actually I did. I wrote it in December. Ha! Okay, on with the show.
Every PhD student encounters the same challenges and successes at some point during their PhD: How do you survive your first conference? How do you publish your first paper? How do you deal with all the feedback on your work? How do you celebrate passing your defence? Etcetera, etcetera. In these monthly posts, a PhD student will share their experiences on one of these commonly encountered situations and provide their unique view on the matter. They can let off some steam, and you – the reader attempting a PhD – will know you are not on this PhD journey alone! And then for all the younger and older folk out there: The sweet innocents among you who have yet to embark on a PhD can get a little peak behind the curtains of what doing a PhD is really like. The old doctors among you can sigh with relief that you have already battled through it, or maybe look back upon your PhD journey with a hint of nostalgia. Or maybe all the trauma comes rushing back to you once you read these posts. I don't know. Proceed with caution.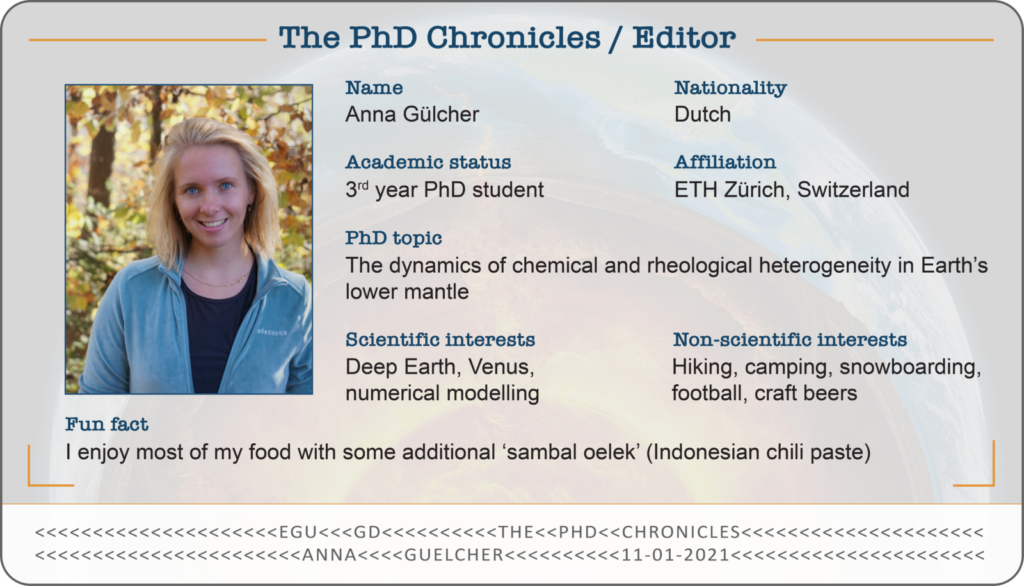 To manage this new feature, one of our regular blog editors, Anna Gülcher, has switched to the dark side and become our very first topical editor, solely in charge of the PhD Chronicles. Anna is a PhD student herself at ETH Zürich and very excited to bring the voices of the PhDs to the Mondays of the blog! If you are a PhD student willing to share your story, don't hesitate to contact Anna.
I am terribly excited about this new addition to the blog and hope you will enjoy it very much in addition to our regular Wednesday blog posts and our Sassy Scientist column on Friday. Happy reading in 2021!