This is not (only) a flood. Inspired by Magritte's painting: 'Ceci n'est pas une pipe'
After an alarming dry winter, the European continent has been enduring weeks of a record-breaking heatwave across the southern regions, while coping with scattered, intense precipitation and flash floods. In Zaragoza (Spain), recent flash floods swiftly transformed the previously dry landscape into raging rivers within a matter of hours. In Italy, an impactful and widespread flood struck Emilia-Romagna right after the second winter drought in two years. Parts of England and Wales also experienced unexpected flash floods in May, despite the looming threat of a drought after an unusually dry winter. Similarly, in the Black Sea region of Turkey, heavy rainfall in March, June, and early July led to destructive floods, landslides, and river overflows. These events occurred shortly after drought warnings in the region, triggered by extensive soil moisture deficit and low water levels in rivers.
So, are we experiencing a drought or a flood? And what is awaiting us in the coming weeks/months?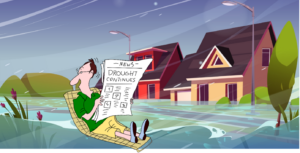 Flooding can happen during a drought, and, in some cases, the drought continues even after the flood. Image edited from Dave Carpenter Cartoon, available at www.CartoonStock.com, licensed under Non-Commercial Web/ Publication
In a warming climate, both floods and droughts are likely to intensify (i.e., increasing in their duration, frequency, and severity). This can increase the likelihood of rapid shifts or overlap between these opposite hydrological extremes.
In some cases, intense heavy rainfall helps the system to recover from drought, albeit at a significant cost due to the accompanying flood damage. For instance, at the beginning of this year, significant riverine and flash floods in California halted a widespread drought, although with devastating impacts that resulted in 5-6 billion dollars of damages. Similarly, the prolonged drought in California from 2012 to 2016 ended in 2017 with one of the wettest years on record, leading also to widespread riverine floods, human casualties, and large impacts on infrastructure.
In other instances, heavy rainfall events alone are not enough to halt drought conditions, and the drought persists despite the occurrence of floods. In Somalia, the Shabelle river broke its banks in the middle of an extreme drought, resulting in increasing drought impacts due to the damage and reduced access to water infrastructure. In central and southern Chile, record rains and riverine floods in late June affected thousands of people during the worst drought in the Chilean history (see here and here).
The recent flood events in Italy, Spain, UK, and Turkey this year may fall into the same category. Despite the occurrence of flash and riverine floods, the Po river level has now returned to low levels, likely due to depleted groundwater storage and little residual snow for this time of the year. Similarly Spain, UK, and Turkey are back to alarming drought conditions.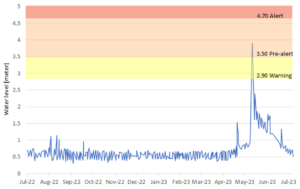 Water level at the Torino Murazzi Po river (source: https://www.agenziapo.it/content/monitoraggio-idrografico-0)
Heavy precipitation can help in the short term, but droughts are long, persistent, and slow processes. 
But what are the lessons learned from the past that we need to take into account for the coming weeks and months ahead?
Past drought-flood events offer three lessons learned for a more resilient future of water resources management in a warming world:
(1) Drought and flood events need to be managed in an integrated way, rather than as separate hazards. In this persistent drought conditions gripping Europe, it is hence crucial to prepare also for floods by developing early warning systems that look at these two events with a unified perspective (see a new call for papers on multi-hazard EWS). The unprecedented heatwave currently grappling southern Europe is not only exacerbating drought conditions but also leading to an increase in water vapor in the air, which has high probability to come down as a deluge at some point.
(2)  We need a deeper scientific understanding of these rapid transitions from droughts to floods (and vice versa, see the PerfectSTORM project): under what conditions do droughts exacerbate the impacts of floods? Can floods facilitate the onset of droughts? Are such transitions increasing in frequency and extent?  Although the hydrological system can recover after heavy rainfall, the impacts of drought can persist and compound with the occurrence of floods. Thus, the interactions between drought and flood are complex, affecting both the hydrological and societal systems and remain until now poorly understood.
(3) Finally, these events open a window of opportunity for the hydrologic community to engage with stakeholders and policy makers to elaborate adaptation strategies that can build resilience in the wake of such cascading processes. Luckily, the International Association of Hydrological Sciences (IAHS) is launching a new decade called HELPING – Hydrology Engaging Local People IN one Global world. This initiative includes working groups on droughts and on floods that could be a perfect venue to build such resilience, bridging the gaps between scientists and practitioners, and between drought and flood science. Are you in?