Have you ever thought about organizing an EGU session instead of just attending them? Until September 14th you have the chance to do just that! 
It can sound a bit intimidating, especially if you've never done it before. But don't worry – here's everything you have to know.  
Find a Topic and Co-Conveners
First off, you need to settle on a topic and find your co-conveners, i.e. the team who co-organizes the session with you before and during the conference.
Has there been a field you've been working in that hasn't seen a lot of exposure at the EGU General Assembly, but would be a perfect fit? Do you already know people who work on similar topics who could be interested in submitting an abstract? 
That's the ticket. But keep in mind: A scientific session should be of broad interest and aim to bring together scientists who are not already linked, e.g. via a European research project.
As for your co-conveners, you can build a team of up to four people with whom to propose your session. These are typically your collaborators or colleagues you know who work in the same field but cover different aspects of the topic and come from diverse institutions.  Brainstorm topic ideas and then work together on a session description. 
Submit Your Session Proposal
Before you submit your proposal, you need to read the convener guidelines. They'll tell you exactly how long a proposal needs to be and what elements it should include. Plus, they'll give you solid insights into the general rules and restrictions, such as the fact that you can't submit an abstract to your own session. 
Once you are ready, you can submit your session proposal via the EGU24 website. Heads up, you and your co-conveners will all need a Copernicus ID!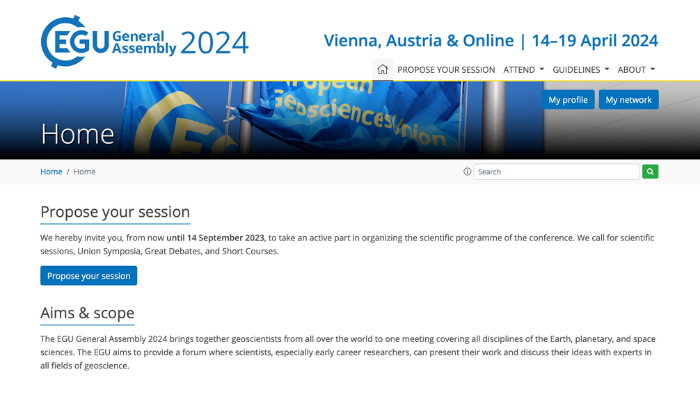 After you're logged in, start the submission process by selecting your session type, then choose the topic sub-group. Next, add details – your session's title, description, and conveners, whether the session is co-sponsored by another division (e.g. hydrology and geomorphology), and if you plan to create a special issue in an EGU journal.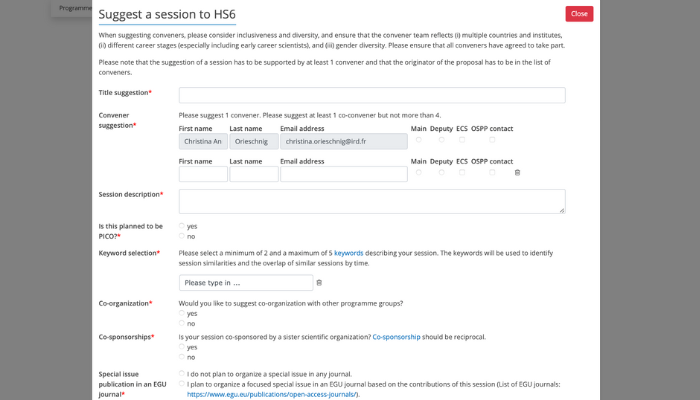 Heads-up: In the provisional programme, you can also check which other proposals have already been submitted. 
What to do if your cool idea is already covered by a similar session? You can of course propose a new session on an existing topic. But a better strategy might be to contact the convener team of the other session and directly discuss what options there are to get involved in that topic. Many convener teams are very open to new colleagues.
Now, keep your fingers crossed and wait for the notification on whether your session has been accepted (late October or early November). Most sessions are accepted at that stage!
Promote Your Session
After acceptance, it's key to promote the heck out of your session, especially if it's a brand-new topic. 
Harness social media, mailing lists, and your own academic networks and those of your co-authors. Creating an eye-catching graphic can help you grab the attention of potential authors. 
If you don't have enough abstract submissions, you might be merged with a session with a similar topic. This can result in you exceeding the maximum number of conveners and having to remove some of your co-conveners. 
A diverse co-convener team is key to attracting a good number of interesting contributions covering exactly the topic you had in mind.
Select Which Abstracts to Accept and Assign Presentation and Poster Slots 
Once abstract submission closes in January, there are three phases. 
First, the subdivision chair will check if your session has enough abstracts to go ahead or whether it needs to be merged.
Next, you and your co-conveners get to select the abstracts you choose to accept. This is a preliminary decision on whether the submissions meet your standards and match your session. 
Finally, in the third phase, you can assign oral and poster presentations. It's not always possible to match the preferences that authors indicated, since you only have a limited number of time slots for presentations. If you have to switch between one or the other, you can reach out to the authors and give them a heads-up.  
If there are any questions or if you run into trouble, you can always reach out to your subdivision chair for help. 
Chair Your Session 
Finally, you and your co-conveners need to chair your session at the General Assembly in Vienna, with one person being formally assigned (in the program) as chair per oral and per poster session time block. The chair of oral time blocks should be there in advance (15 min) to meet the speakers and the conference staff (in charge of technical aspects).
What you have to do is to introduce authors and make sure that they stick to their assigned times. Manage questions from the audience and have a few of your own ready, just in case nobody else has any. 
Once your session closes, you can kick back and relax. And don't forget to stick around until the end of the week – on Friday evening, there's the convener's party where you can let your hair down and celebrate your success with all other people involved in the conference organisation!