The upcoming annual EGU General assembly in Vienna is a fantastic opportunity for early career scientists (ECS) to engage with the international hydrological community, present their work, and build their networks. 
But with the multitude of sessions, events, and lectures, it can be tricky to assemble your personal program – especially if it's your first time attending EGU.
We've got your back. 
In the schedule below, we've collected the ECS Highlights for members of the Hydrological Sciences (HS) division. 
While many of these highlights aren't part of the scientific programme, they are amazing ways to meet other ECS, form connections, and get to know the people who represent you within EGU, like your ECS representatives and the head of the division.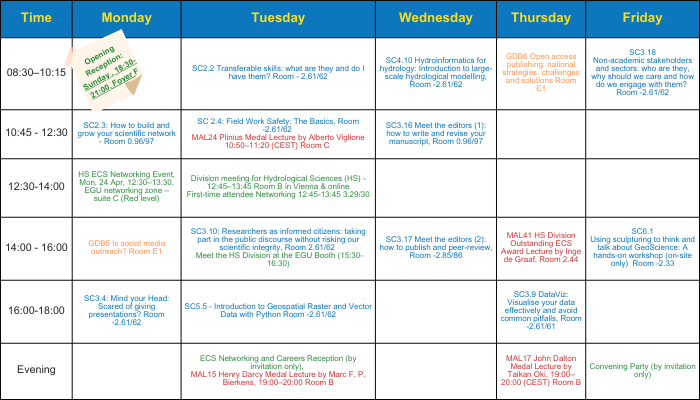 Check out the high-resolution version here.
The highlights are grouped into: 
Social and networking events (green)

Awards and medal lectures by outstanding (ECS) scientists (red)

Great debates, in which panellists discuss issues related to science and society (orange)

Short courses, which offer you the opportunity to acquire skills that will come in handy throughout your academic career (blue)
The Networking Event and Division Meeting: Dive Into the Hydrology Community 
While all the events, lectures, short courses, and debates listed in the calendar above are worth checking out, two of them are particularly great opportunities to connect with other members of the hydrological community. 
First, the HS ECS Networking Event on Monday, April 24, 12:30-13:30 in the EGU networking zone (suite C, red level) is where all the early career scientists of the Hydrological Division meet up. You'll be able to chat with other young hydrologists about your research and the challenges you face in the academic community at this early stage in your scientific career. Who knows – a handy scientific collaboration could come out of it. Or simply a wonderful personal friendship. 
Second, the Division Meeting for Hydrological Sciences on Tuesday, April 24, 12:45-13:45, Room B lets you check in with all the members in your division. You'll get to see the people who represent you at the level of the EGU, and stay up to date with news, initiatives, and other exciting developments. 
Medal Lectures: Award-Winning Hydrologists Share Their Passion
Looking for truly outstanding presentations? Then look no further than the medal lectures. Every year, the EGU awards multiple medals for exceptional work by scientists at different career stages. Medal winners are asked to give lectures on the inspiring highlights of their work. 
This year, these lectures are by: 
Alberto Viglione, who will be giving the Plinius Medal Lecture in Room C on Tuesday, April 25, 10:50-11:20
Marc F. P. Bierkens, who will be giving the Henry Darcy Medal Lecture in Room B on Tuesday, April 25, 19:00-20:00
Inge de Graaf, who will be giving the HS Division Outstanding ECS Award Lecture in Room 2.44 on Thursday, April 27, 14:00-14:30 
Taikan Oki, who will be giving the John Dalton Medal Lecture in Room B on Thursday, April 27, 19:00-20:00
Pro-Tip: Check Out the EGU23 App
Is it starting to get hard to keep track of your conference schedule? Then check out the EGU23 App. 
Available for free on both iOS and Android, this is the EGU's official app for the 2023 General Assembly. You can sync it up to your Copernicus account and use it to assemble your personal programme and browse sessions by programme group or date. 
Plus, it offers handy functionalities such as displaying floor plans, giving an overview of exhibitors, and helping you find the venue. You'll have all the information you'll need to successfully navigate EGU right there in your pocket. 
A Final Note
One final thing before you head out and assemble your personal programme: Factor in some time for yourself. 
While attending EGU is a great way to extend your network and grow as a hydrologist, it can also be stressful, even if you enjoy every minute of it. Make sure to take some time to relax, clear your head, and enjoy beautiful Vienna while you're there.