We all know it: the heart of many Master level courses is the term paper, a scientific essay drawn from the students' work during the semester. It is a way of teaching students not only the content, but also the methodology of scientific work.  And to keep them occupied during the semester break, of course.
But last semester one of our courses took a slightly different approach. After writing a press release and holding a paper presentation, the main assignment of our course on glaciology was to produce an explanatory video. It should explain an appointed aspect of glaciology in an easy, comprehensible way to the other students.
As it turns out, this is easier said than done. Every group of students was working on their script, desperately trying to fit all the background knowledge into the five-minute-bounds, while also maintaining a coherent style and at least a tiny bit of humour. Not an easy task, given that the topics reached from fundamental principles of glaciology to mind boggling and hardly researched phenomena.
Next step: the actual film. While some groups relied on PowerPoint to create a slidecast explaining their topic, other groups took this part a step further. From live-drawn sketches over animated figures to entire imitated BBC expert talk-shows, there were no limits to the imagination. Creating the audio track was a nerve-racking experience, too. If talking in a foreign language seems fine to you, wait until you have heard your voice on tape. Every sentence will be recorded multiple times, until either one's own ego is pleased or the growing annoyance surpasses one's ambition for a would-be British accent.
The result of the effort: eleven high-quality clips, differing in style and effort, but each fulfilling its purpose of breaking down a part of recent research in glaciology into a viewer-friendly form. The final product was definitely worth every second spent creating it.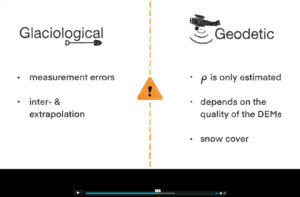 Extract of the video on glacier mass balance estimation, created by the group of the author, available on Vimeo
But did this form of assignment increase the learning effect?
Partially, I would say. Learning to make a film took time that could otherwise have been spent on scribbling down a couple more facts into a term paper. But, in the end, a film is just a different way of publishing scientific results – not comparable to a scientific paper of course,  but broken down to a level overcoming the gap between scientists and the broader public. In that sense, we have learnt a skill no other seminar could teach us. And maybe, through visual stimulation, the acquired glaciological knowledge even stays more present in our ever filling brains.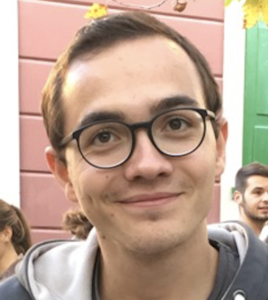 Guest author Basil Stocker is a last-year Master student in Geography at University of Bern, Switzerland. He wrote this blog contribution upon following the Master course on "Mountain glaciers in a changing climate" taught by Dr. Mauro Fischer at the Institute of Geography, University of Bern.
Edited by Bettina Schaefli