The world's water crisis is complex, multifaceted and deeply intertwined with social processes. As such, it requires increased collaboration across multiple disciplines and the development of new paradigms for understanding and managing water resources.
These scientific challenges have inspired the organizers of the 1st International Conference on  SocioHydrology that took place between the 6th and the 8th of September 2021 in Delft, Netherlands.
Conference themes
The conference brought  together social, natural scientists and water professionals from diverse backgrounds with the aim of discussing current water challenges alongside fostering novel and interdisciplinary synergies between water scientists and professionals.
The event was structured around five main themes, which also  correspond to the special issues of the journal  "Frontiers in Water":
Theme 1 – Innovating a new knowledge base for water justice studies: hydrosocial, sociohydrology, and beyond;
Theme 2 – Scale issues in human-water systems;
Theme 3 – Water resources and human behavior: analysis and modeling of coupled water-human systems feedbacks and coevolution;
Theme 4 – Innovative sensing, observing, measuring and analysing human-water data;
Theme 5 – Solutions to water crises.
Conference highlights: water justice, interdisciplinarity and collaborations
Professors Jamie Linton and Joyeeta Gupta kicked off the conference with inspiring keynotes, focused mainly on water justice. Whilst Jamie Linton argued the importance of acknowledging and working with multiple waters, Professor Gupta reminded the audience that current water challenges are ultimately questions of social justice. She stated that:
…without justice, living within planetary limits will be impossible.
Overall, the conference included 75 sessions, where about 360 international researchers and water professionals participated actively, both online and in-person. Besides significant disciplinary advances, what impressed the audience the most, was the researchers' ability and determination to cross disciplinary boundaries by challenging their epistemological origins whilst at the same time experimenting novel methodologies or collaborations.
Sociohydrology and extremes
Along these lines, CNDS, the interdisciplinary research Centre of Natural Hazards and Disaster Science located in Sweden[*] encouraged its fellows to interdisciplinary exchanges. For CNDS, similar collaborations are able to nuance current understanding of (socio)hydrological extremes like floods and drought.
These were some of the works that CNDS fellows presented at the conference:
In addition, together with NEWAVE – Next Water Governance network, CNDS organized a Youth Plenary Session  aimed at creating a forum for early-career professionals where they could discuss and reflect on the possible ways to cross disciplinary and epistemological boundaries in water related research and professions.
Bringing practitioners and researchers together through collaboration and interdisciplinarity
The plenary brought together four international panelists representing both practitioners and researchers in the water sector:
Dr. Akosua Boakye-Ansah, Lecturer and Researcher in Water Services Governance, IHE Delft, Netherlands
Rudolph Cleveringa, Former Global Water Partnership (GWP) Executive Secretary
Dr. Maria Rusca, Senior Researcher in Water and Society, CNDS, Uppsala University, Sweden
Dr. Sital Uprety, Postdoctoral Fellow, Department of Sanitation, Water and Solid Waste for Development, Eawag, Switzerland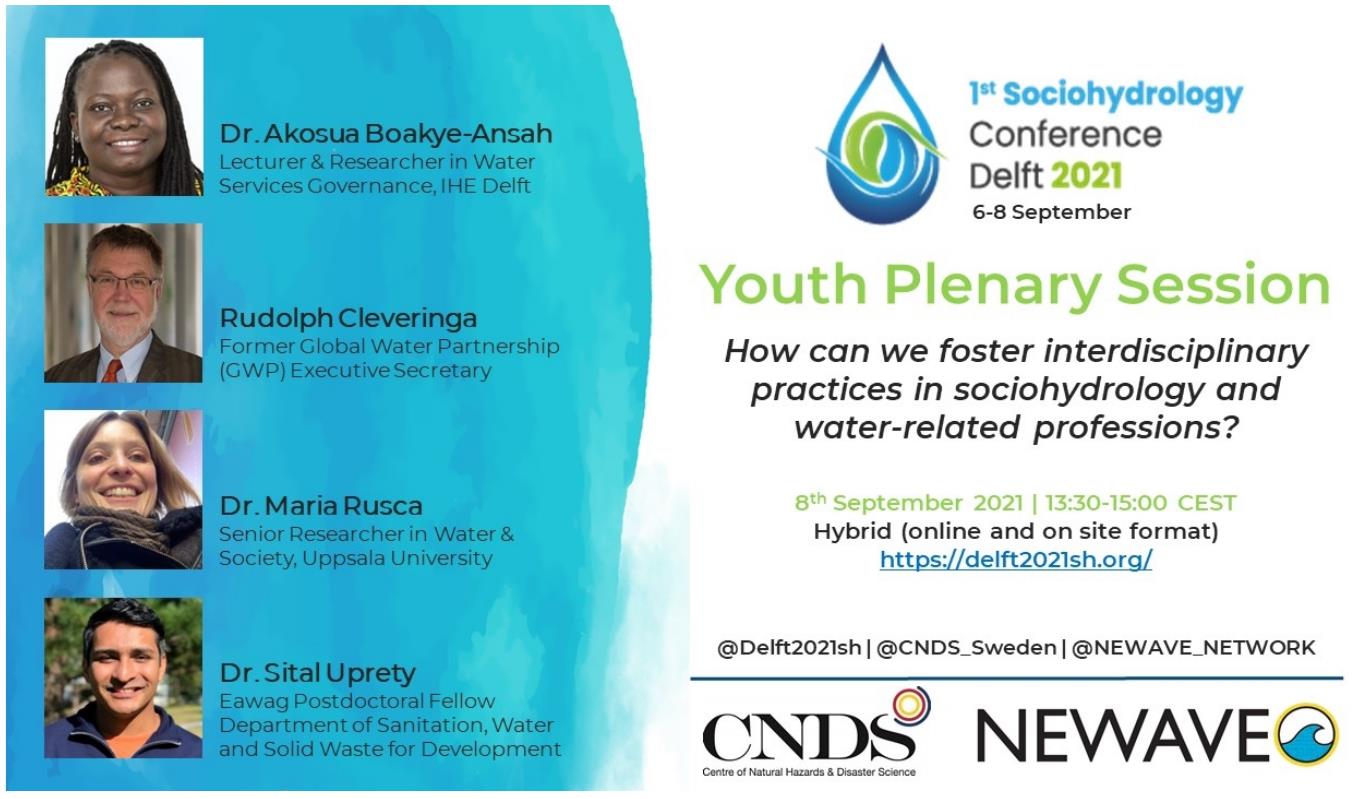 The panel discussion started by understanding  the reasons behind the panelists' decision to focus on interdisciplinarity throughout their careers. Interestingly, their answers showed that it was not them choosing interdisciplinarity, but rather the other way around.
For them, one discipline was, and it is still not sufficient to answer the "why" and the "how" questions of the current water crisis. Interdisciplinarity thus represents the best tool to nuance and consolidate their understanding over the complexities of water and society entanglements.
Despite the continuous challenges faced by interdisciplinary scientists or practitioners (such as the lack of funding and of a community of practice), the last message of the plenary was to continue the effort by planning a systematic– rather than erratic– collaboration across different disciplines.
Should researchers be passionate or dispassionate scientists?
One of the conference highlights was the animated debate between the influential scholars of sociohydrology, Prof. Murugesu Sivapalan (University of Illinois at Urbana-Champaign, USA) and Coevolution theory Prof. Richard Norgraard (University of California, Berkeley, USA).
The discussion was moderated by Prof. Margreet Zwarteveen (IHE Delft and University of Amsterdam, Netherlands) who drew the conversation around the current scientific dilemma about whether researchers should be passionate or dispassionate scientists.
The conversation was carried on by Prof. Taikan Oki (University of Tokyo, Japan) and Prof. Günter Blöschl (Vienna University of Technology, Austria), who also elaborated upon the controversial dichotomy between scientific generalization and the study of local complexity. Their keynotes pushed the conference attendees to reflect, now more than ever, on the critical relationships between science and society under current global changes.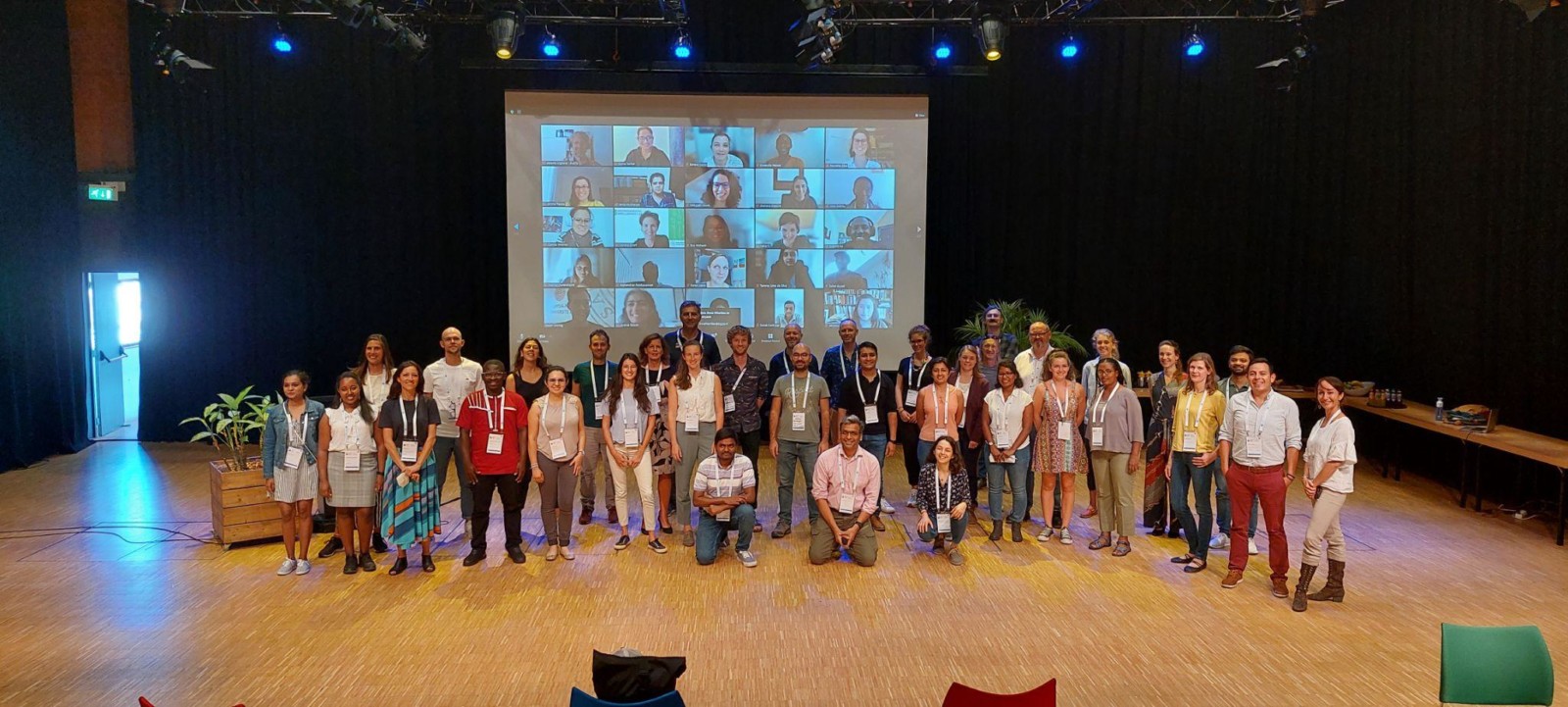 [*] CNDS was one of the main sponsors of the conference, funding about 28 scholarships. Its fellows have either moderated sessions or presented their research projects throughout the conference.
Edited by Maria-Helena Ramos