The EGU General Assembly was bigger than ever this year. Over 16,500 people attended more than 500 sessions. Although many sessions featured policy-relevant science, the short course entitled 'Working at the science policy interface' focused purely on the role of scientists within the policy landscape. For those of you that couldn't attend, this month's GeoPolicy post takes a closer look at what was discussed.
The short course consisted of three panellists; Katja Rosenbohm, Head of Communications at the European Environment Agency (EEA), Panos Panagos, Senior Research Scientist in the Land Resource Unit at the European Commission's Joint Research Centre (JRC), and Valérie Masson-Delmotte, Head of the IPCC AR6 Working Group 1 (IPCC). Each speaker gave a short presentation, introducing their respective institutions  and how their work connects science to policy. The session concluded with questions taken from the audience. EGU Press Assistant, Hazel Gibson (@iamhazelgibson), live-tweeted the session and a Storify of the tweets can be found here.
Katja Rosenbohm & the EEA: assessing if the EU is achieving its policy goals 
The European Environment Agency (EEA) provides independent information on the environment to European and national level policy makers, as well as to the general public. Katja spoke of the EEA's State of the Environment Reports which are published every 5 years. These reports give 'a comprehensive assessment of the European environment's state, trends and prospects, in a global context' and include analysis of 11 global megatrends, 9 cross-country comparisons, and 25 European environmental briefings. These reports help the EU analyse whether current policy is achieving their desired goals.
The 2015 State of the Environment Report concludes with 4 key messages:
Policies have delivered substantial benefits for the environment, economy and people's well-being; major challenges remain
Europe faces persistent and emerging challenges linked to production and consumption systems, and the rapidly changing global context
Achieving the 2050 vision requires system transitions, driven by more ambitious actions on policy, knowledge, investments and innovation
Doing so presents major opportunities to boost Europe's economy and employment and put Europe at the frontier of science and innovation
A copy of Katja's slides can be found here.
Panos Panagos & the JRC: the policy cycle & communicating your research

Panos introduced the JRC, the European Commission's in-house research centre. The JRC has a near-unique position in which all its research directly provides scientific and technical support to policy. As a result, all research at the JRC tries to solve the societal challenges of our time, i.e. food security, energy resources, climate change, innovation and growth etc. Panos explained that scientific evidence can be used to assist policy at all stages of the 'policy cycle' (see figure below) but scientists must learn how to present their research so that policy officials can understand.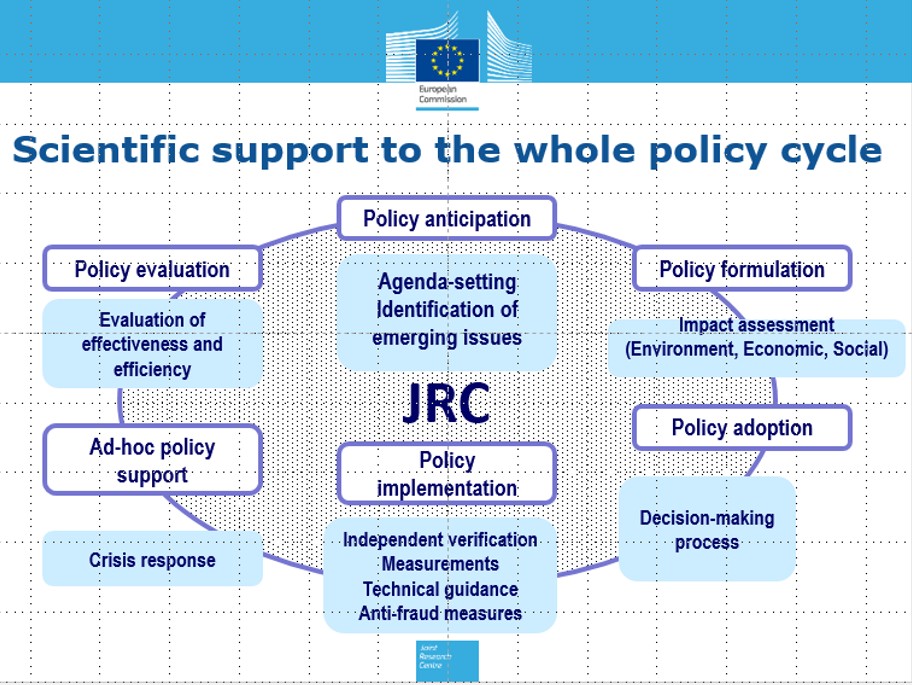 The Policy Cycle and where scientific evidence can be used. Slde taken from Panos Panagos' talk. Full presentation can be found here.
Factors needed for scientific evidence to inform policy:
TRUST because if there is no trust, the evidence will be ignored
TIMING / RELEVANCE is vital and should be provided as early as possible in the policy cycle. The speed of scientific response after a specific event is crucial – evidence can be submitted too late, after a policy decision has been made.
FORM should not be a 500 page report. It should be concise. Policy makers do not have time to read long reports or interpret data.
FORMAT provide policymakers with concise, visual input so that they can quickly understand the main messages – graphs should have a maximum of 3 colours!
PRACTICE the science-policy relationship needs to move from being a formal, arms-length, linear relationship, to an iterative one where questions and answers are generated through co-creation by both scientists and policymakers
A copy of Panos' slides can be found here where you can learn more about the JRC and the projects they have been involved with.
Valérie Masson-Delmotte & the IPCC: what's next after COP21?

Valérie spoke of the IPCC and how these reports inform world leaders and policy officials about climate change. The IPCC is split into three Working Groups (WG):
WG1: understanding the scientific basis of risk of human-induced climate change;
WG2: its potential impacts
WG3: options for adaptation and mitigation.
Last year, Valérie was appointed co-chair of the WG1 for the next set of IPCC reports (AR6) which will be published in 2022/3. In her talk, Valérie stressed that 'the IPCC should be policy relevant but not policy proscriptive'. Scientists should not over-step their mark and become advocates of their research, they must remain unbiased and present their research professionally.
Scientists can indirectly assist policy by contributing to these IPCC reports; either through their academic papers or by becoming co-authors or editors. Three more-focused special reports will be published over the next few years. These are:
In the context of the Paris Agreement, special report in 2018 on the impacts of global warming of 1.5°C above pre-industrial levels and related global greenhouse gas emission pathways;
A special report on climate change and oceans and the cryosphere;
A special report on climate change, desertification, land degradation, sustainable land management, food security, and greenhouse fluxes in terrestrial ecosystems, considering challenges and opportunities both for adaptation and mitigation.
In addition a methodological report on greenhouse gas inventories has also be scheduled for early 2019.
If you can communicate your science to high school students, you are at the right level for policy makers!
When asked about how scientists should communicate their research to policy officials, Valérie suggested that scientists 'practice' communicating with teenagers. A 15 year old will quickly tell you if you are making sense or not and you will be able to clarify your meaning.
A copy of Valérie's slides can be found here.
Discussions
The session concluded with a panel discussion and audience members were invited to ask questions. General themes encompassed science communication, science funding, and the division between science and politics.
A couple of the Q&As are listed below.
Is there a lack of knowledge in scientists about policy and how can we change that?
Yes but this can be reduced through the creation of networks and collaborations to encourage increasing participation from scientists to policy (bottom up communications). Perhaps an early career scientist and policy worker pairing scheme could help engagement soon rather than later?
Is there a fundamental problem with politicians being more accountable to financial interests than good science?
Politicians can use any excuse to get rid of something costly and research is expensive. It is the role of the scientist to explain the value of our research to stop this from happening.
Further discussions are covered in the Storify post created from this session. More general information about science policy can be found on the EGU policy resources website: http://www.egu.eu/policy/resources/