At the EGU General Assembly 2019, more than 16,000 scientists came together in Vienna to present their research, discuss the latest advances in their field, and engage in workshops. On the Wednesday evening of the EGU conference, hundreds of researchers also came together to play geoscience-based games!
Games can be great tools for geoscience outreach and education, as they have the ability to simulate different settings and decision-making opportunities that you may not experience in your every day life.
The General Assembly Games for Geoscience session, convened by Chris Skinner from the University of Hull in the UK, allowed researchers to both listen to and share experiences on using games as a means for geoscience education and public engagement. The session was followed by a Geoscience Games Night, where scientists could gather, socialise, and play some games featured in the earlier session. In this blog post, Skinner gives a recap of the EGU Games for Geoscience experience.
Phew, that's another General Assembly of the European Geoscience Union (EGU) done. What an astonishingly busy week of sharing science, networking, catching up with colleagues from all over the world, and gorging ourselves on käsekrainer. In total there were 16,273 people at the meeting in Vienna, with 683 unique science sessions.
One of those science sessions was our Games for Geoscience session, convened by myself (Chris Skinner), Sam Illingworth, Rolf Hut, Liz Lewis, and Jaz Scarlett. After the success of the first one in 2018 we were worried about the 'difficult second album' syndrome, but our fears were unfounded as this year's session was even bigger and even better.
This year we started with our poster session and again it was busy and more interactive than the usual poster session. A poster session involves researchers producing a poster detailing their work and pinning it up on a board. During the day a couple of hours is set aside where they stand next to their poster and people can discuss the work with them. The Games for Geoscience session also involves sharing elements of games too; for example, I had a poster about the Earth Arcade and also had a VR set with Flash Flood! Vol 2. being demoed.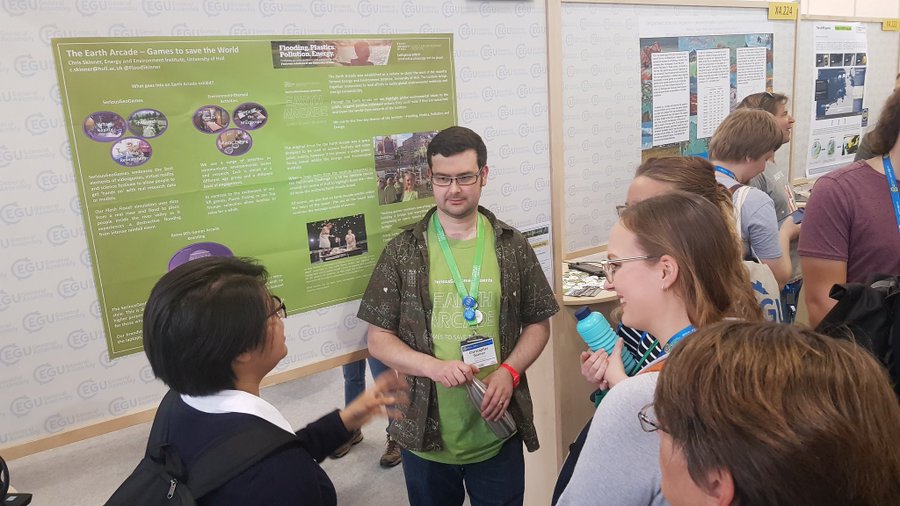 After the posters was the oral session – these are talks where we had six presenters each with a 12-minute talk and a few minutes for questions. The room we were in quickly filled up and latecomers had to stand! The quality of the research was extraordinarily high, showing that when it comes to geoscience, games are a serious business.
As Sam guided the crowd through the games submitted to the Geoscience Games Night, Liz, Rolf, and myself ran down to basement to set up the area for games, which included Rolf rather abruptly turfing people out of the area! Remarkably we turned this around in less than 15 minutes and soon around 300-400 geoscientists descended for two hours of gaming – we ran out of tables quickly and games were played on the floor! It was incredible.
I was testing a card game I'm developing called Resilience – it has little bit of complexity so isn't suited for this type of event and needed a lot of explaining – and I am indebted to Hannah Williams for running Flash Flood! Vol 2. demos for two hours solid. Thank you Hannah! At the end of this blog is a list of all the games – if I've missed any, let me know and I will add them in!
These sessions were not the full extent of games at the EGU General Assembly 2019 though. Researchers from the Earth Observatory of Singapore were showing their utterly brilliant Earth Girl: Volcano game, and its inspirational creator Isaac Kerlow presented on the work behind it in the Science and Art session. In another session, Laura Hobbs showed how the best in gaming and the best in museum curatorship were being combined to produce the Virtual Natural History Museum. I'm sure there was even more that I missed completely.
One of the things I hope to achieve through the Games for Geoscience sessions is to close the circle between games and research. I think games are seen as a useful tool for sharing research but I think they can also be used to drive and inspire research, and I was pleased to see a couple of examples of this at the meeting. One of last year's presenters, Onno Bokhove, who built the awesome Wetropolis shared in a hydrology session how the activity led to a method they used to calculate flood excess volumes to assess the cost effectiveness of Natural Flood Management schemes. Rolf Hut shared a methodology for assessing public and researcher perceptions of 'jargon' related to rivers and flooding, a methodology previously used at last year's session with Zelda: Breath of the Wild – read that research here!
So that's it for the EGU Games for Geoscience sessions this year. If you came along, thank you so very much. Next year we will be back, bigger and better still, but first we have our eyes on conquering America.
If you are interested in being part of the Geoscience Gaming community, please follow @GeoSciGames on Twitter – we hope to make this into a full international network in the near future.
By Chris Skinner, University of Hull, UK
If available, click on an image to find out more about the games –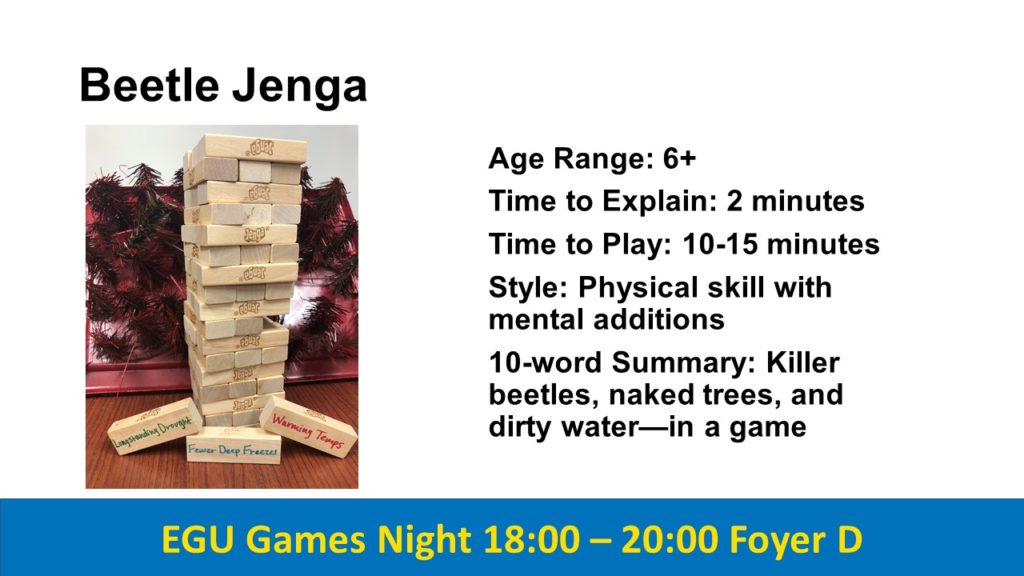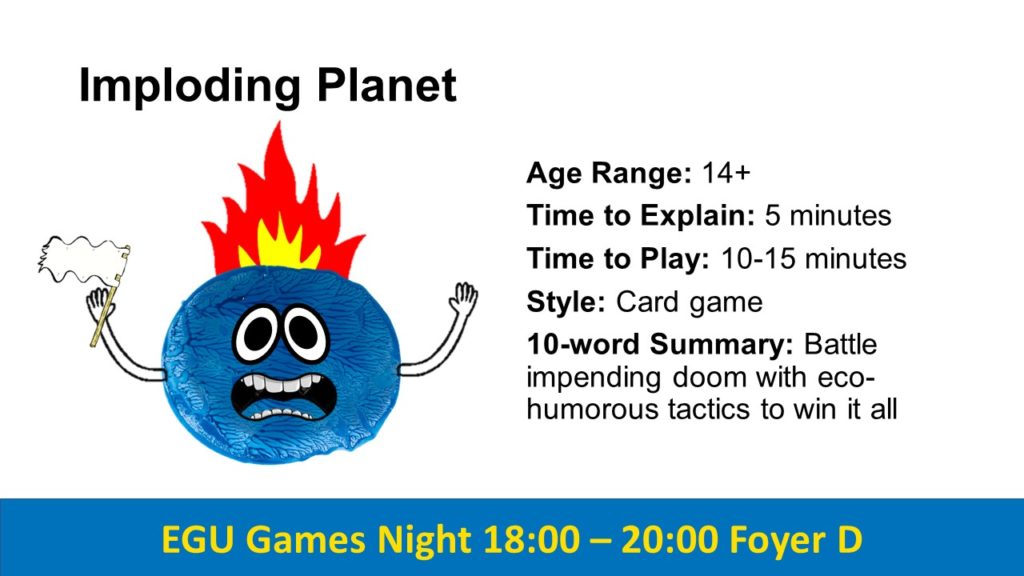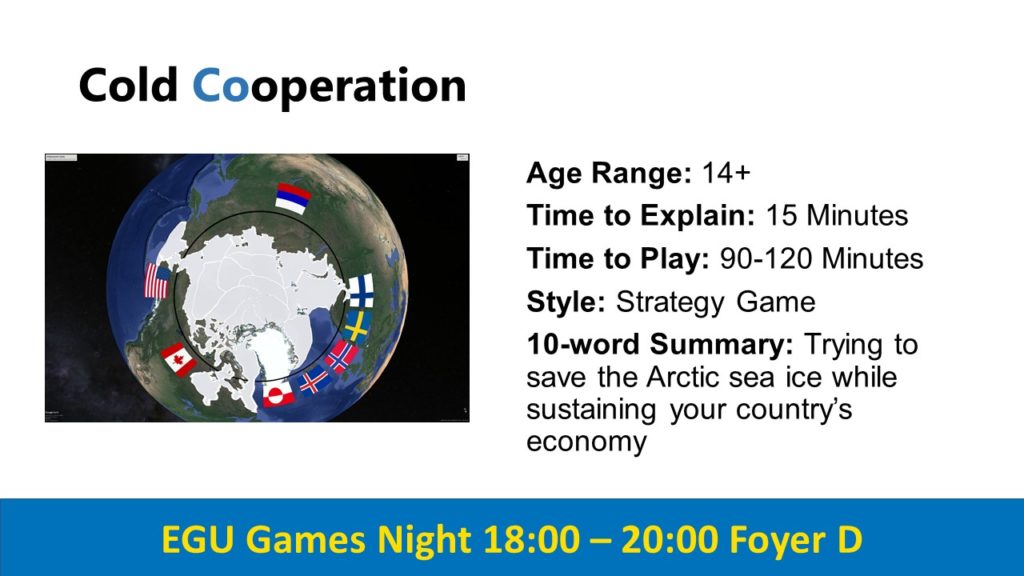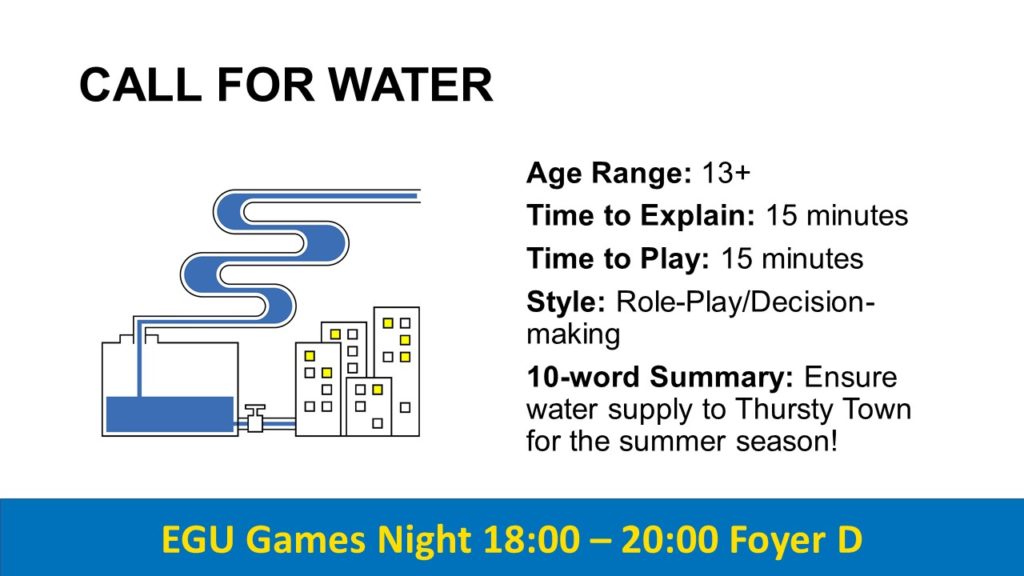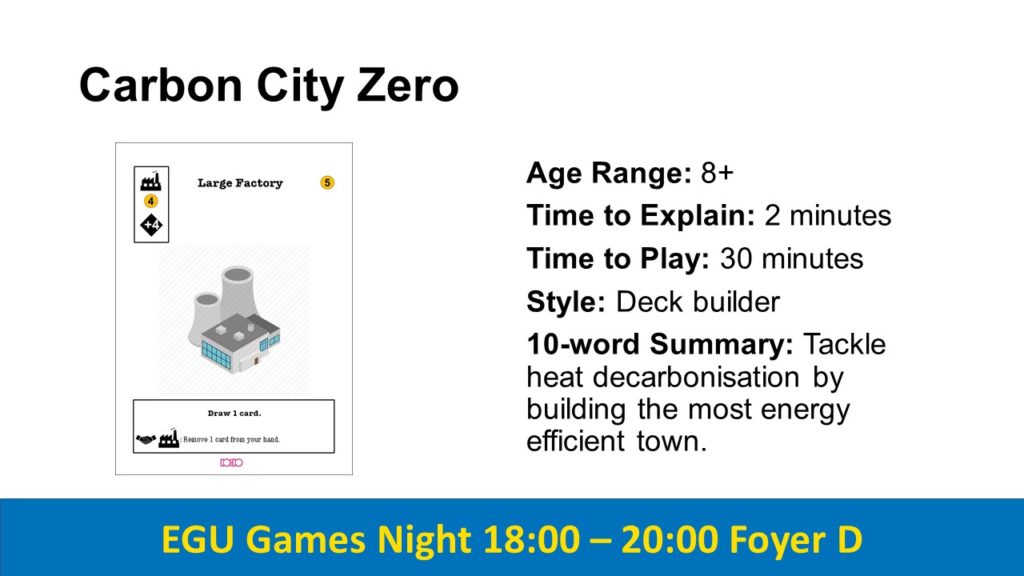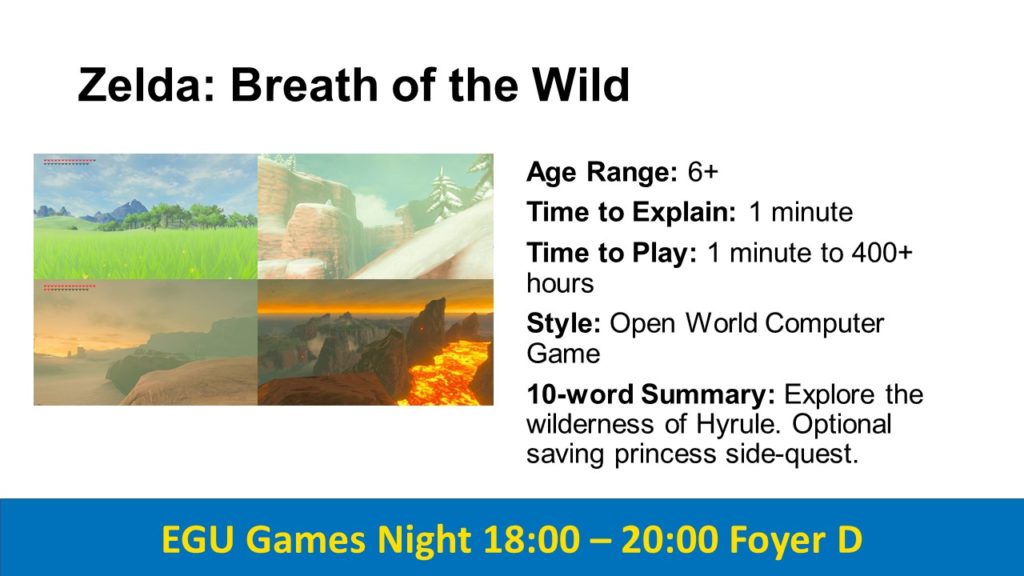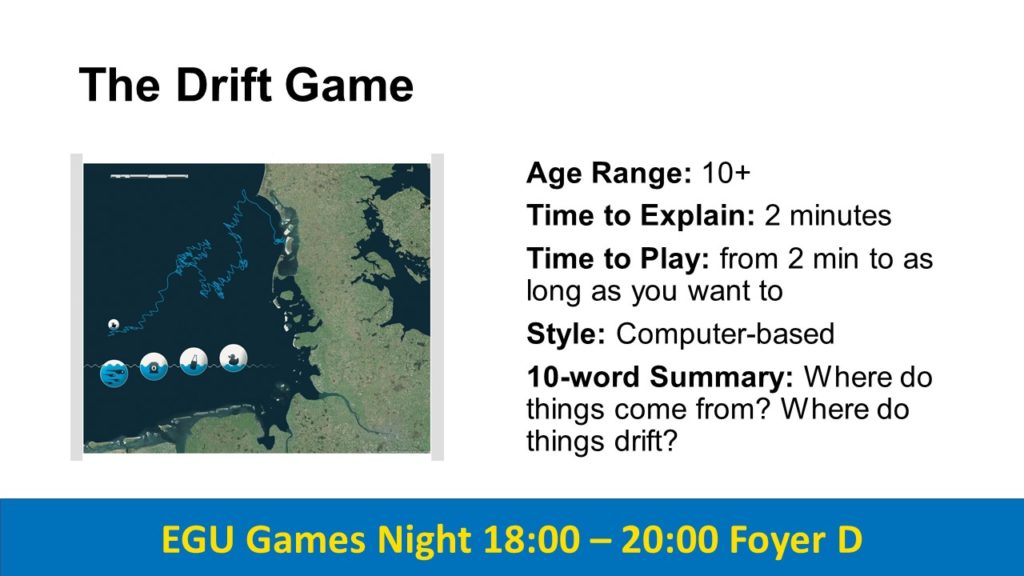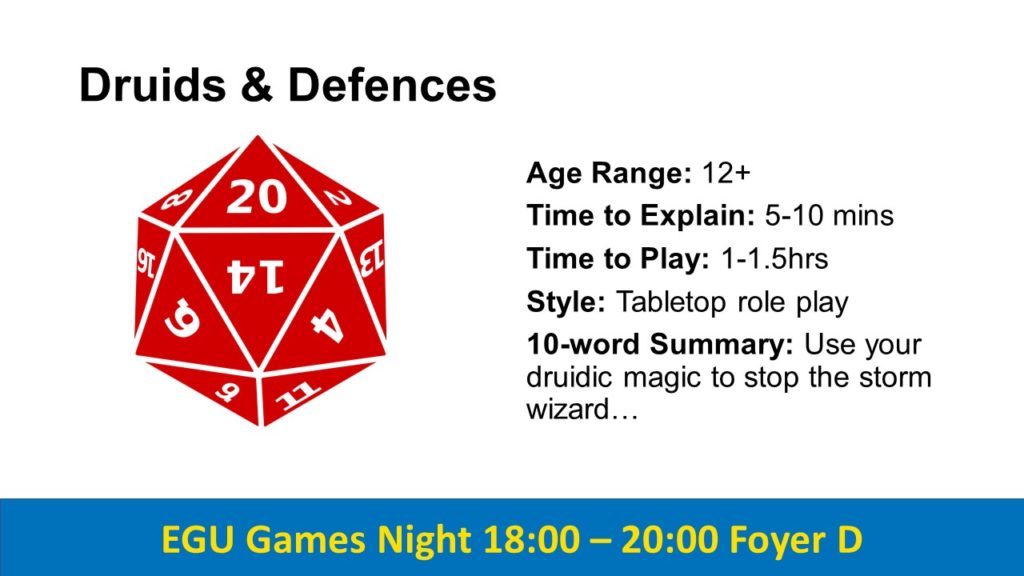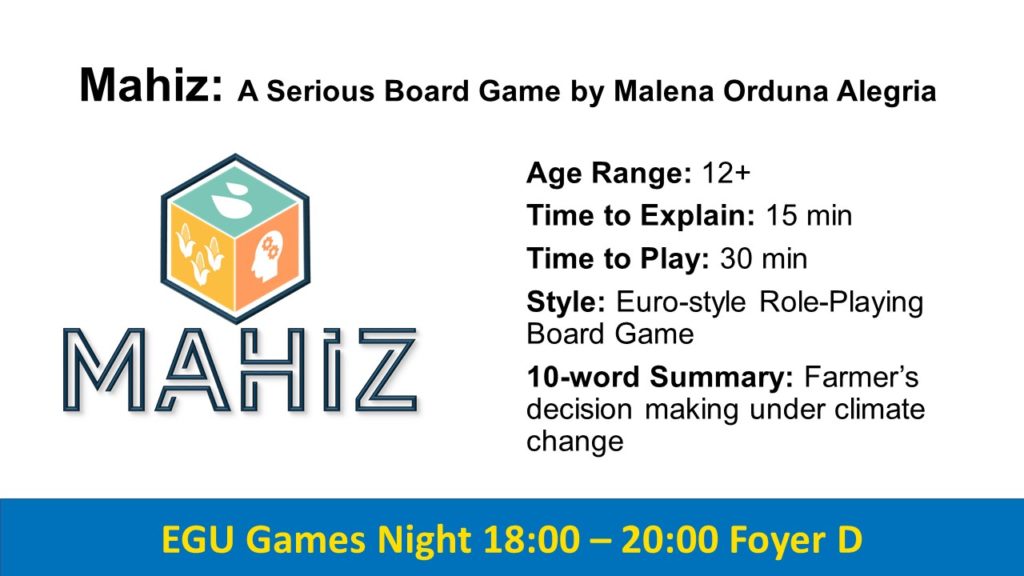 The original version of this article was posted on The SeriousGeoGames Lab blog