An unsolicited email to a LinkedIn connection holding the title "science communicator" led me to the European Commission. My journalism master's thesis was now complete, and I was in hasty pursuit of a career in citizen engagement of science. The EGU's Policy Officer Chloe Hill responded to my spontaneous request for career direction and forwarded me a running list of science-policy traineeships and fellowships. I quickly spotted a perfect fit. It was my field and it was stationed in Italy. That posting would become a dream come true.
With luck and time on my side, the Joint Research Centre's (JRC) Exploratory Research Unit was recruiting a native English speaker for their science communication traineeship. The project leaders appreciated my interest in EU public understanding of science evident in my research and Erasmus Mundus journalism degree curriculum. Unfortunately, my nationality posed a problem. The EU generally doesn't typically hire Americans and as a result, the hiring process took a few more signatures and steps compared with other EU employees. Traineeship applicants can however, come from anywhere. My future boss sought and secured permission from the higher-ups to grant my traineeship position and after a few months in bureaucratic recruitment limbo, I was in.
Orienting myself as a science communicator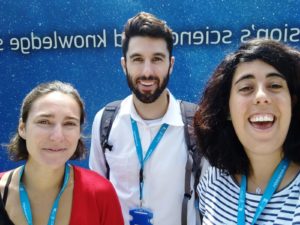 The role of a science communicator depends largely on the financial relationship between researchers and their benefactors. Sponsorship warrants visibility. In the US, the prominence of research from universities and private labs creates a need for science communicators who can write grants. This cloistered audience has its own rigid guidelines for messaging and interaction. In the EU where supranational labs directly inform policy decisions, communicators must engage tax payers and the policy makers. That means science communicators here get to write to diverse segmented populations split along lines of political parties, borders of members states, and social boundaries among citizens. This dynamic environment invites creative and strategic messengers. A space I could grow into.
Life as a JRC trainee
I arrived at the JRC in Ispra, Italy with no indication of what my actual duties would entail. The original recruitment expression of interest was as vague as I was eager. Quickly though, I was set to my tasks and made an integral part of my unit. Work was fun and challenging. From week one, I was authoring reports, designing workshops, and envisioning communication strategies for groundbreaking science projects. As time went on, my advisor gave me the opportunity to choose my own projects that supported our unit mission. I bridged my background in climate science communication and media production to catalyse engagement efforts in nuclear safeguards, ocean conservation, and automated vehicles. The workplace mobility that I was afforded and significance of my contributions made me feel useful. That impression doesn't always happen with a traineeship or internship. Work gripped my curiosity and I followed with fervor.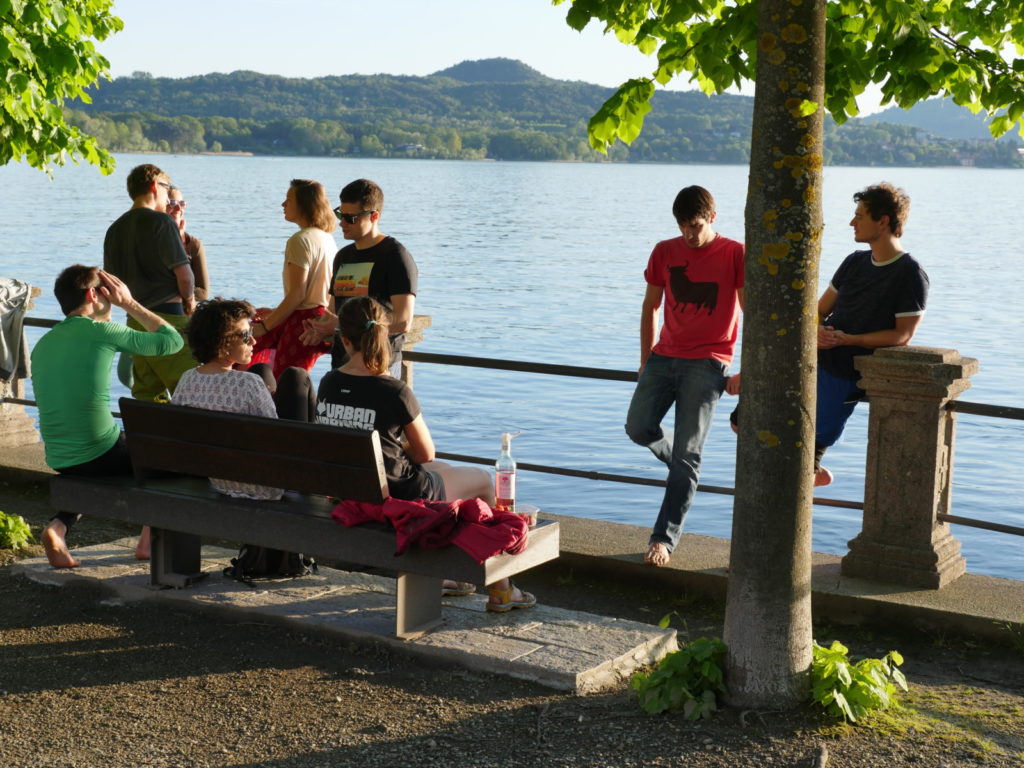 Life at the JRC is easy. The Commission has organised the initiation process and living situation so that employees can hit the ground running. Trainees get a loaner bike, a snazzy apartment across the street for cheap, free language courses, health insurance, and to the envy of UN interns… a livable stipend. Best of all, people are welcoming. The first day I was greeted alongside 15 other trainees from across Europe with the warmest of welcomes. My HR adviser picked me up and drove me around the research site to point out important buildings and ground me in my new home. This convivial atmosphere would continue throughout my traineeship.
Life at the JRC is fun. The self-hailed "traineeland" community comprises all trainees and involves daily get-togethers on and off campus. Traineeland provided ready-made friendships and opportunities to invest oneself into the JRC and local Italian community. Throughout my five months, we hosted and attended educational events across campus, did Saturday yoga on the lakeshore, ran as a group through the forests, cooked common dinners, hiked the alps, and always went to Mensa on Wednesdays. It was truly heavenly, as I often commented during gatherings.
Advice to future applicants
The European Commission posts its trainee and contract vacancies through a running portal. The site constantly updates with new jobs in every field of science and level of staff management. For recent grads like myself, I recommend first applying to a trainee position. Unless you have a PhD with a very related focus and five years of experience, it can prove difficult to secure a well-salaried research position. A traineeship offers you a chance work and learn how to navigate inside the European Commission. Once here, you the support system and connection to pursue a career. Without inside experience, the hiring process can be daunting. There are a handful of contract types each with its own unique application methods. Best bet: apply for a traineeship. The exposure, community, and connections that you will receive at the European Commission as a trainee will equip you with the acumen and insights needed to build a career at an international organisation.
 What did my supervisors want in an applicant? Aside from my language skills for their writing position, my interviewers were looking for international experience, adaptability to multiple tasks, and willingness to contribute new ideas. I cannot imagine a more diverse place than the JRC. Language, research field, nationality, and experience were common factors in daily operations. My interviewers wanted to know how well I could collaborate in an environment with teams from diverse nations, backgrounds, and scientific fields. Their call for adaptability to multitasking is not a euphemism for a coffee maker or a "wasserträger". The JRC has a myriad of projects that often overlap with other departments, therefore contributors must know how to switch tasks effectively and work with multiple timelines. Finally, many teams want a trainee who can deliver a new perspective. Trainees are seen, unofficially, as a source of spiritedness and vibrancy to the hyper-focused scientific output machine that is the JRC. This anticipation of ingenuity from trainees opens opportunities for them to make their mark on projects by contributing their perspective and expertise. I recommendation interviewees demonstrate their professionalism, exemplify their adaptability, highlight one or two related experiences, and let their enthusiasm for his or her field and community shine.
Saying goodbye?
In an effort to network outside my unit, I wrote and delivered a short speech on science communication. Several units allowed me to speak at their monthly meeting. I wanted to show others how sci comm could improve their output visibility, as well as demonstrate the utility of someone with my skillset. I took this effort further by drafting communication strategies in my free time for units without one. I often got as a response, "I wish you were staying, we have some interesting projects coming up." I wished so too.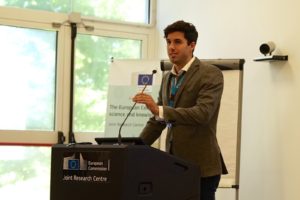 After a fast and full five months, I completed my traineeship. As I prepared to shut down my computer for the last time, an email popped up. It read that I had been accepted as an external expert for one year. An audience member from one of my past speeches recalled my purpose and had recommended me for the position. I was and am ecstatic. There is no one way to secure a position here. Aside from traineeships, I recommend familiarising yourself with a JRC initiative and aligning yourself with their efforts. Connect with people through LinkedIn, on collaborative international projects through university connections, and by applying on the vacancies list. Familiarise yourself with European Commission projects by following EU Science Hub social media channels. Also, feel free to reach out to me any time via LinkedIn or a.w.mckinnon@gmail.com.
I expect that each new work day will continue to surprise me and hope that every new connection could be one for life. The JRC gave me the opportunity to pour my acumen and education into projects that, from my limited perspective, made an impact on the lives of EU citizens. I am eager to get going again.
By Aaron McKinnon, Communication Strategy Expert at the European Commission's Joint Research Centre