This year, there's a great line-up of early career scientist (ECS) sessions at the General Assembly. Not only that, but there are opportunities to meet those that represent you in the Union, get to know other ECS in your field, and make the most of both the scientific and social sides of the conference…
Networking
First up for ECS is the icebreaker event on the Sunday before the meeting, while this is open to everyone attending the Assembly, there'll be a spot especially for young scientists – the "ECS Meeting Corner" (Foyer E). So, if you're coming alone, or if it's your first time, you're sure to find a few like-minded fellows!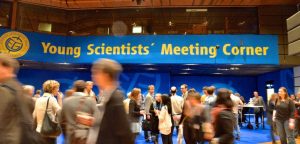 After the success of the young scientists' lounge –it is back for EGU 2016! It has been renames to ECS Lounge, in line with change of name from young scientists to early career scientists in 2015. The lounge is somewhere that you can take a break, grab a coffee and gather your thoughts away from the buzz of the conference. Located on the Red Level of the conference centre, it is also a great place to catch up with colleagues you haven't seen in a while, or start up a conversation with someone new, and it provides a great meeting point to launch your evening's activities. It is also the place you can speak to your ECS Division Representative. The representatives will be making themselves available throughout the conference for informal chats. Just see the boards at the lounge for the times when you can find your Division representative.
The beginning of a career in academia can be overwhelming and ECS are often faced with questions that cannot be answered from a textbook. How do I balance research with other activities like science outreach or demonstrating? How do I strike a good work-life balance? Where should I focus my research?  To give ECS an opportunity to get answers to some of those questions, we are hosting the EGU Medallists and Early Career Scientists Reception. The reception, with drinks and light snacks, aims to bring together early career scientists and award-winning researchers.  Place at the reception are limited and are currently full, however, please stay tuned to the EGU's social media channels, particularly Twitter, during the General Assembly, as we'll be advertising any extra spaces that become available.
Building a great CV
It's not all about the social stuff though, there's a veritable feast of courses where you can fine-tune your skills and grab those all-important nuggets of information to help you forge a career in academia. From Union-wide sessions to workshops and short courses, there's a lot to choose from, including division-specific sessions to meet the experts in hydrology and the dos and don'ts of ice core chronology. You can learn how to convene a session at EGU 2017, gather tips on how to make sure your grant proposal stands out and how to inspire the next generation of geoscientists with a masterclass in effective schools engagement – but this is just a snapshot! Take a look at our ECS sessions shortlist to see what is on offer this year.
Have a say in how the EGU runs
Like last year, we'll be hosting a lunchtime session, the ECS Forum, to let early career researchers know how they can get involved in the Union and gather feedback to make what we're doing even better. ECS representation in the Union is growing leaps and bounds, with most divisions appointing ECS officers whose role is to feedback from the ECS community and make sure we do our best to act on your suggestions. What better way to tell us what you want than over a lovely lunch where you can meet your representatives?
The representatives will be making themselves available throughout the conference for informal chats at the ECS Lounge. Just see the boards at the lounge for the times when you can find your Division representative. Laura Roberts, the EGU's Communication Officer and point of contact for the ECS members at the EGU Offices, can also be found in the lounge during most coffee breaks. Feel free to approach her if you have any questions or suggestions about ECS related activities!
The Union Level Representatives (Wouter Berghuijs and Lena Noack) the ECS Executive Office ECS Contact, Laura Roberts Artal (EGU Communications Officer), will also be available from 09:15 to 10:30, on Tuesday the 19th, at the EGU Booth, to answer all your ECS related questions and to discuss any ideas you might like to bring forward.
You can also let us know what you think via the ECS survey which will become available during the General Assembly. You'll find it included within the EGU 2016 Feedback survey.
ECS Recognition at EGU 2016
Keep your eyes peeled for posters that are part of the Outstanding Student Poster and PICO (OSPP), and check out this recent blog post for some tips on how to make your presentation stand out from the crowd.
Don't forget to save a space for a few talks from outstanding young scientists. The winners of the Arne Richter and division awards will be giving talks throughout the week and are well worth a listen. Check the online programme to find out when and where they are taking place.
Finally, the finalist films in EGU's Communicate Your Science Video Competition are being showcased at GeoCinema, the home of geoscience films at EGU 2015. We've had some excellent entries – you can take a look and vote for your favourite using the EGU YouTube channel.
See you at the conference!
The EGU General Assembly is taking place in Vienna, Austria from 17 to 22 April. Check out the full session programme on the General Assembly website.