Do you think that it is sometimes challenging to understand science (as a reader or listener) or to explain it (as a scientist)? Then, art may be a good solution to the problem. Between April and June 2023, Zacharie Bodson (artist) and I (climate scientist) are participating in the Seas and Oceans exhibition to explain the links between changes in Arctic sea ice and over-consumption. Read here about our collaboration and the exhibition.
---
How the reduced Arctic sea ice is linked to over-consumption
A large number of previous posts have documented the large reduction in Arctic sea-ice area since the late 1970s (e.g. this one, this one and this one). We know that one of the main causes of this decrease is human-induced global warming (see this post for more details). In other words, all the greenhouse gases that we have emitted since the pre-industrial revolution have led to an increase in global mean surface temperature. This has resulted in a number of changes in climate, including the reduction in Arctic sea-ice area. On average, for each tonne of CO2 emitted into the atmosphere, summer Arctic sea-ice area has shrunk by about 3 m².
The increase in greenhouse gas emissions since the pre-industrial revolution mainly comes from the burning of fossil fuels (coal, oil and natural gas) and land-use changes (such as deforestation) (see FAQs from the last IPCC report). Fossil fuels are largely used to generate heat and electricity, and deforestation occurs to expand agriculture, infrastructures, cities, mining, etc. In the end, all these activities aim to provide goods to consumers (in a largely unequal way, but we will not talk about this in this post). The big problem is that in our western societies, we have clearly overused resources from the planet (more than what we need), and that is what we call "over-consumption".
Meeting the artist
Representing the links between the reduced Arctic sea-ice area and over-consumption can quickly become confusing if we want to use graphs and maps. A much more appealing way is to produce artwork, which can represent a complex scientific process in one single image. When I found out about the exhibition aimed at bringing artists and scientists together to produce artwork related to seas and oceans, I quickly knew that I wanted to be involved. The Seas & Oceans exhibition is organized by 'Talk CEC' (a cultural hub) in a former porcelain factory located in Brussels. From 20 April to 25 June 2023, beautiful pieces of artwork are shown and several presentations are given by both artists and scientists.
I was paired with the artist Zacharie Bodson and he explained to me how he wanted to produce artwork related to over-consumption. From my side, I told him about my research on Arctic sea ice, and the idea arose that we could work together on the links between over-consumption and Arctic sea ice. I will briefly explain the science between two art pieces created for the event by Zacharie: the container ship (Figure 2) and the cool woman (Figure 3).
The container ship
The container ship (Figure 2) is a good example of the transport of goods from one place to another which produces a large amount of greenhouse gas emissions, both via the energy needed for the boat to move and the energy to produce the goods. This boat navigates in the Arctic Ocean, which is partly covered by sea ice.
However, as represented in the image, the fraction of sea ice covering the Arctic Ocean reduces from year to year. This provides more opportunities for container ships to navigate across the Arctic Ocean; thus, this increases greenhouse gas emissions and results in more warming, which further reduces the sea-ice cover. This picture is thus an important example of a self-reinforcing feedback loop between Arctic sea ice and over-consumption.
The cool woman
The cool woman (Figure 3) is an illustration of the situation of climate denial in which we are. On the one hand, we know very well that the world is warming mainly due to our human activities. On the other hand, we continue to live as if nothing were happening because we do not want to lose our comfort.
This does not mean that nothing is being done: many actions are already implemented, but the effects are relatively limited compared to the necessary efforts to avoid dangerous levels of climate change.
Next steps
Even if the overall message of our science-art collaboration might appear quite negative, the main goal is not to blame people for actions that have not been taken, but rather to wake people up and let them know what emergency situation we are in.
At a conference during the exhibition, Zacharie and me explained that many actions were possible and that solving climate change would not require one or two main actions, but rather a long list of small and big efforts at all levels: international, national, regional, local, family, individual. In the end, we need to stop thinking that economic growth is the only way forward, and need to slow down and stop over-consumption. The poor polar bear represented in Zacharie's artwork (Figure 1), and many other species, will thank us.
Come and see the exhibition until 25 June 2023!
Further reading
Edited by Larissa van der Laan and Loeka Jongejans
---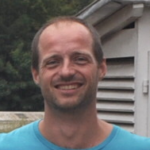 David Docquier is a post-doctoral researcher at the Royal Meteorological Institute of Belgium. His study focuses on the interactions between sea ice, the ocean and the atmosphere using global climate models and causal methods. His work is funded by the Belgian Science Policy Office (BELSPO) via both the JPI-Oceans/JPI-Climate ROADMAP project and the RESIST project. E-Mail: david.docquier@meteo.be