The EGU General Assembly, the largest geoscience conference in Europe, attracts more than 15,000 participants every year. While there are countless opportunities throughout the week to meet new people and reconnect with colleagues, the convention centre can be overwhelming, especially for early career scientists (ECS) and first-time attendees.
The Networking & Early Career Scientists' Zone (formerly called the Early Career Scientists Lounge) on the Red Level of the conference centre is the perfect place to catch up with your peers and make new connections in a more relaxed setting.
Early career scientists across all fields are encouraged to meet there to grab a coffee, hold informal discussions and perhaps even find opportunities for collaborations. Additionally, we hope that mentors and mentees participating in the General Assembly Mentoring Programme, as well as other meeting participants interested in networking, will meet here.
Stay up-to-date
Be sure to check out the zone's community notice boards, where you can find information on various topics, like cultural activities in Vienna and division social events, taking place during the week of the conference. Your feedback to the ECS representatives is very welcome and can be posted on the suggestion boards too. You can also post your own flyers here to highlight sessions and events taking place throughout the week.
Attend and organise pop-up events
The Networking & ECS Zone also hosts a series of pop-up style events, from using poetry to communicate your science to giving research elevator pitches. Be sure to check out the notice boards to find more info on what drop-in sessions are scheduled for the week; the image below also shows a few of the sessions already planned for this year.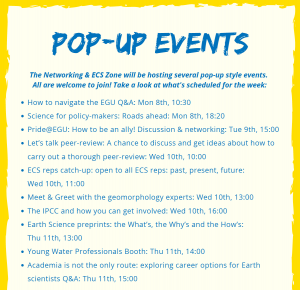 Interested in holding your own drop-in session? Participants are encouraged to organise pop-up events in the zone as well! A whiteboard, flipchart, and 42" screen with a notebook attached will be available in the main room for attendees to give ad-hoc presentations, plus two side room 'pop-up spots' can be used to hold informal sessions.
If you'd like to add a drop-in session to our schedule, you can contact the EGU communications officer with the pop-up event title, date, and time by 18 March. If you'd rather hold an impromptu session, such as a follow-up event to an over-subscribed short course, never fear! During the conference you can plan and host informal events on the spot; a sign-up sheet on the zone's notice boards will be available for advertising drop-in sessions.
The EGU General Assembly is taking place in Vienna, Austria from 7 to 12 April. Check out the full session programme on the General Assembly website and follow the Assembly's online conversation on Twitter (#EGU19 is the official conference hashtag) and Facebook.