I cannot believe that a full year has passed since this very cute pink unicorn wished you a Happy New Year.
Yet, over the past  12 months our blog has attracted more than 16,200 visits.  And the blog analytics show that you, our dear readers, are based not only in Europe but literally all over the world!
With 67 new posts published in only 52 weeks, it's more than likely that you missed a few interesting ones. Don't worry, today's Image Of the Week highlights some of the most exciting content written, edited and published by the whole cryo-team during the year 2016!  
Enjoy and don't forget to vote in the big EGU Blog competition (see below) !
(Remark: all the images are linked to their original posts)
---
Get the most of 2016
We also launched our new "for dummies" category that aims at explaining complex glaciological concepts in simple terms. The first and most read "for dummies" is all about "Marine Ice sheet instability" and explains why West Antarctica could be destabilised.
Three other "for dummies" have been added since then. They unravel the mysteries behind Water Masses, Sea Level and Ice Cores.
quest for the oldest ice in Antarctica. In this post — issued at the same time as the press release —  the 3 PhD students currently involved with the project explain how and where to find their holy grail, i.e. the 1 million year old ice!
Another welcomed novelty of 2016 was the first "ice-hot news" post, about the very exciting
The list goes on of course, and I could probably spend hours presenting each of our different posts one by one and explain why every single one of them is terrific. Instead, I have decided to showcase a few more posts with very specific mentions!
Good resolutions for 2017
The beginning of a new year is a great opportunity to look back at the previous year, and one of the logical consequences is to come with good resolutions for the coming year.  Thinking of a good resolution and then achieving it can however be tricky.  This is why we have compiled a few resolutions, that YOU dear cryo-followers could easily make 🙂
 Cryoblog stronger in the E(G)U blog competition
To celebrate the excellent display of science writing across all the EGU blogs, a competition has been launched.
From now until Monday 16th January, we invite you, the cryo-readers, to vote for your favourite post of 2016, which should be "journey of a snowflake" (second-to last option). I am obviously being totally objective but if you're not convinced, the little guy on the right might be more persuasive. If you're really adventurous, you could also consider clicking on other posts to check what they look like, after having voted for the cryo-one, of course.
Get involved
Hopefully by now:
You are convinced that the cryosphere is amazing and that the EGU cryoblog enables you to seize some of the cryo-awesomeness
You have read and elected the "journey of a snowflake"  as the best post of 2016
You would like to contribute to the blog (because you would like to be part of this great team or simply because you think your sub-field is not represented well enough).
Not to confuse you with a long speech, the image below explains how to get involved. We always welcome contributions from scientists, students and professionals in glaciology, especially when they are at the early stage of their career.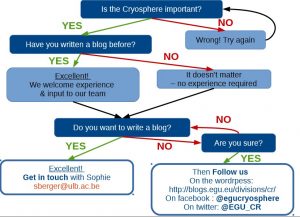 Thank you for following the blog!
PS: this is one of my favourite tweets from the EGU cryospheric division twitter account. What is yours?
Edited by Nanna Karlsson