Who would think that one of the world's most active volcano shelters the southernmost persistent ice mass in Europe!?
Yes, you can find ice inside Mount Etna!
Located at an altitude of about 2,040 m above sea level, the Ice Cave  (Grotta del Gelo) is well known among Mt Etna's volcanic caves due to the presence of columns of ice on its walls and floor which occupy about the 30% of the cave's volume and persist all year round.
How did the ice get there and why does it remain?
This cave

–

a small lava tube

of less than 100 metres long

–

was formed during Etna's longest eruption that occurred on its northern flank from 1614 to 1624 A.D. (Marino, 1999)
Once formed, the cave was subsequently filled with ice.

The shape of the cave enables the ice to persist because there is only one single entrance to the ice cave that insulate the air from the outside. This enables the temperature to stay below 0°C in some parts of the cave all year round. This is not the case with other lava tubes around Etna that have several entrances, which allows the air to circulate within the caves, causing warming
Exploring the Ice Cave
By studying ice inside caves, researchers can obtain very useful biological and paleo-climatological information. Although we don't know much about the conditions of the ice mass and its evolution over the last few centuries, speleologists (Centre Speleogico Etneo) and scientists (Italian National Institutites of Geophysics and Volcanology) have studied the cave for the past 20 years.
The use of new technologies such as UAV's (see THIS or THIS previous blog posts about other applications of UAVs in glaciology) or terrestrial laser scanners on glaciers and ice caves can give the possibility to monitor surface variations of hidden underground areas that have never been affected by human activities.
This year, researchers and speleologists from the Inside The Glaciers Project, organised a first expedition to the cave, to acquire precise measurements of the ice mass surface, with a terrestrial laser scanner.
After a long walk of about 4 hours through beautiful volcanic landscapes, the Inside The Glacier team arrived at the entrance of the cave. There they surveyed the Ice Cave for 5 hours, performing 17 scans to detect the ice mass with very high accuracy.
With these measurements it was possible to draw detailed topographic plant and sections of the cave and derive 3D models of its surfaces, obtaining first data that will be compared in future with other laser scanner surveys to help scientists to study the evolution of the ice mass inside the cave.
Acknowledgements
This expedition was organized within the "Inside The Glaciers" Project in collaboration with the Association La Venta Esplorazioni Geografiche, Etna Natural Park, Italian National Insitute of Geophysics and Volcanology (I.N.G.V.), Centro Speleologico Etneo, Federazione Speleologica Regionale Siciliana, Gruppo Servizi Topografici s.n.c.
(Edited by Sophie Berger and Emma Smith)
---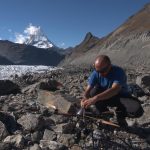 Tommaso Santagata is a survey technician and geology student at the University of Modena and Reggio Emilia. As speleologist and member of the Italian association La Venta Esplorazioni Geografiche, he carries out research projects on glaciers using UAV's, terrestrial laser scanning and 3D photogrammetry techniques to study the ice caves of Patagonia, the in-cave glacier of the Cenote Abyss (Dolomiti Mountains, Italy), the moulins of Gorner Glacier (Switzerland) and other underground environments as the lava tunnels of Mount Etna.
He tweets as @tommysgeo