This month's GeoPolicy Blog post dives into the Science Europe publication, Science–Policy in Action: Insights for the Green and Digital Transition, which aims to contribute to the development of a framework for Science-Policy Interfaces, map the interface activities coordinated by their member organisations, and identify areas where these activities could be improved. Not only does the report provide an overview of the opportunities that exist for individual scientists to engage in policymaking processes, but it also provides inspiration to other scientific organisations who would like to propose and coordinate their own Science-Policy interface activities.
What are Science-Policy Interface activities and why are they important?
The benefits of integrating scientific evidence into the policymaking process and the formation of evidence-informed policies are widely acknowledged by both the scientific and policymaking communities in Europe (and beyond). Research and scientific evidence can help policymakers identify the causes of a particular issue and its complexities, understand the potential consequences of any policy action or inaction, and more efficiently allocate resources. While effective policymaking cannot be done using scientific evidence alone, it is "one of the many" important considerations.
However, despite the benefits of evidence-informed policies, integrating science into the policymaking process is rarely linear and often challenging. More frequent and strategic Science-Policy Interfaces  can support the co-creation of evidence-informed policies and help to find solutions to some of the complex societal challenges that we're facing from the local to the international levels. In the Science–Policy in Action report, Science-Policy interfaces refer to "all the activities carried out by research organisations that aim to promote science-informed policymaking". Some of the examples of Science-Policy interfaces outlined in the report include undertaking policy-oriented research studies, creating policy briefs that summarise scientific findings, hosting policy-relevant events, and facilitating a staff exchange between research and policy organisations (similar to the EGU's Science-Policy Pairing Scheme that currently has an open call for applications).
What is the Green and Digital Transition?
The Science-Policy in Action report focuses explicitly on Science-Policy interface activities that relate to the Green and Digital Transition. This includes societal challenges relating to climate change, biodiversity loss, and digital technologies. Not only do these issues have a high degree of scientific complexity and uncertainty (that policymakers are specifically seeking scientific support to understand), but they are developing rapidly and have long-term implications. Therefore, while Science-Policy interface activities are relevant in all policy fields, they are particularly crucial in these knowledge-demanding societal challenges. As a result, these topics are excellent case studies to examine effective Science-Policy interface activities and potential areas for improvement.
Key outcomes from the report
Through a detailed survey involving both quantitative and qualitative questions, the Science-Policy in Action report addresses several key issues at the interface between science and policy. These findings range from how Science-Policy interface initiatives are steered and supported to how they can be effectively run. Here, we outline a few of the key outcomes of the report.
Understanding how research organisations support and promote science-informed policym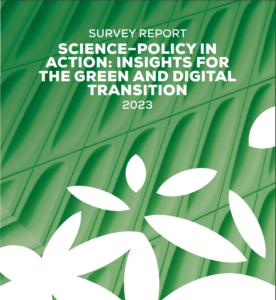 aking
While Science-Policy interface activities promote science-informed policymaking, how research organisations support these initiatives is often unclear. To provide insights into how individual scientific experts who want to take part in these initiatives are supported, the Science-Policy in Action asked the Science Europe members surveyed about how they commonly provide assistance.
The most common ways these institutions offer support is by giving i) administrative support staff, ii) scientific staff, iii) resources to perform policy-oriented studies, and iv) resources to organise policy-related events.
The driving force behind the selection of specific Science-Policy interface activities
The recognition of Science-Policy interface activities as a specific field of activities for research organisations is a fundamental step to developing dedicated strategies to promote, support and enable science-informed policymaking. This acknowledgement relies on the need to allocate specific resources (funding, personnel, and infrastructure) and develop dedicated strategies. In this perspective, it is crucial to facilitate bi-directional exchanges between researchers and policymakers. For these reasons, science-policy interfaces need a clear mandate to make sure expectations and resources are aligned with the commitment of both researchers and policymakers.
Case studies: inspiration for those wanting to establish their own Science-Policy interface activities
The second half of the Science-Policy in Action report uses qualitative data to provide examples and case studies of successful Science-Policy interface activities that may inspire others to create or engage in similar initiatives. These examples are grouped around three fundamental models of Science-Policy interface activities:
ad hoc questions from policymakers to researchers;
bottom-up initiatives created by researchers to engage policymakers and
structured science–policy hubs enabling interactions.
These case studies provide a fantastic overview of what Science-Policy interface activities could look like and are well worth diving into in more detail if you or your organisation would like to establish your own initiatives!
Interview with the authors
Each of the case studies presented in the Science-Policy in Action report reveals key insights and tips on how effective Science-Policy interface activities can be established! But to help us dive into some of the overarching themes, I had the pleasure of interviewing two of the report's authors: Malin Mobjörk (Deputy Head of Department for Environment/Senior Research Officer at Formas – the Swedish Research Council for Sustainable Development and Chair of Science Europe's working group for the Green and Digital Transition) and Nicola Francesco Dotti (Senior Policy Officer at Science Europe).
In your opinion, what was the most surprising finding from the Science-Policy in Action report?
We were surprised by how many activities that support, promote, and enable science-policy interactions exist! We knew that there was a strong interest in science-based policy advice, but we did not expect to find so many different initiatives and experiences across Science Europe member organisations. While each initiative provided its own unique insight, together they demonstrated that we need to better understand the value of these activities, increase our ambitions, develop strategies to provide adequate resources, rewards, and recognition, and create evaluation systems to ensure their effective implementation.
How can scientific organisations and research institutions use the report to set up and develop Science-Policy interface activities?
We view the report as a first step to help our members and other research funding and performing organisations to develop their Science-Policy interface activities. Science Europe is already working to turn the lessons learnt from this study into more specific guidelines. The idea is to propose principles, values, and strategies with examples to make science-policy interactions effective.
We learnt that the most effective way is to structure these activities with proper resources and multi-annual plans of action, promoting exchanges in both directions: from policymakers to researchers, and the other way round. Regular exchanges to revise scientific findings and align with the policy agendas facilitate the building of trust, further improving this positive relationship.
We are aware of the ongoing conversation about these issues in Europe, and we would like to see the work of Science Europe's member organisations helping to support and further advance that discussion.
As outlined above, Science-Policy interface activities can be incredibly beneficial! But how can we, as individual scientists or scientific organisations, promote and incentivise these initiatives within our own communities?
A fundamental element for successful research-policy exchanges is institutional support. We need recognition systems and resources from both policy and research organisations. Research organisations should adopt an institutional approach to help the individual scientists in providing policy-relevant contributions. Research leadership should recognise, encourage, and support these contributions.
Research communities are invited to engage and reward this policy-oriented contribution that – we must say- goes beyond the research activities. For example, publishing a scientific article is different from a policy briefing; organising an academic conference is different from a research-policy seminar. The differences are clear, and research organisations should put in place adequate strategies with resources, rewards and evaluations.
A big thanks to Mobjörk and Dotti for answering my questions about the report! You can find more information about Science Europe and the work that they are doing here.