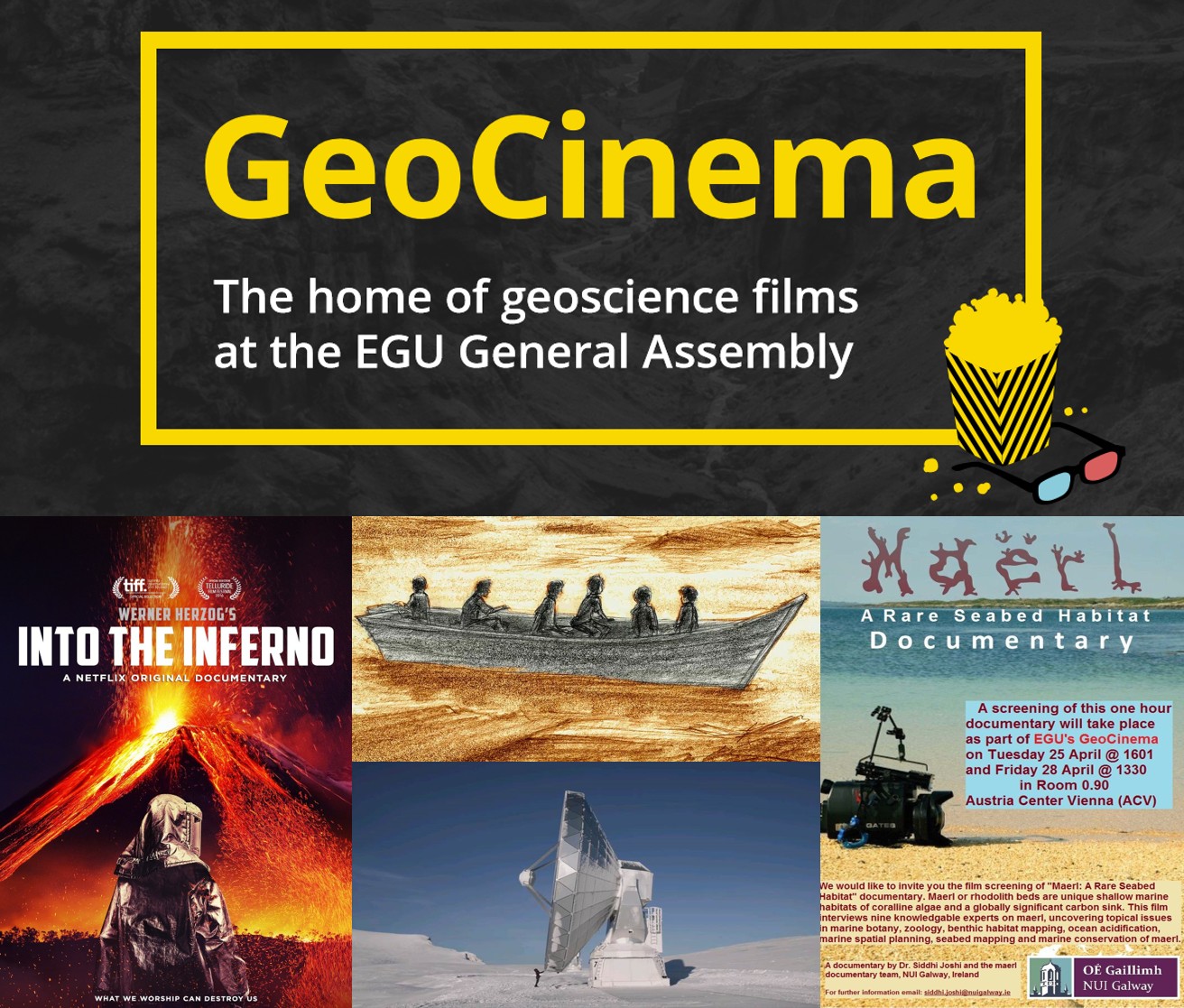 GeoCinema is the home of geoscience films at the EGU General Assembly. This year features over 50 fantastic films from across the geosciences, so you can step into some soil science, dive into deep ocean investigations, catch a glimpse of climate change research and more!
The GeoCinema runs almost continuously throughout the conference, with short films, documentaries and feature length productions playing throughout the week in the GeoCinema Room (room 0.90 on the Yellow Level) from 10:30 until 19:00, daily, except on Friday when the programme ends at 17:00.
You can view and download the GeoCinema schedule, together with brief film descriptions, here.
One of this year's highlight is the screening of Into the Inferno, Werner Herzog's Netflix Original Documentary. The German director and and volcanologist Clive Oppenheimer travel the globe and visit volcanoes in Indonesia, Ethiopia and even North Korea in an attempt to understand man's relationship with one of nature's most violent wonders.
This year's early career scientist video competition adds another dimension to the event, as finalist films from the EGU Communicate Your Science Video Competition will also be screened during the GeoCinema breaks. You can vote for your favourite by giving it a thumbs up on YouTube – on your laptop, smartphone or voting station outside the GeoCinema. The winning video will be announced at the EGU Booth at the General Assembly, on Friday the 28th April at 12:15!
And, if you are interested in using film-making to communicate your research with a broad audience, but aren't sure how to finance the project, why not come along to the short course on Finding funding for your science film? It's taking place on Thursday the 26th April in the GeoCinema Room. Two professional science film-makers will share tips on how to secure funding for your project, no matter how small or large your ambitions. Interested? Find out more about the workshop in the programme online. Be sure not to miss it by adding it to your personal programme too.
The EGU General Assembly is taking place in Vienna, Austria from 23 to 28 April. Check out the full session programme on the General Assembly website.