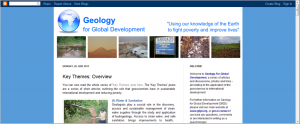 We've gone back even further into our archives (back to our old blog site in fact!) to bring you some brilliant guest blogs written by students and professionals on topics ranging from water to ocean nutrients! 
**Hydrogeology/Water and Sanitation
Donald John MacAllister – Groundwater Use and Challenges in South Asia
Christopher Barry – Water of Life Project – Safe Drinking Water in Burkina Faso
Geraint Burrows – Hydrogeologists Without Borders
Richard Boak – The Importance of Groundwater Monitoring
**Development and Natural Resources
Rosalie Tostevin – Is there blood in your mobile?
Louisa Fearn – Rethinking development in the age of scarcity and uncertainty
Dr D Vasudevan – Some thoughts on Agrogeology
**Disaster Risk Reduction
Claire Fyson – Earthquake Education in Central Asia
**Miscellaneous
Jonathan Stone – The Social Geologist
Rosalie Tostevin – Ocean Nutrients: Geoscientists have the right balance
Laura Rose Wilson – Attachment with the Geological Survey of the Solomon Islands