The EGU Kids Art activity normally happens in person in the creche at the conference centre during the General Assembly, but first last year and now this year we have had to move all our activities online instead. Working together – two of our Division Early Career Scientist teams, one from Natural Hazards and one from Cryospheric Sciences came up with this year's theme 'Extreme e-ART-h' and since the launch we have seen so many excellent representations of how our Earth can be pretty extreme!!
We have really loved seeing all of your submissions during the two weeks of the meeting and we wanted to share as many of the amazing creative contributions that have come in via social media and email here – apologies if we've missed yours – they were all wonderful!
EGU really wants to thank the two Divisions that co-ordinated this event fro their hard work helping to share the activity and the contributions, especially: Jenny Turton, Valeria Cigala, Ira Didenkulova and Thomas Chen  – they've done a great job and this wouldn't have happened without them!
In no particular order – here are as many of the entries we could manage for the #EGUartKIDS gallery this year.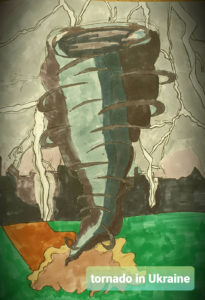 'Tornado in Ukraine' by Mikle (11) from Kiev, Ukraine. Shared by Kateryna Terletska.
A brilliant collective KidsArt contribution from Gullslottet kindergarten of the University of Oslo (UiO). The kids are between 3 and 5 years old. Shared by Ira Didenkulova.
"This is Shifa Shah from Brunei. I am a grade 5 student at Seri Mulia Sarjana International School Brunei Darussalam. I don't like big earthquakes that is why I have sketched mild shaking due to a small earthquake. I am also attaching my younger sister, Amal Shah's art on earthquake hazards. She is in grade 2, and at the same school where I study. My age is 9 years and Amal is 7 years old."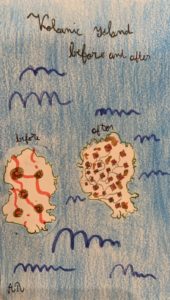 A volcanic island, from Açucena Paz-Ribeiro, 10 years old, from Portugal. Shared by Maria Catarina Paz.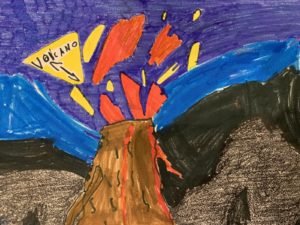 A volcano from João Paz-Ribeiro, 8 years old, from Portugal. Shared by Maria Catarina Paz.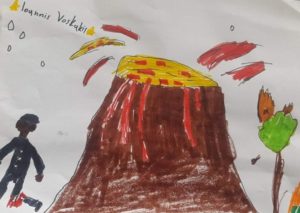 "I am sharing with you a drawing for the Extreme e-ART-h. The contribution is from my nephew, a young artist (and potentially a future geologist) called Ioannis (9) from Greece." Asimina Voskaki.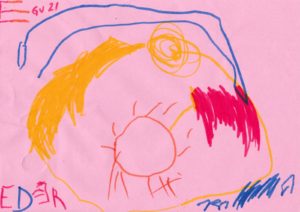 Eder is 3.5 years old and loves Octonauts so he painted a volcano as an Extreme event for #vEGU21 #EGUartKIDS , shared by Dr. Mariana Ribas Ribas.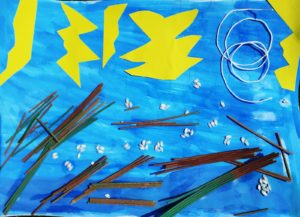 "'Extreme rainfalls and flooding – water represents life and beauty…. not fear' by Sara (4,5 years old) and Daniel (11 years old) from Italy. We have used recycled materials: cardboard (lightning), spaghetti (broken branches), rice (heavy rain) , twine (wind). Thank you for the chance of taking part in such an amazing project!" Shared by Silvia Scolari (Mum)!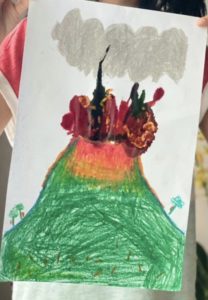 Aruna's volcano,  shared on Twitter by Leo Sembiring.
"These are my niece Ariana's contribution to EGU's Extreme e-Art-h. She is 6 years old and has gone for volcanoes as her topic." Shared by Saajeda Bandali.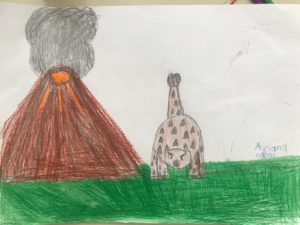 "Here is a painting from my daughter Ariana Castro. She's six years old." Shared by Ana Elizabeth Ochoa Sánchez.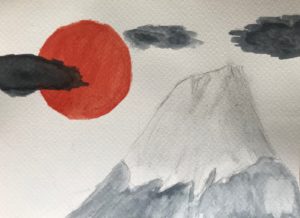 This picture of a mountain was painted by Luisa, age 13, submitted by Olaf Eisen.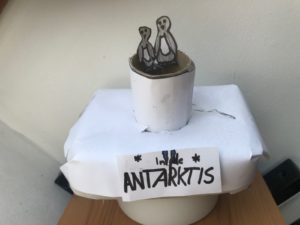 This frosty landscape was created by Fiona, age 9, submitted by Olaf Eisen.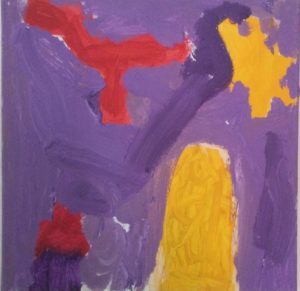 This abstract picture was painted by Luisa, age 5, submitted by Olaf Eisen.