GeoTalk interviews usually feature the work of early career researchers, but this month we deviate from the standard format to speak to Kelly Stanford, an artist based in Manchester, UK who focuses on creating works of art that embody scientific concepts in an accessible and aesthetically pleasing manner which can be used to communicate science to the public. Here we talk to her about her career path into science art (SciArt) and science communication (SciComm), her recent projects, lessons learned as a science communicator, and more!
Hi Kelly, thanks for talking to me today! To start off, could you introduce yourself and tell us a little more about your career path so far?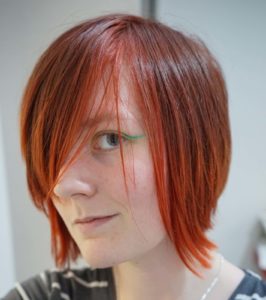 I'm a scientific artist/illustrator based in Manchester, in the UK, who uses art as a form of science communication. My academic background was originally History of Art which I did as an undergrad at the University of Manchester (my dissertation was on Eduardo Paolozzi's Turing Suite – a series of overlooked prints themed around the life of Alan Turing and technological progress), before I focused my career path exclusively to SciArt and SciComm after I graduated.
My practices have always been rooted in science and art, so I wanted to continue to develop these during my time at university.  During my time in Manchester, I started to network and collaborate with scientists from the university's physics department in order to develop my work further. I was amazed at how accommodating the university was towards interdisciplinary work; I had access to labs so I could experiment with new materials and figure out how to incorporate them into my work. This eventually this led to me collaborating with the National Graphene Institute, which is currently in the process of hanging my art up around the building for permanent exhibition, plus some future projects with other departments too.
All my work is freelance so I get to work on a diverse range of stuff. Most of the time I will be commissioned by a scientist and then we will work closely together to realise their project ideas (like an educational card game) and other times I set my own personal projects to work on with companies (such as public art sculptures).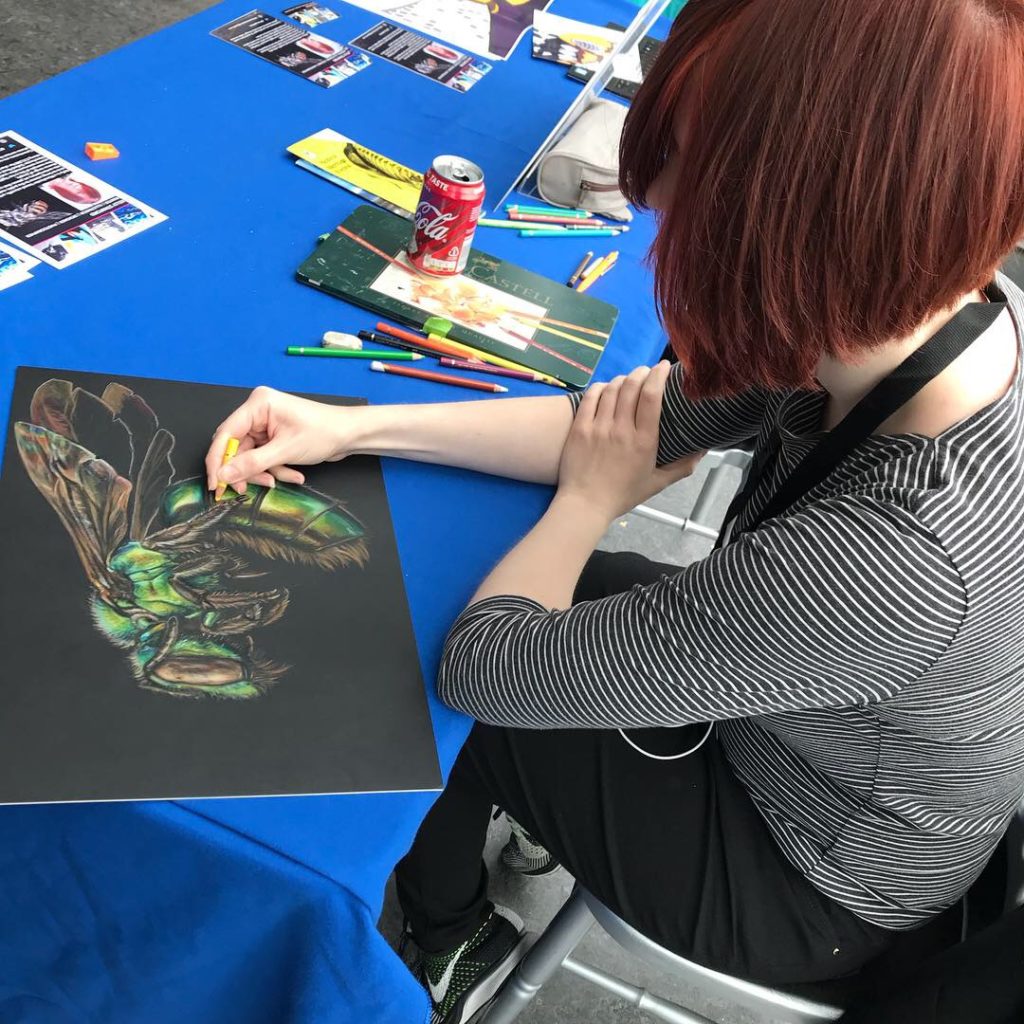 How did you first get interested in SciArt and SciComm?
I first got interested in SciArt during my college days. The SciComm element came later as I noticed that the pieces I made in the studio space led to numerous people asking me about their inspiration and general science questions.  A few fellow students pointed out that I was able to break topics down and simplify them so that even those from non-science backgrounds could understand the subject. I also noticed that they were taking note of science in the news more after our discussions and looking things up. Eventually this led to us projecting NASA live streams onto the studio wall during lessons, much to the dismay of our skeptical art professor. It really made me focus on SciArt's inherent SciComm potential so it became a main focus during and after my university days to develop it further.
One of your most recent works is Science Pusheen: where you create illustrations of the cartoon cat Pusheen in various STEM roles. What was your inspiration and goal for this project, and what has been the response so far?
Originally, I made them as a bit of fun in between my main work and as a response to the lack of positive STEM representation in cartoon media. I was disappointed that there was no science-themed Pusheen's (not even a simple lab technician) so I made my own! The project started as a set of four basic drawings I made on my iPad and uploaded to my Twitter (@TheLabArtist), I had no idea they'd blow up as much as they did. I let people use the illustrations so they're now being incorporated into classrooms, labs, presentations and outreach events!
I now take requests for science fields to cover in the project – I'm aiming to cover most science fields so that everyone has their own Pusheen. Geoscientific fields gets requested a lot so I've already made a few covering this area. I'm currently working on a climate scientist and communicator Pusheen as we speak!
In your opinion, why is having STEM representation in media (such as your Pusheen cartoons) important?
STEM is a part of everyday life so I feel that people should be made more aware of it. I also think science has these cultural stereotypes where you have to be a certain type of person to be a scientist, which isn't the case. I believe anyone can get involved with STEM, so the more representation in popular media these fields get hopefully the more normalized it will become.
Besides Science Pusheen, you have been involved in a number of other projects, from designing science education themed card games to creating science communication sculptures! What have been some of your favorite projects recently?
Well one of my favorites was the 'STEM Bee' science communication sculpture I made for the Bee in the City last year in Manchester. The STEM Bee was a 1.8 metre tall bee sculpture that was embellished with imagery from Manchester research papers, portraits of famous scientists, science facts, a list of the city's scientific achievements and the signatures of roughly 80 local researchers (including a Nobel Prize winner!). The signatures were a nice touch as it represented current-day research being done in the city, rather than just focusing on the historical stuff. It also allowed me to meet and collaborate with a whole bunch of researchers from different backgrounds.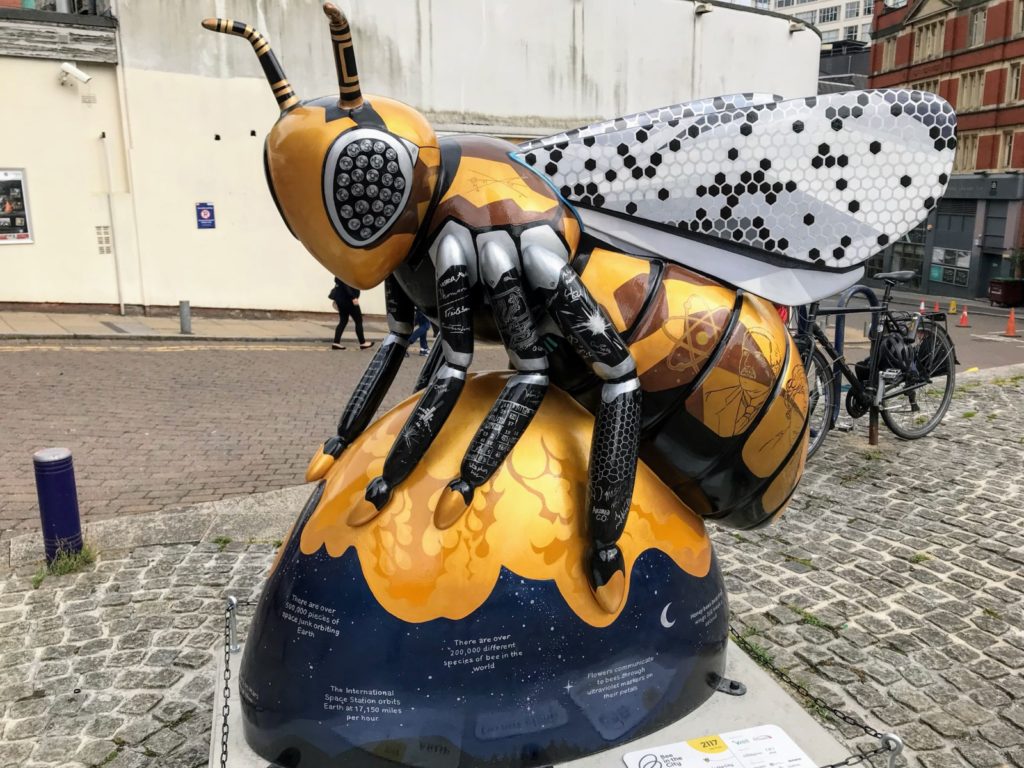 The bee was outside Manchester Oxford Road train station (one of the main ones in the city) for two months so loads of people got to see it. I worked with my sponsor, ARUP (engineering firm behind the Sydney Opera House) to promote the project through free posters/postcards and a free DIY Bee Hotel guide which was unlockable via a QR code on the bee's base. Eventually my sculpture was auctioned off and raised an amazing £22,000 for local charities – SciComm and charity fundraising in one!
At the start of the year I collaborated with Chris Skinner a research fellow at the University of Hull, UK, to design a flood defense card game he created called 'Resilience' for the University of Hull's SeriousGeoGames Lab. My job was to design all of the graphics (card layout, branding and the card artwork); it was a really fun project and was great seeing the test version shown at this year's EGU conference. We want to work on the game some more, tweaking a few things to make it play better and even introduce some special cards ready for EGU2020!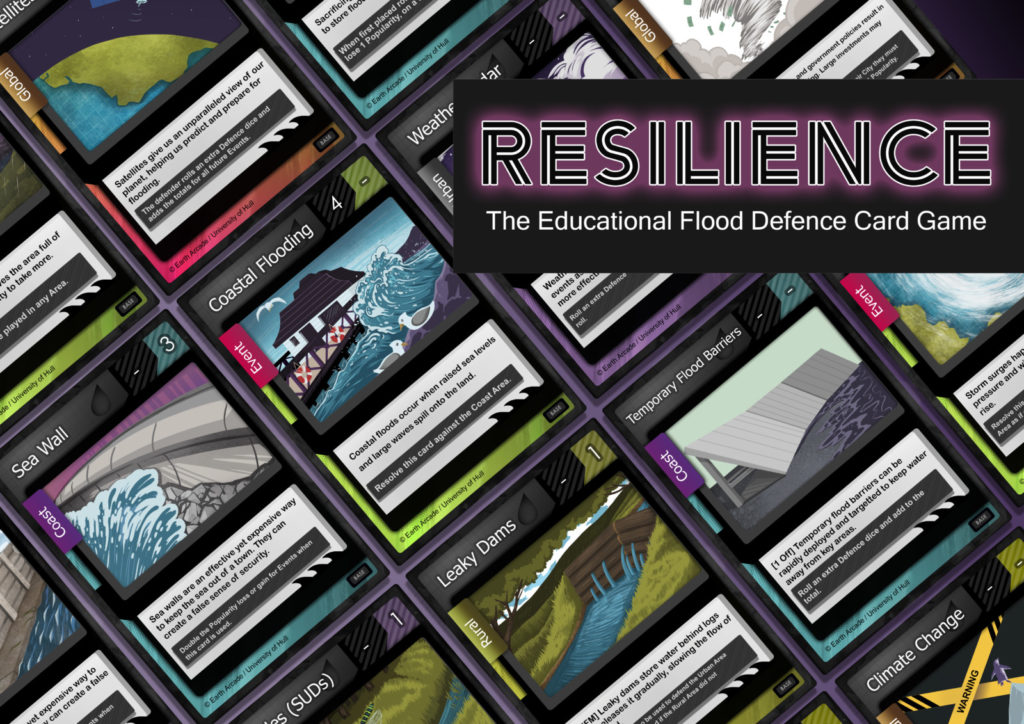 More recently, I've just finished making two more SciComm sculptures, this time gorillas for the Jersey Zoo, on the island of Jersey in the English Channel.  The first is more of a fun one for children that's themed around space and glows in the dark. The other is dedicated to Gerald Durrell, the founder of the zoo and the Durrell Conservation Trust. Gerald was crucial in influencing change in how zoos worldwide operate, shifting from a mere attraction to an 'ark' where endangered species are conserved for repopulation purposes. He was also a massive influence for future wildlife presenters such as David Attenborough. It's an honor to be commissioned for such a piece and I hope my sculpture does a good job at communicating Durrell's importance in species conservation!
You also have given workshops teaching different scientific topics through art and discussing how art can be used as an effective tool for science communication. What strategy do you use and impart to educators when it comes to teaching science through art?
I try to create a calm environment in the classroom and don't exert too much pressure on the students during lessons. If you exert too much pressure (which is becoming a major problem in UK schools), they'll be too stressed to take anything in. The main objective is for them to have fun, learn some interesting facts and come away with a physical object that they've made. In my recent workshop I got a school of 150 students to create their own illustrated ecology books focused on a creature of their choice and its habitat, complete with annotations. The workshop not only got them to do research ecology research, but it also produced something they can take home and look at. I find that visual learning such as the SciArt workshops is great in that the art helps reinforce the science subject its themed around and it can also be therapeutic and boost creativity.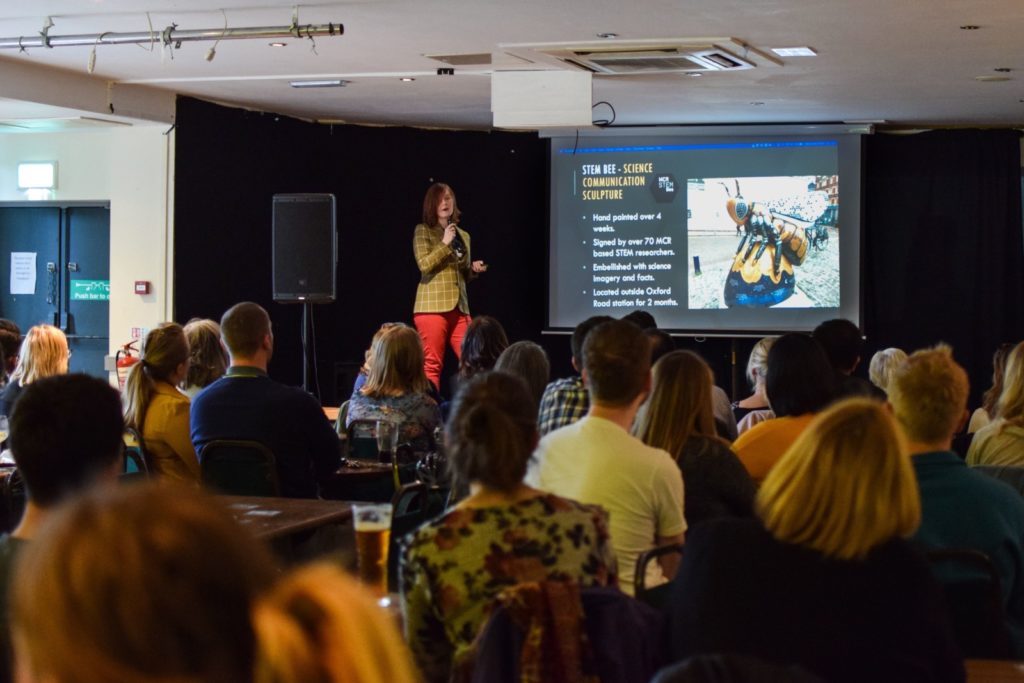 What are some of the biggest lessons you have learned as a scientific artist? What advice would you impart to aspiring science communicators?
Just dive in head first – as science communicators our job is to find new, unthought of methods of science outreach. So, don't be afraid of trying new things, even if it's outside of your discipline. Sometimes starting as an outsider and working inward can give you a good insight on how to help others do the same.
Interview by Olivia Trani, EGU Communications Officer
You can learn more about Kelly Stanford as well as her ongoing and past projects via her website: https://www.kellystanford.co.uk/. You can follow her work on twitter via @TheLabArtist.