Welcome back to the second day of the 2014 General Assembly! Today is packed full of excellent sessions, and this list of highlights is by no means comprehensive! Make sure you complement this information with EGU Today, the General Assembly newsletter, to get the most out of the conference – grab a copy on your way in or download it here.
Today's Europe in Geosciences event on The Role of Geoscientists in Public Policy (EG1, 10:30-12:00 in R1) puts the spotlight on the ways in which geoscientists can bring their research to the policy domain. This round-table features speakers from both science and policy, who will debate the role of geoscientists in the policy realm and take questions from the audience, following a short address. You can also follow the session on Twitter with #EGU14EG.
Another Union-wide session, the Face of the Earth Union Symposium, features three fantastic speakers who will explore the facets of this year's theme – join them in Y1 from 15:30-17:00 (or, if you're watching remotely, watch the live stream and follow the discussion on Twitter with #EGU14face).
Today's Keynote Lectures will be on the Waters of the Earth (KL4, 13:30-14:30 in Y1) and on the seismic constraints on the lithosphere-asthenosphere boundary (KL1, 19:00–20:00 in B1).

The day is full of fantastic scientific sessions, from explorations of how aerosols influence cloud production and precipitation (AS3.5), and the way climate change is changing seasonal patterns in ecology and development (CL3.11/AS4.24/BG5.6) to looking at biochar and organic waste in soils (SSS6.5), and the formation, dynamics and habitability of exoplanets (PS6.1)
If you're a young scientist, join the EGU Young Scientists Forum (12:15–13:15 in R13) to find out more about the Union and how to get involved. It's over lunch, so you'll find a buffet of sandwiches and soft drinks when you arrive! You can also hone your skills during a number of Short Courses on throughout the day: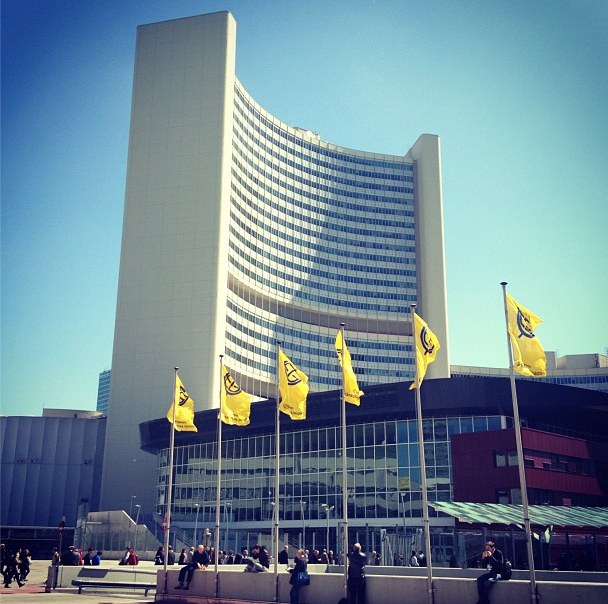 There is also a treat of Townhall Meetings on this evening.These meetings allow for a lot more open discussion than many of the Assembly's other sessions and take place outside the usual time blocks. Here are some of the highlights:
And there's a suite of smaller Splinter Meetings organised by conference participants too. They cover topics such as how to make marine data more accessible (SPM1.7), understand more about poor air quality (SPM1.20) and improve methods of Earth observation (SPM1.28).
Finally, remember to take the opportunity to meet your Division's representatives at the EGU Booth in today's Meet EGU sessions and, if you're in need of a break, head on over to GeoCinema, where you can kick back and relax with a geological film (10:30-19:00 daily in B12).
Have a lovely day!