Twitter is a place that can be full of an overwhelming amount of information, and often it becomes difficult to hear about new information amongst the noise of all the tweeting. To help our fellow cryo-enthusiasts learn more about equality, diversity and accessibility within the cryosphere, we're highlighting a few twitter accounts that we think everyone should follow!
---
Women within the cryosphere are not as common as they should be, as highlighted by our women in Cryoblog series (read a few of them here!). Women make up 50.8% of the world's population, yet fewer than 30% of the world's researchers are women. Of this percentage, Black, Asia and Minority Ethnic (BAME) comprise around 5%, with less than 1% represented in geoscience faculty positions.
@womeninpolarsci is a twitter account focusing on elevating the voices of women scientists. They aim to connect women in polar science and inspire others to become polar scientists!
In May, @womeninpolarsci reached the halfway point of their aim to inspire 100 polar women in six months. Their #100polarwomen initiative is a joy to see on your twitter timeline, and only one of the many amazing things they do to spread the (too often untold) stories of women.

In 2020, the Diversity in Polar Science initiative (DiPS) reported that representation of people from under-represented groups engaged in Polar Science in the UK, especially for Black, Asian and Minority Ethnic communities, is currently below 3%. Additionally, of a survey of 174 participants, 78% are aware of issues regarding racism and exclusion of BAME staff or students inside the workforce culture of the UK polar research community.
@PolarImpact is an inclusive network of racial & ethnic minorities and allies in the polar research community, aiming to change these statistics. Run and led by eight inspirational people (take a peek here!), their twitter profile illustrates the diversity of polar explorers, whilst facilitating the discussion around diversity in polar research.
They share important information such as Ten simple rules for building an anti-racist lab, and ideas such as the Polar Postcard, an initiative for children from inner city schools, schools in densely populated areas often with a high percentage of lower income and minority groups, to receive postcards all the way from Antarctica! Along with all these ideas, they regularly post a weekly round-up of jobs and student opportunities, what else could you want?!
Pride: Pride in Polar Research @PridePolar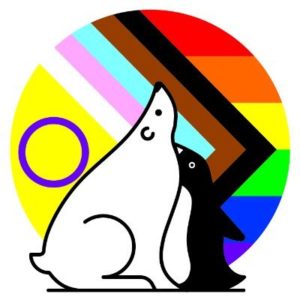 Pride in Polar Research (PiPR) was established when an early career researcher reached out to the community ahead of the POLAR2018 conference in Davos, seeking solutions to the isolation and discrimination issues they faced as a queer and intersex scientist. What began as a plea to other members of the community to be more visible by wearing rainbow badges quickly developed into a group actively working to combat biases through community development and education. PiPR's priority is to help uplift the voice of marginalized LGBTQIA+ professionals in this field and to held end discrimination against underserved communities.
@PridePolar welcome all sexual orientations, gender identities, gender expressions and sex characteristic identities! PiPR is working to establish a more formal structure and is cooperating with other intersectional groups and allies across academia to build on its initial successes. Beyond supporting, connecting, and raising the visibility of members of our community, PiPR produces resources intended to improve equity, diversity, and inclusion within Polar research. One priority is to provide practical advice to individuals and groups organising workshops, conferences, fieldwork, etc., on how best to be as inclusive and welcoming as possible, given the many different barriers that members of the PiPR community face worldwide.
Be sure to make a note of Polar Pride day, the 18th November in your calendar!!
And if you keep your eyes peeled, you might even spot one of their easily recognisable pin badges around your office or at a conference!
Accessibility: Accessibility In Polar Research @accesspolar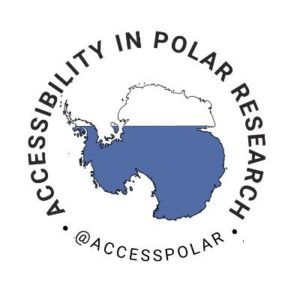 Accessibility in Polar Research (APR) was founded during the pandemic by a small group of disabled researchers who have all faced adversities in the field due to their disabilities. In just under two months, they found themselves with a platform exceeding 700 followers on Twitter (@accesspolar). Through networking with researchers facing discrimination, they have understood how the polar field can improve and which issues need the greatest attention. This has shaped APR's aims and initiatives going forward. @accesspolar tweet an array of useful information on how to be more accessible, and most recently, they have been producing accessible colour pallets for people to use for posters and presentations, which you can find here!
Early Career Support: Polar Science Early Career Community Office @polarsecco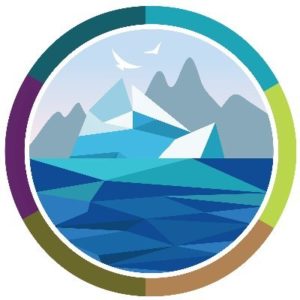 The mission of PSECCO is to support a vibrant community, provide opportunities and resources, offer skill trainings and work together towards a more just, inclusive, diverse, equitable and accessible polar science environment. The organisation is led by a team of diverse individuals, all who have one common goal, to empower and elevate early career polar scientists!
Through the use of the PSECCO twitter, they aim to build connections between early career researchers across disciplines, volunteer organizations, and with existing polar networks. But they also provide practical support for the early career scientists, through workshops, training and travel funds.
Most importantly, by ensuring PSECCO support ALL early career scientists, they provide support and funding for initiatives that enhance belonging, accessibility, justice, equity, diversity and inclusion (BAJEDI) in the polar sciences.
CryoCommunity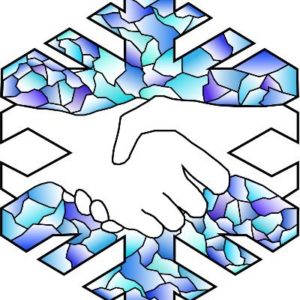 seek to involve the broader cryospheric community in positive change. This organisation was started to collate, and distribute best practices across a suite of academic processes and institution types.
The purpose of CryoCommunity is to build and foster a more just, equitable, diverse, and inclusive community and culture within the cryospheric sciences. They recognize that systematic racism and sexism are harmful barriers inherent in academic institutions. CryoCommunity aims to share resources and best practices across the community and to advocate for the changes needed to create an equitable and inclusive culture.
Their website and twitter hosts many useful resources such as 'is your presentation accessible' or 'preparing for field work'. They are also currently pioneering a census for the scientific workforce, the creation of a common infrastructure and format for the collection of data from grant recipients regarding (a) demographics and (b) availability of resources. With the aim of being able to better link necessary resources to the minoritized populations that currently lack them, and to identify the resources required to succeed at various career stages to build on-ramps outside of the pipeline. Definitely a twitter account to keep a close eye on!
Twitter hosts a myriad of accounts that share research, information and thought-provoking statements, and the accounts shared here are only a handful of those who do such things. We hope that by following them, you're able to learn and share the information they provide!
Edited by Clara Burgard and Marie Cavitte
---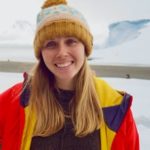 Emma Pearce is a post-doc researcher at the University of Strasbourg using cryo-seismology to better understand the structure and properties of snow and ice. During her postdoc, Emma is enjoying contributing to the EGU cryosphere community by writing and editing blogs as often as she can!