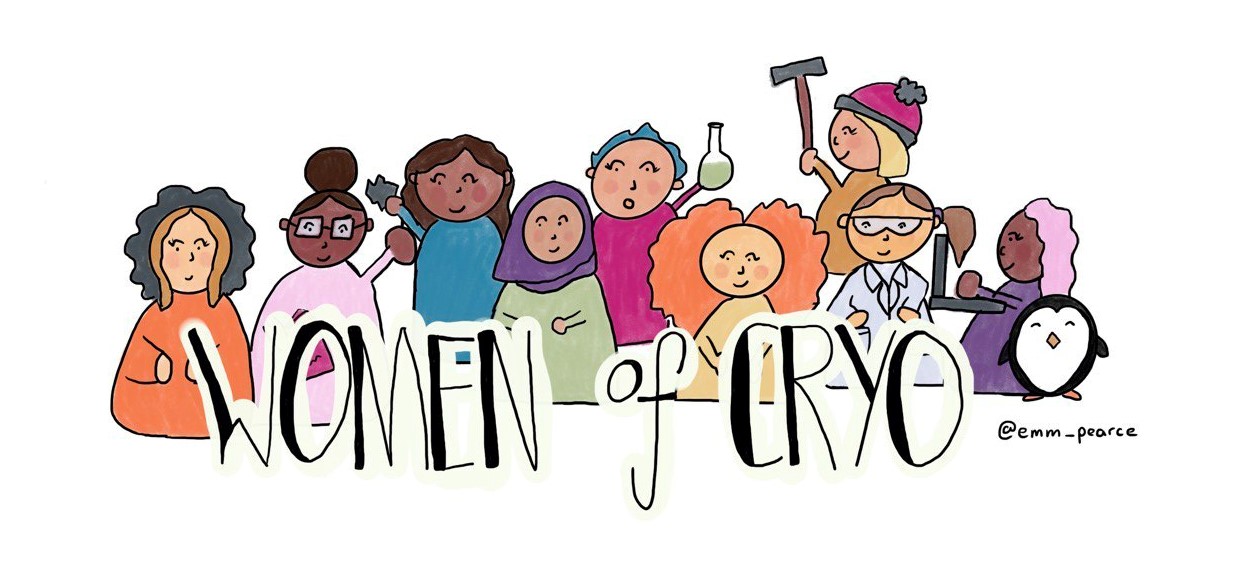 Women make up 50.8% of the world's population, yet fewer than 30% of the world's researchers are women. Of this percentage, women of colour comprise around 5%, with less than 1% represented in geoscience faculty positions.
Women are published less, paid less, and do not progress as far in their careers as men. Even within our EGU community, women account for only one third of all members, and make up only 32% of the cryosphere division.
The divide between women in the population and women in STEM needs to be addressed. Through a series of blog posts we hope to raise the voice of women in the cryosphere community, and spread awareness of the amazing work they do.
---
Introducing our Women of Cryo
For the past 3.5 years Emma Smith has been a postdoctoral researcher at the Alfred Wegner Institute (AWI) in Germany. When not in the office, she can be found studying icy geophysics from one of the most northern parts of our planet (Svalbard) to the most southern continent (Antarctica). When she isn't being kept busy on expeditions to cold places, Emma's enthusiasm for the snow-covered world has extended to writing blog posts, helping to transform the EGU Cryosphere division to the success it is today, and participating in outreach initiatives such as "Girls On Ice" (which is great – check it out!)
In her free time, you can probably find Emma out cycling on her bike, geeking out about beer and brewing, but definitely not making a cake (as a self-proclaimed terrible baker!).
Early career
Emma was unaware geophysics existed as an undergraduate degree and she began her journey into this field in the not-so-conventional way, with a Masters degree in Electronic Engineering from the University of York, UK. She had always enjoyed physical geography, but it was the applied mathematical aspect of Engineering, that led her along this path. However, by the time she got to graduating, Emma realised electronic Engineering wasn't for her:
 "I was pretty sure I didn't want to be an Engineer (I am terrible at soldering!)". 
Fortunately, a 6 month-long research project in signal processing and a supervisor aware of the world of geophysics led Emma to write to the director of the MSc Exploration Geophysics course at Leeds University, UK. She was invited to visit Leeds and from the moment she walked through the front door, Emma was hooked! Be it the draw of fieldwork or the possibility of studying signal processing for another year, Leeds was lucky enough to be the gateway for Emma's journey into geophysics (thank goodness!).
The path to the cryosphere

Emma's interest in the cryosphere was sparked during her MSc at Leeds, where she studied radar data from a glacier in Svalbard for her dissertation. Following a short stint at the British Antarctic Survey (BAS) after her MSc, Emma dipped her toes into the geophysics industry for a few years, but eventually made her way back to BAS for her PhD. 
Tasked with studying 'icequakes' and microseismology, Emma set to work determining the source and location of the icequakes which occurred in the Rutford Ice Stream, using them to establish the basal dynamics of the ice stream. Since then, Emma's cryosphere journey has taken her to 12 different countries, spreading snowy knowledge across the globe, and for the past 3 and a half years she has been able to call Germany home.
 "I've visited some absolutely amazing places I wouldn't get to otherwise and spent months living with lots of different people and getting to know about them. The cryosphere community is generally amazingly friendly and that makes a big difference to how much I enjoy going into work each day." 
Emma's main topic of research consists of:
ice stream dynamics: in particular, the basal dynamics that accommodate ice stream flow and how these are related to sub-glacial sediment characteristics and properties.
Ice fabric properties: the formation of ice crystal fabrics under different stress regimes and how these can be investigated using passive seismics, active seismics and radar.
Ice geophysics: particularly the use of active and passive seismics and radio echo sounding in glacial environments.
An area that Emma has yet to work with but which she'd like to get involved with is the growing movement of using fibre optic cables as seismometers in cryospheric applications: "It has huge potential for passive and active seismic surveying on ice."
If you want to find out a bit more about Emma's research, why not check out her publications. With her time in Germany coming to an end, she is excited to move onto her next opportunity to get her back to Antarctica as soon as possible!
Cryosphere Adventures 
Having visited Antarctica, Svalbard, Iceland and the Alps multiple times, Emma has no shortage of good stories from her adventures, but one in particular when asked one that sprung to mind was the tragedy of the brussel sprouts…
"Because it is the southern hemisphere summer over during European winter, fieldwork in Antarctica often takes place over Christmas. During my first trip to Antarctica in 2014/15, I was on a remote traverse on Pine Island Glacier over Christmas. The chef at the British Rothera Station had kindly cooked and vaccum packed a Christmas dinner for us before we left the base in October and we had it frozen (thanks to the Antarctic temperatures) in boxes on the roof of our living container. Each time we moved to a new field camp location we would pull all our equipment and living container with us on sledges, using a snow tractor. The ride could be quite bumpy due to sastrugi (ridges caused by wind blowing over the surface of hard snow). During one of these camp moves, a few days before Christmas, we tragically lost one of the boxes containing our Christmas dinner, when we hit a particularly large bump and it fell off the roof of the living container. We stopped to inspect the damage, fearful for the fate of our long-awaited Christmas dinner and found the box was luckily mostly intact, but there were some rather funky green patches of snow along our route. It turned out the only casualty in the fall had been our brussel sprouts, which had been mashed beyond recognition into the snow. So that year we had to suffer the hardship of a Christmas dinner without sprouts, but with the knowledge that somewhere on Pine Island Glacier there is a patch of green snow – that will probably confuse scientists in the future if they ever happen to take an ice core sample there!"
Emma's tips for being a woman in the cryosphere
Being a woman on fieldwork, what is your advice? 
I think for women (or anyone who can't pee standing up) specifically there is a huge amount of anxiety around the toilet situation and menstruation in the field. Before my first Antarctic expedition I was very lucky to be given great advice from a female colleague on how to go to the toilet wearing overalls (without having to completely undress at -30 ˚C), how to pee in a bottle (useful when it's very cold or stormy outside) and how to deal with having your period on fieldwork. All of these things tend not to be a standard part of any field briefing and that can make it stressful for those that need to know and embarrassing for field leaders to know when and how to talk about it. So, my advice would be to ask someone you trust about anything you are unsure or nervous about beforehand, whatever it is, and make sure to advocate for yourself and what you might need. Most things can be changed and organised with some advanced warning, but it is much harder to change things once you are on site. On which note, if anyone wants to ask me questions please get in touch – if I can give some advice I will.
How do you think we can support women in STEM/ the cryosphere?
As a community I think we need to open our minds and broaden our thoughts on what we think a "Scientist" should look like or act like or what the keys skills they might need are. When you get used to seeing a certain type of person in a certain job, people look for more of the same and it often unconsciously excludes women and other minorities from being seen as suitable for a certain job.
What do you think of or who do you think of when you see the word 'success'?
To me it is when someone has enough confidence in themselves and what they are doing to be able to talk about their failures and limitations, not just the good parts. It is through honesty and being realistic that other people can be encouraged and inspired to give things a go. If we only see success as being "perfect" and "the best" at something it is likely to stop a lot of people before they even start. 
Random facts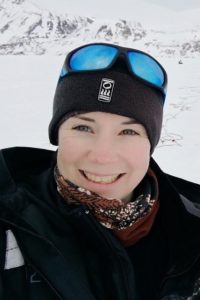 If you weren't a researcher, what would you be up to? 
Almost certainly something outdoors and with people, maybe an outdoor education instructor. I also have a huge love of radio and podcasting, so something to do with that and with storytelling.
The best book/film/or song from your cryosphere journey?
I have definitely re-read Douglas Adams' Hitchhiker Guide to the Galaxy books and Phillip Pullman's His Dark Materials trilogy on various trips as well as Patti Smith's Just Kids! And one song I will never (sadly..) forget is Rasputin by Boney M. It will forever remind me of being at the German Antarctic base and dancing late at night. I'm certainly not claiming it's my favourite or even a good song, but it's firmly associated in my head with my time in Antarctica.
What do you view as your biggest achievement so far? 
If I had to pick one big thing…. I would say l am pretty proud of myself for finishing my PhD.
To keep up to date with the adventures of Emma, she can be found on 
Twitter: @emma_c_smith
Email:  emma.smith@awi.de
Edited by Jenny Arthur
---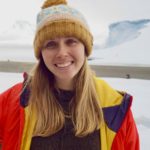 Emma Pearce is a PhD student at the University of Leeds, UK. She investigates the application of using the seismic geophysical technique Full Waveform Inversion (FWI) to model firn. When she isn't in the office or on fieldwork, Emma can be found climbing, crafting, or being a mum to her pet hamster.
She tweets at @emm_pearce and can be contacted by email on eeevep@leeds.ac.uk