Hello again, I'm Kathi Unglert, and you're about to read my third and final post as a student reporter at EGU 2016. Today I am writing about my experience in the cryosphere sessions from my volcanology perspective.
---
In preparation for the conference I kept thinking about what sort of research I would see in the cryosphere sessions. I had never really attended any specific conferences or meetings on the topic, so most of what I knew was from work that friends of mine do, which is mainly ice stream modelling. I am wondering whether similar tools (for example, analytical or numerical methods) can be used to model ice streams and lava flows?
A Tale of Ice and Fire
Thinking about the differences between ice streams/glaciers and lava, another potential overlap between cryospheric sciences and volcanology jumps out; In places like Iceland, volcanoes sometimes sit underneath large ice sheets. Similarly, tall volcanoes – particularly those in high mountain ranges – are often covered in snow and have small glaciers in their craters or on their summits. It is important to understand the interactions between the warm volcano, the hot lava, and the cold ice. For example, to forecast catastrophic floods that often occur when a subglacial volcanic eruption melts parts of the overlying ice and snow (so-called "jökulhlaups"). There is even a commission on "glaciovolcanism", and it turns out that astrogeologists are quite interested in the topic to learn more about potential volcano-ice interactions on Mars. I had no idea how interdisciplinary this field of research was. It would definitely be useful for volcanologists to poke their heads into cryosphere meetings once in a while, and vice versa. Throw a little bit of planetary science in the mix, and you have a textbook example of interdisciplinary research!
The methods that we use in the different fields can also be quite similar: Resistivity measurements can be used to determine the extent of permafrost in the subsurface in Artic regions, but also to detect high temperature bodies beneath volcanic edifices that may be storing magma. I also saw a PICO presentation at the conference last week that uses cosmic rays to image the bed of a glacier in the Swiss Alps, a technique that volcanologists have tested to detect magma reservoirs and conduits on volcanoes!
In terms of the bigger picture, volcanological and cryospheric research overlap a lot in climatology. Erupting volcanoes emit gases and increase aerosols in the atmosphere, which can affect the climate locally, regionally, or even globally. The traces of such volcanic eruptions can sometimes be found in ice cores, where volcanic ash gets trapped and preserved for centuries or more. For a long time, it has been known that at least one big volcanic eruption in the 6th century – the traces of which have been found in ice cores – caused strong changes in climate for a few years, and some studies suggest that these effects may have contributed to political and societal instability in the Maya civilization in Central America at the same time. There was even a press conference about it at the EGU 2016 meeting. Other questions that we could ask might be "Does wide spread glaciation change the frequency or nature of volcanic eruptions?", "How do volcanic eruptions affect the climate and ice stream or glacier dynamics?", or "What can we learn about glacier dynamics by analyzing the locations of volcanic deposits in ice?"
So you know how they say "go big or go home"? Let's put our minds together and get interdisciplinary! At the very least it's going to be fun to think in slightly different terms for a while, and who knows where it may lead!
The EGU Student Reporter Experience
All in all, it's been really great taking part in the Student Reporter Programme, and peeking into a totally different field. Seeing overlap between the different disciplines was a good experience, and one that was made possible by being a student reporter. Sometimes we get so stuck in our individual little niche that there is no room for anything else, despite the fact that other disciplines might have come across the same problems, struggled with the same methods, and maybe found a solution. I was lucky that the session schedule worked out ok – most days when things were a bit slow volcanology-wise I was able to go a cryosphere session. However, that way it was a very busy week, there was rarely ever any downtime, or time away from the conference. During the few quiet moments I spent time in the press office, doing some background research for my posts, editing work from the other reporters, or going to a press conference. I have to say, the press office was a new, but very cool experience. There were always interesting people around, both scientists presenting their latest results and journalists trying to find a new story. I've been into science writing for a while, so meeting some of the people whose work I read was a really cool bonus to the whole programme! If you enjoy writing, don't mind a faster pace, and are curious about science at EGU outside your field I would highly recommend the Student Reporter Programme. If there is no blog in your discipline (like it was the case for me) that might even be a good thing, and you'll get to learn some new and unexpected things!
(Edited by Emma Smith and Sophie Berger)
---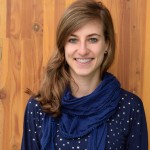 Kathi Unglert is a PhD student in volcanology at the University of British Columbia, Vancouver. Her work looks at volcanic tremor, a special type of earthquake that tends to happen just before or during volcanic eruptions. She uses pattern recognition algorithms to compare tremor from many volcanoes to identify systematic similarities or differences. This comparison may help to determine the mechanisms causing this type earthquake, and could contribute to improved eruption forecasting. You can find her on Twitter (@volcanokathi) or read her volcano blog.