Post by Viviana Re, postdoctoral researcher at the University of Pavia (Università di Pavia), in Italy. You can follow Viviana on Twitter at @biralnas.
Part two of a two-part series on groundwater and education by Viviana.
__________________________________________________
In my last post ("Drawing out groundwater (from the well)") I wrote about the reasons why, as groundwater scientists, we should engage not only literally, when we collect groundwater samples to perform our research, but also metaphorically, such as raising awareness on the hidden component of the water cycle to stakeholders and civil society.
Education and capacity development can become more integrated in our work, in academia, if we emphasize and increase our attention given to finding the most effective way to train and motivate the new generations of hydrogeologists (e.g. Gleeson et al., 2012). Indeed, in a rapidly changing world where students have mostly unlimited access to information and tools, we cannot simply expect to adopt the "classical" teaching methods and be successful. Additionally, we certainly have to consider life long training of professionals to keep them up to date with respect to new information and contemporary issues (Re and Misstear, 2017).
Even more, I believe that our efforts should not be limited to education and training of groundwater scientists and professionals, but should also aim to bridge the famous gap between science and society.
This can involve a wide range of audiences and goals, but I think the following tips can apply to them all:
Consider shifting from a classical hydrogeological approach to a socio—hydrogeological one, particularly if your work entails assessing the impact of human activities on groundwater quality. Strengthening the connection with water end-users and well owners is fundamental to ensure an adequate knowledge transfer of our research results.
Engage with new media and social networks. It may seem like a waste of time, especially when productivity and "publish or perish" remain dogma in academia, but these are definitely the means everyone uses for communication nowadays. Not fully exploiting their potential can be make us miss a precious occasion for a direct interaction with stakeholders and the public.
Keep in mind that people are busy and we all get easily distracted. Try to use visual information as much as possible. Sometimes a short video, a nice picture or an informative graphic are more effective than a thousand words.
Improve your science communication skills. In a wold full of inputs, it is not sufficient to have something important to say. It, perhaps, matters more how you say it. For this reason, the time dedicated to learn how to speak in public, how to give an effective presentation (either if you are planning to give a talk in front of a technical audience or at a conference on vegetarianism) and how to write a press release is always well spent.
Share your passion. If you choose to work in hydrogeology or groundwater science, you are probably passionate about the environment and protecting our planet. Use these emotions to share your knowledge to civil society and learn how to adapt the content of your research to different audiences without trivializing it.
You can find more on this topic in the chapter "Education and capacity development for groundwater resources management" (Re and Misstear, 2017) of the book Advances in Groundwater Governance (Edited by Villholth et al., 2017).
-Cover picture by Cindy Kauss (2018)
__________________________________________________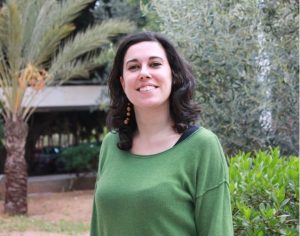 Viviana Re is a post doctoral research fellow at the Department of Earth and Environmental Sciences of the University of Pavia (Italy). Her research interests are: isotope hydrogeology, groundwater quality monitoring and assessment, groundwater for international development.
She is currently working on the development and promotion of a new approach, called socio-hydrogeology, targeted to the effective incorporation of the social dimension into hydrogeochemical investigations.
Twitter: @biralnas – Personal website