By Tom Gleeson (aka Dr. H2O)
The content of this post will be presented as an invited eLightning presentation at AGU 2020 in the session "Online Hydrology Education: Lessons Learned from Designed and Impromptu Remote Instruction".

When: Tuesday, 8 December 2020: 07:00 – 08:00 PST
---
What I teach and basic resources
I teach Sustainable Water Resources (CIVE 340) at the University of Victoria – a required 3rd-year civil engineering course starting and ending with water sustainability, with a core of hydrology. This class has been fully online this fall and here I share a buffet of new resources that I have used in both synchronous classes and asynchronous student-led activities. The student response to this buffet is summarized in this recent UVic news release – to the metaphor even further: they have been eating it up!
Before fall classes began I shared all my lecture notes, assignments and syllabus are HYDROSHARE (feel free to download them and use them freely) and called on hydrologists to help each other with emergency remote teaching. In this previous post, I summarized various initiatives in the hydrology community as of August, 2020:
---
A compendium of online teaching materials
I also started a compendium of videos, websites, games, and articles for a wide variety of hydrology and water resources classes (part of it shown below outlined in red). This fall, I used the compendium to encourage students to:

get course content from diverse sources, voices, and perspectives (middle column in the red box is offered as alternative content for each course module – see the blue box for an example); and

relate course content to their lives (the right column in the red box is incorporated into optional discussion boards for each course module – see the yellow box for an example). The discussion boards of interactive content have been very popular with students and are incentivized with bonus marks.
The quality and veracity of content online are hugely variable, but we strove to only reference 'quality' sources (in quotes because we know this is relative and subjective) such as universities and governmental organizations while balancing this with also striving to find content that students can relate to. Some colleagues contributed, but in retrospect, I could have been more consistent with engaging on social media to encourage more contributions.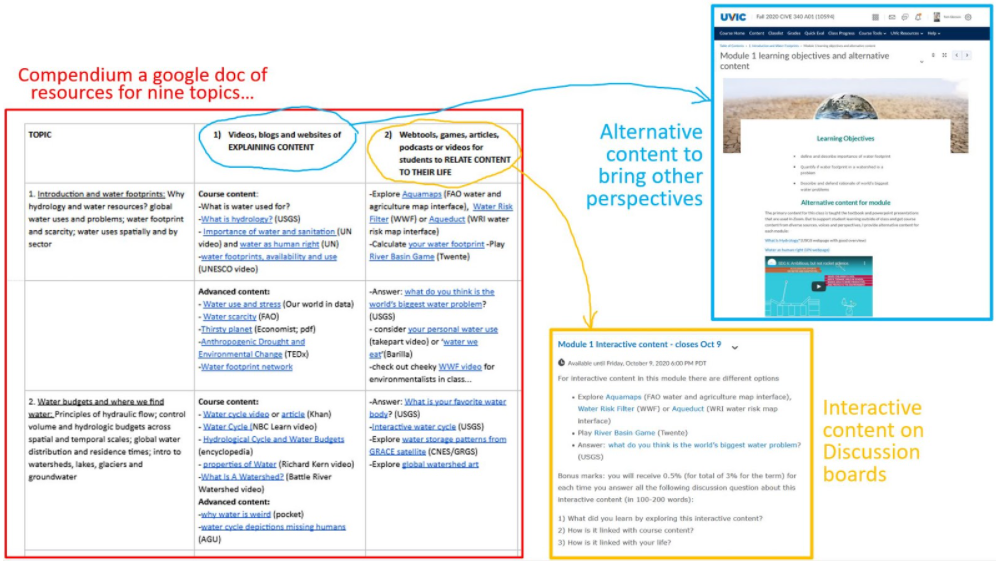 ---
Dr. H20 videos for complex quantitative problems
Solving quantitative problems with video conferencing is challenging so I recorded videos of my better-dressed, problem-solving alter ego, Dr. H20 solving problems that I used to solve with chalk on the board. This was inspired by the pedagogy of Eric Mazur at Harvard, to spend more class time on concepts rather than rote problems solving. Eleven videos are available on my youtube channel covering evaporation, groundwater flow, infiltration, flow in a pipe, routing and more… check them out and feel free to use them in your classes!
---
'Water in the news' and 'Water-related songs and movies'  to bring the world into our classroom
We bring the world into our classroom with two discussion boards: 'Water in the News' and 'Water-related songs and movies'.  Weekly in-class we have a newscast of 'Water in the News'  where a news editor picks the two best stories from the week which are then shared with the class by 'reporters' that originally posted the story to the discussion board. Zoom has brought out greater comfort and creativity in these newscasts which have been a very popular part of class this fall. The 'Water-related songs and movies' are up-voted by fellow students which by the end of term reveals the most popular song or movie. All these activities are optional and incentivized by small bonus marks.
---
Find out more at Tom's eLightning AGU presentation!