The world shut down due to COVID-19, but PhDs did not. During these unfamiliar times, most PhD students have found themselves working from home trying more than ever to write as much as possible.  Over the past few of months, I have led several online writing retreats in collaboration with doctoral research schools and universities in Norway. They seem to have been very successful to help PhD's with their writing processes. These online retreats seem to have a recipe that I believe anyone can try. This recipe contains three main ingredients which you need to consider if you want to plan a retreat for yourself: productivity, learning, and support.
Productivity
Being productive is at the heart of any writing retreat whether it be online, on location or completely off the grid. This productivity comes about more easily when we are in one place together, and participants are given the time and space to work. But how could we encourage this online where everyone in reality is so far apart? We decided to use the shut-up-and-write concept where you sit with others and work on your writing for 2 hours at a time. All the participants (including myself) set clear and achievable goals before each shut-up-and-write session began. I have been amazed at how well these sessions worked in Zoom. Not only were participants productive, but -according to one participant- they also developed "healthier routines" for working from home. Once each shut-up-and-write session was over we discussed how it went in groups and gave each other feedback. These sorts of peer-to-peer discussions have been a central part of the retreats, giving participants useful ideas to continue improving their writing. For these discussions to be truly useful, they need to build upon some basic knowledge about writing.
Learning
This knowledge can come from an instructor like myself, or from other sources. For example, everyone could read the same style guide (see below for examples) before the retreat started or read chapters together as the retreat progresses. They could also take any one of the online courses (see below for examples) that are available these days. In the recent online writing retreats, I started things off with a collection of short lectures on writing skills in tandem with group exercises that cement these skills. My lectures covered topics such as how to plan your writing, how to use the active voice, and how to edit out unnecessary extra words. An instructor can help build this knowledge interactively with the participants, but the participants can also build this knowledge themselves. The most important thing is that everyone discusses their newfound knowledge and give feedback together. This sort of interaction is powerful in normal situations, but even more so now.
Support
Through meaningful interaction, we can support each other through the community that sparks during an online writing retreat. One can argue that this sort of community support has been more important than ever during these weird COVID-19 times. To build this sort of community, we need to take time to get to know each other and to have discussions. For these discussions, we have used the breakout rooms in Zoom (3-4 people per room) to their full potential. Within these rooms, the participants spend time to get to know each other and to discuss their writing aims, their writing challenges and give each other feedback and advice. These rooms are where the community support and motivation has really started to shine. And for some it has kept shining. Several of the members of the first online retreat (DEEP Research School in Norway) were still meeting online every single day over 10 weeks after the retreat began. One of the members of that group said to me that she "wouldn't have got much done during this time without this retreat. It has made the days much nicer."  And another participant said that "the structure of the retreat was really nice; before this it was really difficult to start working each day."
Structure has proven to be very important when it comes to achieving all these goals of productivity, learning and support. Retreats can take many forms, but I have found that it's useful to start off by developing a common understanding of some basic writing skills to develop the rest of the retreat upon. Also, it doesn't matter where you are in the PhD process, you can always find something to write or something associated with writing to learn about. One participant was grading undergraduate papers! The structure can still be used to allocate time for writing and discussion.
To start you off, you can see a typical schedule for the first couple of weeks in the Box. In this schedule, the "brain warm-up" exercises are short refresher assignments that I set the participants each morning to start the day off. They often involve editing and improving a sentence that commit some of the writing "crimes" that I talk about in early lectures. We have also used the "brain warm-up" sessions to discuss and work on peer-review, and to do lengthier exercises like writing flow analyses, or composing titles.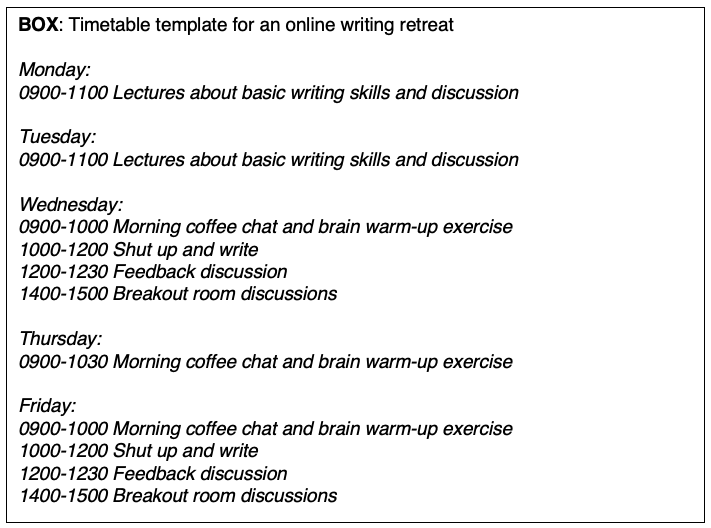 We have to acknowledge that online activities such as these retreats are not for everyone. Many PhDs have a good support network already, or simply prefer to work alone. But for some, these interactions are extremely beneficial, and not only when the world is shut down. As one of the participants recently said to me, "it's not hard to argue that even in normal circumstances people lack these sorts of community."  Online writing retreats can potentially provide long-term learning and support to help increase productivity and decrease isolation. Why not give them a go?
Resources:
If you plan your own online writing retreat, then it is important to create a common understanding about writing skills to base the discussions and feedback on. There are several awesome online courses you can follow together and books you can read. Here are some nice examples:
Course:
Writing in the Sciences with Kristin Sainani on Coursera
Books:
There are also some awesome online writing retreat and shut-up-and-write initiatives ongoing that you may consider connecting with. Also, find out if your university already offers such things:
Virtual Writing Retreat (3 GBP per session)
If you know of other useful resources, then please comment below!