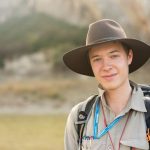 Each month, Jesse Zondervan picks his favourite posts from geoscience and development blogs/news which cover the geology for global development interest. Here's a round-up of Jesse's selections for the last four weeks:
If we want to solve the world's problems, we need all the world's scientists. Social Entrepreneur Nina Dudnik speaks out against prejudice towards scientists in the developing world. In her article, The Science Community's "S**thole Countries" Problem, she will challenge many scientists' own deep-seated bias.
Encouragingly, South African climate researcher Francois Engelbrecht got in the news recently. He developed a climate model, improving projections and supporting the vulnerable community in decision making.
One thing that I believed impossible, is attributing specific extreme weather events to climate change. Well, now it's possible due to a breakthrough by climate scientist Myles Allen. Harevy reports on the rapidly expanding area of climate science.
Further in the news this month, is activity at the Mayon volcano in the Philippines, a 20-acre mega-landslide about to go in Washington State and the destruction caused by thawing permafrost in Alaska.
There's a lot to read this month, so go ahead!
The Global South
The Science Community's "S**thole Countries" Problem by Nina Dudnik at Scientific American
Homegrown African climate model predicts future rains – and risks by Munyaradzi Makoni at Thomson Reuters Foundation
Climate Change Adaptation
Scientists Can Now Blame Individual Natural Disasters on Climate Change by Chelsea Harvey at ClimateWire
Researchers explore psychological effects of climate change at ScienceDaily
Australia's coastal living is at risk from sea level rise, but it's happened before at The Conversation
Why Thawing Permafrost Matters by Renee Cho at State of the Planet
Activity at the Mayon Volcano & Other Volcanic Topics
Authorities waging war vs. fake volcanologists in social media by Aaron Recuenco at Manila Bulletin
Scientists monitor volcanic gases with digital cameras to forecast eruptions by Kimber Price at AGU's GeoSpace blog
We're volcano scientists – here are six volcanoes we'll be watching out for in 2018 at The Comversation
Sustainable Cities
'The bayou's alive': ignoring it could kill Houston by Tom Dart at The Guardian
'Does Hull have a future?' City built on a flood plain faces sea rise reckoning by Stephen Walsh at The Guardian
Education/Communication
From Natural Disasters to Other Threats, This Initiative Is Teaching Delhi Kids All About Safety by Rinchen Wangchuk at The Better India
Disaster Risk
Why the Swiss are experts at predicting avalanches by Simon Bradley at swissinfo
Tracing how disaster impacts escalate will improve emergency responses at UCL
Watching a Ridge Slide in Slow Motion, a Town Braces for Disaster by Kirk Johnson at The New York Times
The risk of landslides in Rohingya refugee camps in Bangladesh by Dave Petley at AGU's The Landslide Blog
Deadly California mudslides show the need for maps and zoning that better reflect landslide risk by David Montgomery at The Conversation
Will Tehran be able to withstand 'long overdue' quake? By Zahra Alipour at Al-Monitor
Scientists to map quake-prone Asian region in hope of mitigating disaster by Michael Taylor at Thomson Reuters Foundation
How forests could limit earthquake damage to buildings by Edwin Cartlidge at IOP Physics World
External Opportunities
Get involved in knowledge in action
IRDR Young Scientists Programme: Call for application (3rd Batch)
Apply to join the Pressure Cooker event on Risk Communication at the 2018 Understanding Risk Forum
Vacancies: Two Research Positions on Climate & Development, The German Development Institute (DIE) Bonn
Call for applications for the Research School within the Mistra Geopolitics program
Australian Disaster Resilience Conference 2018
Check back next month for more picks!
Follow Jesse Zondervan @JesseZondervan. Follow us @Geo_Dev & Facebook.