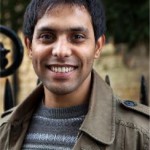 Ekbal Hussain is a PhD student at the University of Leeds, and helps to coordinate our group up there. He is a passionate advocate for disaster risk reduction and today writes about the relationship between corruption and earthquake fatalities.
It is no profound statement to say that earthquakes are extremely dangerous natural events and are responsible for tens of thousands of deaths annually. What is more contentious is my belief that no one needs to die from earthquakes at all.
Let me explain myself; most deaths from earthquakes are a result of the collapse of buildings and other man made structures such as bridges. We have the technical engineering expertise to build structures that withstand ground shaking during earthquakes.
Every year our understanding of the earthquake process increases but many important gaps remain, particularly on issues such as timing and location of future earthquakes. However, as Charles Richter mentions in his retirement speech: "For public safety we don't need prediction, earthquake risk can be removed, almost completely, by proper building construction and regulation." (1970)
So if we know the cause of earthquake deaths and what we need to do to minimise losses why do people still die in them? The answer to this question is by no means simple. Many factors contribute to losses during these events: insufficient knowledge of where all the earthquake generating faults are, cultural practices, uncertainties in hazard maps, poverty and poor building practices among others.
For this post I'd like to focus on the role of corruption in the building industry. The global construction industry was worth $8.7 trillion in 2012[1] and this is recognised to be the most corrupt segment of the global economy [2].
Corruption takes the form of using inadequate and/or insufficient building materials, bribes to inspectors and civil authorities, substandard assembly methods and the inappropriate siting of buildings. Spontaneous building collapses even without earthquakes, such as the Saver factory collapse in Bangladesh last year which killed 1129 people, are a stark reminder of the consequences of construction oversight and a terrifying view into what could happen if there is an earthquake in these regions.
The 1999 Izmit earthquake (magnitude 7.4) in Turkey resulted in around 18,000 deaths. It was later shown that half of all the structures within the damage zone had failed to comply with building regulations [2].
"The structural integrity of a building is no stronger than the social integrity of the builder."

–Nicholas Ambraseys & Roger Bilham–
Nicholas Ambraseys and Roger Bilham calculated that almost 83% of all deaths from building collapse in earthquakes in the last 3 decades occurred in countries that are poor and anomalously corrupt [3].
Corruption by itself is dangerous but when combined with poverty, it is disastrous. Corruption, poverty and ignorance essentially become indistinguishable for low income countries. And even if corrupt practices are eliminated these countries will have inherited a building stock that is poor quality and prone to failure in the next earthquake.
However, it's not all bad news. There are some great examples of how reconstruction can take place under correct management and regulations to improve resilience to earthquakes. For example, in 2012 the Turkish government passed the Law on the Regeneration of Areas Under Disaster Risk. Under these new guidelines all buildings that are not up to current earthquake risk standards will be demolished and rebuilt. As a result 6.5 million high risk houses will be demolished over the next two decades [4].
The reconstruction of the Macedonian capital of Skopje after it was destroyed in an earthquake in 1963 is another great example. Not only was the entire infrastructure rebuilt to be earthquake-resistant, the city planning also ensured that the river Vardar was routed in order to control future flooding [5].
Achievements on this scale require strong governance and management, and transparent sectoral and local administration. With the rapid growth of cities into so-called megacities (>10 million population) often in high earthquake risk regions this is even more important. We have yet to have an earthquake that has killed a million people. But at the rate these cities are growing under limited to no management such an event might not be too far in the future.
References:
[1] Global Construction 2025:  A Global Forecast for the construction industry to 2025 (2013)
[2] Global Construction 2020: A Global Forecast for the construction industry over the next decade to 2020. (2010)
[3] Ambraseys, N. & Bilham, R., Corruption Kills, 2011
[4] http://www.portturkey.com/real-estate/5627-65-million-houses-to-be-demolished-in-turkey
[5] Vladimir B. Ladinski, Post 1963 Skopje earthquake reconstruction: Long term effects, 2010
Further Reading
http://www.transparency.org.uk
If you have any questions for Ekbal, or want to comment on this blog – don't forget you can do so using the box below.