Hello David. Thank you for agreeing to this interview! To break ground, could you tell our readers about yourself and your career background?
Hi Simon. It's my pleasure, thank you for inviting me. Well, I'm a Spanish "tectonicist" and I've been lucky to work in great institutions all over Europe; Amsterdam, Paris, Zürich, London, and Barcelona, where I live now… These experiences have been fun and very rewarding and resulted in a broad-based research profile: I study how relief, orogens, and basins evolve on timescales ranging from a few earthquake cycles to orogeny and on spatial scales from an individual fault to continents.
Congratulations on becoming the new Union-level Early Career Scientist (ECS) Representative! Could you tell our readers what ECS Representatives like yourself do for EGU and our ECS community?
Thanks, it's great to be able to contribute to the largest geoscience organization in Europe! As ECS Representatives, we do a lot of things and it's difficult to summarize them in just a few words. Essentially, we aim at making sure that the specific needs and interests of early-career researchers are addressed in the organization and that they have the opportunity to engage, grow, and contribute to the geosciences community. This is expressed in many efforts, throughout the year and at the EGU General Assembly, like communication, representation, mentoring, and networking activities, to name a few.
What is your vision for your term as Union-level ECS Rep?
I am hoping to help change the EGU for the better into a more agile institution, adapted to the signs of time. I think I can help reach that goal by improving the collaboration between divisions and promoting transparency and true-bottom-up activities. I'm specifically working toward three goals: enhancing our capacity to engage with the ECS members to better represent them; gaining transparency by improving communication and reporting activities; and increasing representation of ECS interests at the EGU Council. The team has recently designed new venues to work towards these targets. These are exciting times!
As well as your research and role as ECS Rep, you're also passionate about promoting open access research and geo-communication. Could you tell our readers why open access is important, and how they too could get involved in freeing access to information?
Yes, you are entirely right. I firmly believe that true open access is absolutely crucial for the advancement of science. It just doesn't make sense to limit the progress of brilliant ideas by keeping research results locked behind paywalls. That's why I was involved with EarthArXiv, the go-to preprint repository for Earth Sciences, and co-initiated the Tektonika Diamond Op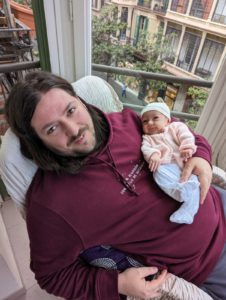 en-Access Journal, where we are already publishing peer-reviewed articles in tectonics and structural geology that are and will be free to publish and read for anyone. But we can't stop there! We need more grassroots initiatives that promote free access to scientific literature across the board. Including colleagues from underrepresented groups and those without journal subscriptions will bring a whole new level of innovation and contribute so much more to society as a whole. Getting these initiatives running is a challenge, but more challenging is pushing the knowledge envelope of our field and that's our daily research job!
Lastly, what are you looking forward to the future?
I look forward to seeing the impact that our actions have in representing early-career scientists and bringing the EGU to the next level. Also, I look forward to the most challenging, and yet already incredibly rewarding step in my life, being a father 🙂