Well it's that time of year again when many people start looking for seasonal gifts for their loved ones, colleagues and others, but although you may have already sorted your gift for a geoscientist, we are here to help you if you are still looking for inspiration. If you want more ideas check back on our previous gifts for geoscientists suggestions, including last year's suggestions for what to get if you cannot get deliveries (like if you are in lockdown) – or have a last minute need for a geoscience gift. Also the suggestions here come from various parts of the world, so please choose the location that is most suitable for you for shipping purposes and where possible remember to support your local retailers to reduce the carbon impact of your gift giving.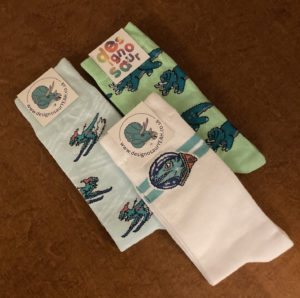 5. Geo-socks (yes, I know – but stay with me)
Socks are an oft-maligned gift for geoscientists (or anyone), but also a pretty reliable gift if you are feeling short on ideas. However don't just go for the basic sock ideas, why not use your socks to demonstrate the geoscientist's love for dinosaurs? T-Rex on skis?! Velociraptors in space?!? Why not!! There are many great geo-sock providers out there, we love these from Designosaur on Etsy or check your local Museum shop.
4. Art prints and stickers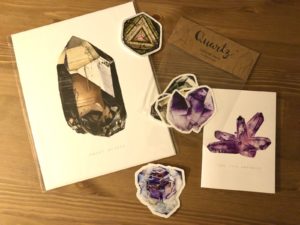 This is another supposedly basic choice, but the number of artists creating geoscience themed art at present is at an all time high – and finding them is often very easy. Why not get a sticker with a sketch of your geoscientist's favourite mineral (we all have one…) or a painting of an important fossil? What about a geo-christmas jumper?! Again Etsy is a good first stop for finding independent artists to support, we really like MarenAnneArt for beautiful photorealistic mineral art.
3. A geological-time calendar
2021 went past in equal parts painfully slowly and incredibly fast for many of us, so why not keep track of time passing in 2022 with a geoscience themed calendar! There are MANY options here, but an absolute special mention must go to kurzgesagt, for their 12,022 Human Era 'Eons' calendar, that will take you through the Earth's entire history with gorgeous graphics AND you will be helping them support their science communication work too. (They also create a range of cool products, including posters and pins!)
2. A geoscience boardgame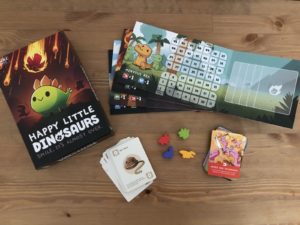 Here at EGU we love a good geoscience based boardgame or videogame – and there are a lot to choose from, just check out the suggestions from our Games for Geoscience General Assembly session organisers! This year we wanted to suggest Happy Little Dinosaurs, a quick game about avoiding all the little (and large) disasters that your dinosaur encounters as they dodge extinction level asteroids. The base game is for 2-4 players over 8 years old and covers a range of disastrous events from earthquakes and volcanic eruptions, to being attacked by tiny angry dinosaurs, to a really bad haircut. Not particularly educational, but the tokens are very cute!
1. A geoscience book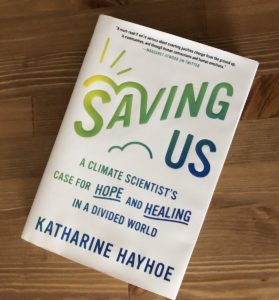 Again, this seems like a basic option, but the popular science book market is booming with topics from Earth Magnetism to Deep Time, but our recommendation this year goes to "Saving Us: A Climate Scientist's Case for Hope and Healing in a Divided World" by Katherine Hayhoe. This book is for anyone who has ever worried about talking about climate change and wants to know how to have better conversations on this crucially important topic. Whether a gift for a geoscientist you know who is nervous about talking to certain people about climate change or as a present for yourself before heading home and engaging in those challenging dinner-time discussions, Katherine Hayhoe uses her years of experience in climate science communication to share useful and concrete advice on how to have more effective and empathetic conversations about our climate.
Honorable mention: an EGU membership!
Yes this one is harder to wrap, but what would a season gift list be without an EGU membership in your… er… digital stocking?! We may be a little biased, but this is the perfect 2021 gift for that beloved geoscientist in your life. At only €20, you can get them a whole year of access to EGU's programs, funding, awards, committees, a newsletter, AND discounted registration to EGU22. So head online right now to find out how to renew your geoscientist's EGU membership. And hey, if you want to renew yours at the same time, that's not such a bad idea.
Happy holidays everyone – and good luck with your gifting!