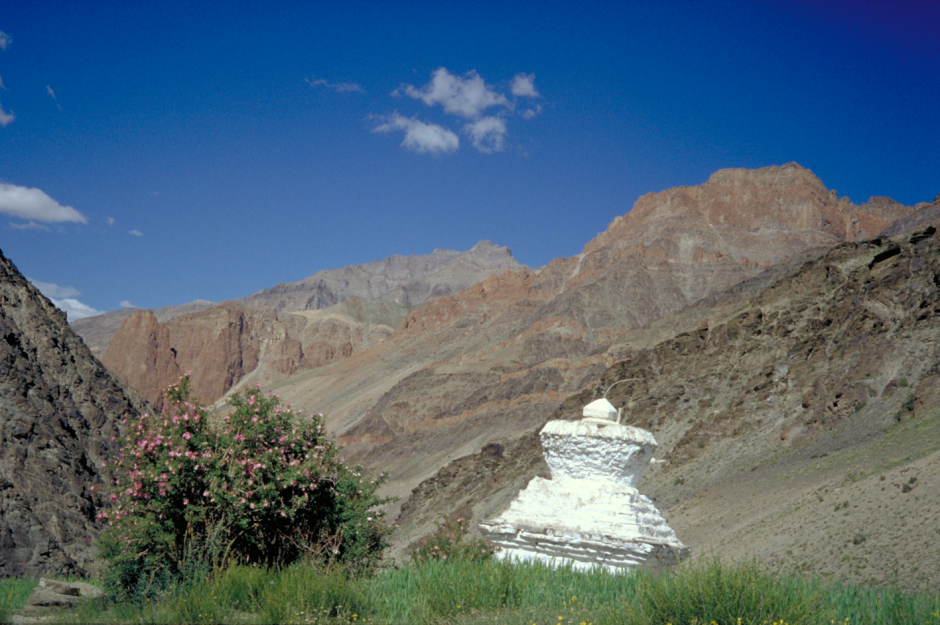 Tethys Himalaya in Zanskar, Jammu & Kashmir. Image by Pierre Dèzes, distributed by EGU under a Creative Commons License.
Tethys Himalaya are one of the zones of the Central Himalayan Domain (CHD), which is one of the tectonic zones of the Himalaya. The Tethys Himalaya is approximately 100 km wide large fold (syncline) with superimposed smaller folds (this is known as a synclinorium). The Tethys Himalaya contains a stratigraphic record which indicates the geological history of this part of the Indian continent.
This image shows Palaeozoic and Triassic sediments of the Tethys Himalaya in Zanskar, Jammu & Kashmir. The orange cliffs are massive dolomite from the Cambrian Karsha formation. They are overlain by dark Permian basaltic flows (Panjal Traps). The summit in the middle of the picture consists of Triassic sediments from the Lilang Group. This view from Purne is towards the northeast into the gorge of the Phugtal monastery. A chorten (or stupa) stands in the foreground.
Imaggeo is the online open access geosciences image repository of the European Geosciences Union. Every geoscientist who is an amateur photographer (but also other people) can submit their images to this repository. Being open access, it can be used by scientists for their presentations or publications as well as by the press. If you submit your images to imaggeo, you retain full rights of use, since they are licenced and distributed by EGU under a Creative Commons licence.