Chi Jishang was born on the 25th of June 1917 in the Anlu County in the Province of Hubei, central China, but she moved to Beijing when she was four years old. Because her family was poor and she had three older siblings, her parents did not allow her and her younger sibling to go to school at the age that they should go to school. As a child, Chi was bright and very curious. She would ask her school-going brothers and sisters what they were learning and if they could teach her as well. This way, she caught up with reading, counting and writing. Her parents were so captivated by her willingness to learn, that they sent her to school after all when she was seven years old. This outcome taught her that 'her destiny was not immutable'(1). 
Chi graduated high school in 1936 and continued her studies at the Qinghua University with a major in Physics. During the third year of her bachelor studies her father lost his job and she lost her main source of income. Her mother and sister became ill and passed away and also her brother died unexpectedly. When the Sino-Japanese war started in 1937 (which lasted until 1945) she went to Hunan as a refugee student where she continued her studies at a 'temporary university' and joined the 'Battlefield Corps of Hunan Youth'.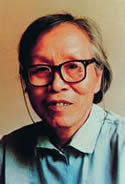 Portrait of Chi Jishang
In 1938, the tides changed. Chi received financial help from her teachers and classmates and was able to continue her studies at the Southwest Union University in Kunming. She decided to change from Physics to Geology because this would equip her with the skills she needed for a job in the mining industry. Chi and her fellow students conducted surveys in very remote areas that were controlled by bandits. For her work, she received the 'Ma Yisi' award, named after a Chinese female geologist who was killed by bandits in the field. She graduated in 1941 after which she stayed at the university as a teaching assistant, teaching "General geology", "Stratigraphy" and "Mineral deposit geology".
In 1946, a professor recommended Chi for a scholarship that allowed her to do a master study at Bryn Mawr College in the United States. That same year, she married Li Pu, a fellow geology student. A few weeks after her marriage, Chi went to Bryn Mawr College, where she finished her M.A. in only one year and went straight into her PhD. Her PhD supervisor, Professor Dorothy Wickhoff had a great, positive influence on Chi. She finished her thesis 'Structural Petrology of the Wissahickon Schist near Philadelphia, Pennsylvania, with special reference to granitization' in 1949. F.J. Turner, who read her PhD work in the Bulletin of the Geological Society of America invited her as a research assistant at the University of California, Berkeley. Chi accepted the offer and stayed in Berkeley until 1950.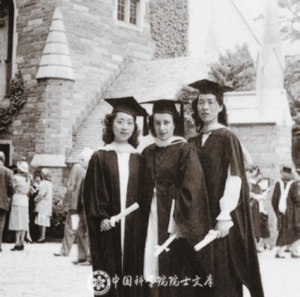 Chi Jishang (first from right) graduated from Bryn Mawr College in 1949.
After five years away from home, she found a position as Associate Professor with Professor Yuan Fuli at the Qinghua University. She moved back to China and taught "Minerology" and "Universal stage microscopy". Soon after, in 1952, she became a Professor at the Beijing Geological School. In 1955 – 1956 she was part of a Sino-Soviet geological survey to the Qilian Mountains, a large mountain range in northern China of which the highest peak is 5827 m high. Together with her team she crossed the mountain range twice. In 1958, Chi led a team of 200 people of the Beijing Geological School conducting a survey of central and western Shandong, searching for minerals. In 4 years time, the group delivered 14 geological maps with reports, covering an area of 89,600 km². During this survey the groundwork was laid for future prospecting in the Qu and Shu River areas and for developing theories on rock structures. In 1960, Chi studied the Yanshan granite in the Badaling area. Her analysis led to a four-type classification system that is still used in Chinese geology.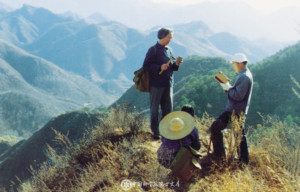 Chi Jishang in the field with her master students (1982).
During this time China was in need of diamonds, which are known to be found in kimberlite, so the government formed research teams to hunt for them. Chi Jishang led one team to Shandong, where a busy schedule was followed on site. During the day they would do fieldwork and experiments followed by studying the acquired samples and lectures during the evening. In two years, Chi and her group completely mapped the diamond-bearing kimberlite in the area. If this was not already impressive enough, she continued doing research and wrote three books duringthis period.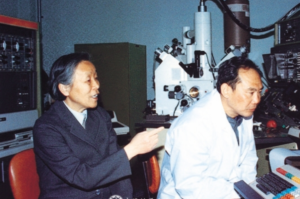 Chi Jishang working in the Electron microprobe laboratory with her colleague.
The Great Proletarian Cultural Revolution started in 1966 (lasting until 1976). The prospecting projects had to be discarded and as a result Chi continued her work under extremely difficult circumstances. In 1970, Chi summarized her discoveries on kimberlites and diamond prospecting at a conference. She described the characteristics and composition of minerals that can serve as an indicator for the occurence of diamond in kimberlite. She proposed a classification scheme that is still used to describe kimberlites in China and she was the first person to propose a formula that helped to identify diamond-hosting kimberlites.
In 1975, the Wuhan Geologic Institute was founded with the help of Chi. Between 1975 and 1984, she was the Head of its Petroleum Section, the Petrology Section, and the Geology Department, and later became Vice-President of the institute. During this period, she was the representative of the International Geological Cooperation Plan, an initiative of the United Nations Educational, Scientific and Cultural Organization. It was during this whole period that China reopened, but the Earth Sciences were behind and so Chi organized research consortiums on several large geological topics and led a large fieldwork expedition in East China between 1981 and 1984.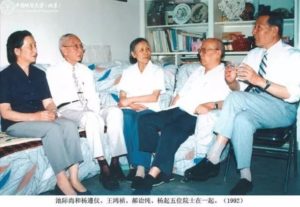 Chi Jishang (middle) in discussion with four other academics in China (1992).
Chi Jishang was an outstanding, hard-working Earth Scientist. Her career was  diverse, rich and challenging. Her fieldwork brought her to many beautiful places in China, such as Qinghai and Xinjiang, but also to the USA and Tibet. She wrote a book called 'A study on the Cenozoic Basalt Rocks and Upper Mantle of East China (including Kimberlite)' which contained geological, petrological and geochemical data on kimberlites and upper mantle rocks and discussed relations between the different types of data. The book won the First Prize of the Ministry of Geology and Mining's Achievement in the Science and Technology Awards in 1989. Chi was involved in many different projects sponsored by the National Natural Sciences Foundation, Ministry of Geology and Mining, State Education Commission, Science, and Technology Foundation and China's Seventh Five-Year Plan. 
To Chi, it was important that new generations of geologists were trained. She recognized that younger scientists needed to be mentored by senior geologists. Even in her 70's, she would join her students in the field, checking how data was collected and advising them. Chi encouraged younger scientists to lead projects, to attend conferences, and to publish research papers. She was always in support of finding new research areas. Her motto was to 'construct a ladder for young people', a promise she kept through the supervision of 17 students, eleven PhDs candidates and two postdoctoral candidates by 1990. Chi's major contribution to tectonics were the 14 geological maps she and her team produced of the Qi and Shu Rift in Shandong. These maps led to the discovery of the rift system, which became a major prospecting area for diamonds. Chi knew as no other where these diamonds were hiding and with her knowledge she laid the foundation for modern structural interpretation of rock fabric and structures.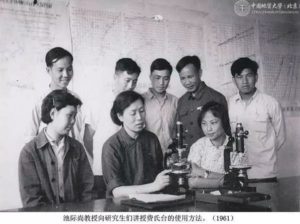 Professor Chi Jishang explaining to her master students how to use the universal stage on an optical microscope (1961).
Many thanks go to Kai Xue for finding pictures of Chi Jishang and translating and providing figure captions as well as reviewing the blog post.
References to Chi's early work:
Chi-Shang, Ch'ih, 1950. Structural Petrology of the Wissahickon Schist near Philadelphia, Pennsylvania, with special reference to granitization, Bulletin of the Geological Society of America, 61, 923-956.

Turner, F.J., Chi-Shang, C., 1950. Notes on survival of fabric character in Yule Marble after heating to 700 deg C. American Journal of Science, 248, 347-354.

Turner, F.J., Chi-Shang, C., 1951. Deformation of Yule Marble: Tart III – observed fabric changes due to deformation at 10,000 atmospheres confining pressure, room temperature, dry. Bulletin of the Geological Society of America, 62, 887-906

Chi-Shang, Ch'ih, 19XX. A study on the Cenozoic Basalt Rocks and Upper Mantle of East China (including Kimberlite).
Resources: 
Biographical Dictionary of Chinese Women: v. 2: Twentieth Century, Lily Xiao Hong Lee, Routledge, 2016, 796 pages.
Picture references:
https://yswk.csdl.ac.cn/qiantai/Shouye_zhanshi.action?id=1980D25