We are looking forward to celebrating another excellent exhibition of soil science at this year's EGU General Assembly. Of course, very little soils research could take place without the work carried out by technicians, laboratory assistants, and research support staff. This monthly blog post is our opportunity to thank these key individuals, and their tireless efforts to maintain our laboratories, carry out fieldwork, and make research happen!
You can read our previous conversations with a diverse range of soil science technicians here. Don't forget that you can nominate a technician by emailing Dan Evans, SSS Early Career Scientist Representative, on ecs-sss@egu.eu
Technician of the Month #10
Martine Graf – Bangor University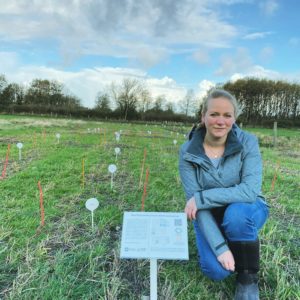 Where are you based (i.e., which institution)? Briefly explain your main responsibilities as a research technician
I'm located at the Environment Centre Wales, Bangor University, Wales. I am working on a multi-national project investigating the effects of agricultural plastic on food security and sustainable development in developing countries. We are partnered with other universities throughout the UK and various institutions in Egypt, China, India, Sri Lanka and Vietnam. My main responsibilities as a research technician are setting up and running field, greenhouse, and laboratory experiments, collecting and analysing data, and preparing experimental protocols for all partner institutions. I am the key contact person for our partners regarding any experimental queries, and work abroad with them for short periods of time to provide adequate technical support for their experiments.
What made you want to be a research technician?
I always loved research and knew I wanted to work in this area after completing my MSc degree. This, coupled with my personal interest in plastic pollution, made this research technician position a great fit for me. And I haven't looked back since.
What would you say is the most exciting aspect about being a research technician in soil science?
I love that I am involved in so many different types of experiments and sample analyses! Each new experiment comes with a brand new set of challenges and opportunities to learn new techniques or improve old methods. I also have the fantastic opportunity to work with researchers across the UK and the world and adapt experimental protocols for their country-specific conditions. There is a lot of scope to be creative and collaborative, which I really love.
What would you say is the most challenging aspect of being a research technician in soil science?  
For me, it's the large-scaled field experiments! We usually run several experiments during one growing season, which means being well organised and planning months in advance is a must. And then, of course the Welsh weather!
What is the one thing you wish soil scientists would do (or do more) when they work with technicians?
I am quite fortunate that our team works well together and everyone's opinion and input is valued equally regardless of position within the team. I think in general, I'd like to encourage more open exchange between technicians and other researchers and project leaders – it's important to communicate what sounds good in theory and what is actually feasible under real-world conditions.
Is there anything else you'd like to share with the soil science community?
I have really developed a passion for soil science over the years. This field offers so many different opportunities and ways to look at the same medium, it's fantastic. If anyone is considering taking up a technical position within this field, I can only recommend.