Our monthly series, Technician of the Month, is back after a restorative Summer break. This month, we continue on our quest to celebrate the wonderful work carried out by technicians, laboratory assistants, and research support staff in soil science. This monthly blog post is our opportunity to thank these key individuals, and their tireless efforts to maintain our laboratories, carry out fieldwork, and make research happen!
You can read our previous conversations with a diverse range of soil science technicians here. Don't forget that you can nominate a technician by emailing Daniel.L.Evans@cranfield.ac.uk
Technician of the Month #8
Franzi Franziska – TU Munich, Germany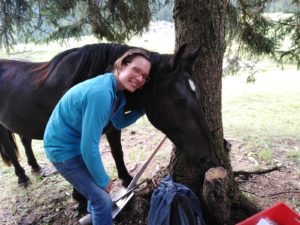 Where are you located (i.e., what institution)? Briefly explain your main responsibilities as a research technician.
I have been working for 13 years in research. First, I worked mainly in molecular biology for 5 years, and also did my training as a Biology lab technician there.
For 8 years, I have been working at the TU Munich in Germany, and for almost 6 years now at the Department of Soil Science. There I am employed as a technical assistant in the research project SusAlps. My tasks are very diverse: from taking samples, to sample preparation, to performing analyses in the lab. Everything is involved. We perform different fractionations, measure C/N contents, ICP, GC, TOC, and also NMR. In addition, I am responsible for training students and interns on the project.
What made you decide to become a research technician?
I love the challenge of trying different things and not knowing at the beginning exactly what will come out, or if it will work at all. There is often a lot of improvising and readjusting to do, which is very exciting. In addition, work in research is always very varied. No two days are the same.
What do you think is the most exciting thing about being a research technician in soil science?
Working with different soils from different regions of the world is very exciting. Every soil type is different and behaves differently. So, for example, it could be that you are working on organic matter fractionation; for one type of soil, it may work, and for another you have to modify the method. The same could happen with different parent materials, different quality or quantity of the organic matter, or if you want to simulate similar conditions in the laboratory that you find in the field. All of this is a huge and exciting challenge.
Also, working outside in the field and working in a team with people from different countries, subjects, topics (professors, postdocs, PhD students, TAs, students) makes my work interesting and never boring. We can discuss and learn a lot from each other.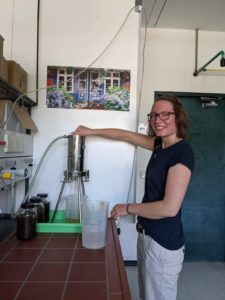 What do you think is the biggest challenge to being a research technician in soil science?
One of the biggest challenges is that you always have to be flexible (almost every day) and adapt to new things, whether it is new people, new methods, or different weather conditions in the field. As a technical assistant, you have to have a solution ready for everything at all times and for each problem that arises.
What would you like to see soil scientists do with technicians?
I am very fortunate to have a super team here at our soil-science department, and the collaboration usually goes smoothly. My bosses often give me a free hand in organizing the various working steps, so I can arrange my day as it suits me best. That's perfect for me. They usually listen to my ideas when we have to modify something in the laboratory or in the field. We are a real team.
There is also no distinction made here as to what academic degree you have, whether someone is a doctor, PhD student, TA or student. That's very important for me. I don't like when someone believes he/she is better or superior than others only because they may have a higher academic degree. For me it's really important to treat every person as I would like to be treated. So please don't look down on other people just because they may not have studied.
Another difficult thing is that you have to calm down the researchers sometimes because some analyses need a lot of time or there are unexpected events. This can always happen and it always depends on the samples how long a process will take. Please be patient with us!
Is there anything else you'd like to share with the soil science community?
I have come to the end of my TA tenure in soil science, my contract goes for a few more months, and then I start a new phase of my life as there is no longer an option to renew my contract. I know that many people (whether TAs or scientists) in research have the same problem and they have to leave their institute after a certain number of years and contract extensions. This is always very painful for everyone involved, as trained people who know the equipment and workflows disappear, and then new personnel have to be trained. Perhaps there will be a solution to this problem at some point, a rethink in politics and administration.