As we edge ever closer to the end of the year, here at EGU SSS, we are busy preparing for another excellent exhibition of soil science at next year's EGU General Assembly. (Don't forget to submit your abstracts by 12th January 2022). Of course, very little soils research could take place without the work carried out by technicians, laboratory assistants, and research support staff. This monthly blog post is our opportunity to thank these key individuals, and their tireless efforts to maintain our laboratories, carry out fieldwork, and make research happen!
You can read our previous conversations with a diverse range of soil science technicians here. Don't forget that you can nominate a technician by emailing Daniel.L.Evans@cranfield.ac.uk
Technician of the Month #9
Douglas Delaqua – Agronomic Institute of Campinas (IAC), Brazil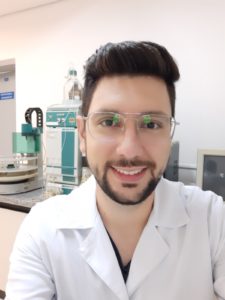 Where are you based (i.e., which institution)? Briefly explain your main responsibilities as a research technician
I am currently working as a laboratory supervisor and agricultural research assistant at the Agronomic Institute of Campinas (IAC) – São Paulo, Brazil, where I have worked since 2010. My main duties are to analyze samples of fertilizers and organic waste with agricultural potential, following official methodology and Lab Management System standards established by ISO / IEC 17025: 2017, to perform internal and external audits, to manage technical and student (master's, doctoral and postdoctoral) teams, and to apply quality tools and performance indicators to the laboratory.
What made you want to be a research technician?
My professional history at IAC started through an internship during the period in which I was in a technical school of Environment. During my professional journey, I completed my undergraduate degree in Technological Chemistry and am currently finishing a master's degree in Tropical and Subtropical Agriculture at IAC, working in a Biofortification of Wheat with Selenium via Leaf and Assessment of Bioavailability for the Human Organism research. With more than ten years of contribution to science, I believe that scientific research is the foundation for the development of humanity, and it inspires and reaffirms my professional choice as a research technician.
What would you say is the most exciting aspect about being a research technician in soil science?
Probably the most important aspect of being a research technician is the interdisciplinarity which allows us to add knowledge to the entire community. Therefore, even though there is a specific technique for each type of research, this does not restrain knowledge to a specific area, so results and benefits are shared with other areas of knowledge.
What would you say is the most challenging aspect of being a research technician in soil science?  
The biggest challenge for a research technician is to work with what is available under the conditions that are offered. We know that a country does not do science just by investing financially in scientists and laboratories. These investments are necessary, but they are not enough. It must be borne in mind that progress is based on what positive science can offer to a country and its citizens. And this is clear when analyzing the situation of support for scientific research in Brazil, which still suffers, much more than the lack of resources, from an endless bureaucracy that hampers any and all initiatives. However, perseverance for a better future and the union of research technicians and researchers are essential for the research to be carried out with the best commitment and the greatest possible seriousness.
What is the one thing you wish soil scientists would do (or do more) when they work with technicians?
The researcher should promote greater interaction between the technical team and the research, exemplifying the objectives, methods and expected results. Do not limit yourself to the field of investigation. Seek to apply instruments that will assist in the collection, interpretation and analysis of data, relating to other areas of science, providing new strategies, approaches, and solutions to thus broaden the spectrum of the study area and correlations with the other areas of knowledge. I believe that this form of interaction, and the visibility of scientific studies, transcends educational barriers.