It is my great pleasure to introduce you to our new SSS Early Career Scientist (ECS) & Outreach team. This year, apart from having a new ECS Representative – Layla San Emeterio – we realized that there's just too much fun for one person! That's why this year, our division has also elected two ECS Co-representatives: Mika Turunen and Dan Evans. Mika and Dan started immediately helping Layla and I with Twitter and brainstorming about blog content. And that's not all! In May, Anna Gunina has volunteered to help us, and in June, Danny joined our team, too. (Is it Christmas already or what?) Our data suggest that our team is growing exponentially and according to our extrapolation model we are expecting to have a team of 10 by General Assembly 2021 and 203 members by 2025 (Fig. 1). (Therefore, keep contacting us at ecs-sss@egu.eu !) Before introducing you to all these wonderful people, let me just stop to make a celebratory dance and say:  I hope THIS curve never flattens out!
Layla San Emeterio
ECS Representative 2020-2022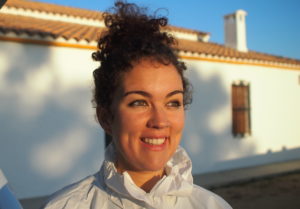 Layla is a PhD Candidate at the Institute for Natural Resources and Agrobiology of Seville (IRNAS-CSIC) in Spain. Her PhD is focused on soil organic matter (SOM) turnover rates in Mediterranean soils under different land use. She works with compound-specific stable isotopes and the application of organic geochemical biomarkers understand the turnover and potential threats to SOM such as fire, warming and drought. Layla has been volunteering for the SSS Division since March 2019 when she started helping with Twitter and has been the main driver of re-launching our SSS Blog that has been inactive since 2016. In her new ECS-representative role, she would like to strengthen interdisciplinary links between our and other divisions, and to support organizing science-policy debates and events covering current issues as well as gender, ethnicity, disability and mental health issues.
Dan Evans

ECS Co-Representative 2020-2022
Dan is a senior research associate at Lancaster University, UK, where he recently submitted his PhD thesis on measuring rates of soil formation and the lifespans of soils. To measure soil formation, Dan used a method called Cosmogenic Radionuclide Analysis. As the ECS Co-representative he would like to contribute to bringing the ECS SSS community together throughout the year, help to kick-start collaborative project initiatives between members of our SSS ECS community, and address mental well-being during GA. Dan wrote a blog about his PhD experience, an absolutely worthy resource for anyone considering pursuing a PhD, check it out. 
Mika Turunen
ECS Co-Representative 2020-2022
Mika is a postdoctoral researcher at Natural Resources Institute in Finland where he was just recently offered a permanent position – congratulations! Mika's background is in hydrological modelling and drainage of clayey agricultural soils. His current research is related to soil-water-atmosphere systems for which he uses both modelling and 3D imaging. Mika is a newcomer to the EGU SSS Division and therefore will be representing all of you that are also new to our EGU family and are trying to make your way around. As the ECS Co-representative, he'd like to help the ECS members to network during smaller events, to meet each other or with senior scientists, and get some good tips on how to make the best out of the ECS life! To find out more about Mika, check out his website and blog: https://sites.google.com/view/mikaspace/ 
Anna Gunina
Outreach Volunteer
Anna is an Assistant Professor at the University of Kassel, Germany. Her research is dedicated to the dynamics of soil organic carbon and nitrogen in natural and agricultural ecosystems, with a special focus on the functioning of microbial communities. She is a new member of our SSS Division Outreach team – she is already helping us Tweeting and is interested in blogging, too!





Danny Itkin
Outreach Volunteer
Danny is a PhD candidate at the Ben-Gurion University of the Negev, Israel. To study formation processes of archaeological soils (ancient anthropogenic soils), Danny applies basic pedological methods and soil micromorphology. He also writes poetry and is interested in soil education and soil history. As a member of our SSS Division Outreach team, Danny is highly motivated to promote international collaborations for the future of pedology and public awareness of soils.