I have just returned from nearly three months in Nuuk, the capital of Greenland, where I was doing my PhD placement at Asiaq Greenland Survey. Read on to find out what science I got up to… everything from mapping mountain glacier snowline change to avalanches!
---
How do you map glacier snowline evolution?
During my PhD research placement, I was working at Asiaq Greenland Survey in their Hydrology, Climate and Environment team on a variety of projects. Asiaq provides knowledge on climate, hydrology, soil conditions, surveying and mapping terrestrial Greenland. They are partners of the research monitoring programmes PROMICE  (Programme for Monitoring of the Greenland Ice Sheet) and GEM (Greenland Ecosystem Monitoring).
I worked on a few different glaciology and remote sensing-based research projects during my stay. One of these was for the Greenlandic Research Council and focused on snowline evolution on the
Qasigiannguit
glacier, a small alpine glacier in the nearby Kobbefjord. There are approximately 20,000 mountain glaciers around Greenland's periphery covering 130,000 km
2
. These are important sources of runoff and snowmelt to downstream catchments and ecosystems and account for around 27% of the Greenland ice sheet's
mass balance
. So, not to be overlooked!
In order to track snowline evolution on this glacier and our knowledge of the snow and firn conditions, I used images from a time-lapse camera installed next to the glacier and satellite observations. The snowline is the boundary between the fresh snow and bare glacier ice. Its altitude at the end of the melt season represents the Equilibrium Line Altitude of a glacier, a parameter strongly related to the mass balance (the net difference between ice gain through snowfall, and ice loss through melting) of the glacier itself. You can imagine that the lower the snowline at the end of the melting season, the healthier the glacier, as it will have accumulated snow on a larger surface portion. To map snowlines from the camera images, I used automated methods developed by Dr Penny How.
Talking of snow, another project I worked on involved snow avalanche mapping of the Nuuk backcountry. This shows potential snow avalanche
run-out zones
and areas of higher
avalanche risk
(i.e. where slope angles are higher and therefore avalanches are more likely to be triggered). Plenty of locals go skiing, hiking, snowshoeing and snowmobiling, so this preliminary work will help the safety of local people out in the backcountry.
Boat commuting into the fjord!
We made plenty of fieldwork trips into the fjord that neighbours Nuuk, called Kobbefjord. A boat into the fjord in the morning made for a nice commute! Our main work involved preparations for the end of the field season, and servicing and downloading data from the meteorological stations that form part of the Geobasis sub-programme of GEM. The monitoring data helps to describe the state of Greenlandic terrestrial environments and their potential feedback effects in a changing climate. Maybe a slightly more unusual fieldwork task, this also included making instruments Arctic-fox proof (to stop them chewing through cables!).
We also stayed in the small research station used mainly for the
Nuuk Basic
monitoring programme, where the effect of climate change and variability in the low Arctic of West Greenland is studied. Kobbefjord offers fantastic views and it was a great outdoor office!
Communicating Arctic science
I took part in a 2-day science communication workshop run by the Arctic Hub, which connects people, institutions, and countries within Greenlandic research. They also offer training on communicating research to different audiences and platforms. Activities ranged from writing and pitching press releases about our research to journalists from the Greenlandic and Danish media outlets, including their valuable feedback, to a discussion around how we can bridge the gap between science, research and the media and Greenland society.
We had the chance to present some of the work from my placement at
Greenland Science Week
in Nuuk. As a celebration of Arctic research, it is a platform for dialogue and knowledge sharing between research, business, policymakers, scientists and citizens. There is a strong emphasis on knowledge sharing and networking and on how research being done in Greenland can benefit and have an impact on the local society, covering all sorts of fields from archaeology to medicine to decolonizing scientific approaches. Overall, it was definitely worth the seemingly endless Covid-19 travel preparations, and there were plenty of memorable experiences (read more about intense pandemic fieldwork adventures in this
blog post
. I also encountered all of Nuuk's weather extremes: sun, rain, snow, a couple of epic winter storms (with wind gusts up to 100 mph!), and temperatures dropping down to -12ºC (felt like in the minus 20s with the wind chill!). There were plenty of opportunities to see the northern lights, the icebergs from Nuuk ice fjord and the beautiful landscape around Nuuk.
I learnt a huge amount during my stay at Asiaq Greenland Survey and it was great to switch my focus from my own PhD research in Antarctica to Greenland! I can highly recommend doing a research placement and this has probably been the highlight of my PhD. If you have any questions or would like to know more, please get in touch!
Further reading
If you would like to find out more about what I got up to during my stay in Nuuk, check out my blog.
Learn more about Asiaq Greenland Survey on their website.
PyTrx (short for 'Python Tracking') has a great Python terrestrial photogrammetry toolbox for glaciology, if you want to learn more about this method.
Edited by Giovanni Baccolo & Maria Scheel
---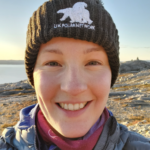 Jenny Arthur (she/her) is a PhD Student at Durham University, UK, specialising in Antarctic surface hydrology and ice shelf dynamics. She is interested in the distribution and seasonal evolution of supraglacial lakes and the potential influence of surface meltwater on outlet glacier and ice shelf stability. Her PhD research uses satellite remote sensing to investigate this on the East Antarctic Ice Sheet. She tweets as @AntarcticJenny and is part of the @EGU_CR blog team and @UKPolarNetwork. Contact Email: jennifer.arthur@durham.ac.uk