Next Tuesday (19th June) the POLAR18 Open Science Conference kicks off in Davos, Switzerland. We have put together a quick guide about events that might be of interest to you during the week! Conferences are about the science, of course, but the social side is just as important 🙂
---
What is POLAR18?
The eagle-eyed among you will have spotted that the POLAR18 conference is, in fact, a collection of different meetings held between the 15th-26th June, it's quite confusing at first glance, so here is a summary of what is going on!
15 – 18 June

– SCAR and IASC/ASSW Business & Satellite Meetings (i.e. Side meetings and workshops) – details here.

19 – 23 June 

– SCAR/IASC Open Science Conference & Open COMNAP Session (i.e. the main event!)

24 – 26 June

– SCAR Delegates Meeting & 2018 Arctic Observing Summit – details here.
---
Venue
The conference and side meetings are held at the Congress Centre Davos which is in the middle of town (see map below). It is easy to walk around Davos, but if you want to use the local buses you get a free "Guest Card" bus ticket included with most hotel, hostel and apartment bookings.
Needless to say, Davos is a great place to be if you like biking, hiking, trail running and just generally being outside – for ideas on what to do, check out the Q&A section of the POLAR18 website.
---
Events for ECSs
There is a lot going on during the week – below we have listed just some of the social and networking events we think might be of particular interest to ECSs.
The Association for Polar Early Career Scientists (APECS) is excited to invite members and other early career professionals from around the globe to our 2nd APECS World Summit 2018! Hosted directly before POLAR2018 – the theme for this two-day event on 17-18 June will be "Connecting the Poles". Please check out this link for more information and very important – YOU NEED TO REGISTER!
Every wished someone had combined all the measurements of this or that for you into one handy dataset? Well….someone has! Pop into the Southern Ocean Data Hack on Sunday 17th June in Room B Strela to see these collected data sets and talk to the creators behind them. The workshop is supported by the NSF-funded SeaView project (www.seaviewdata.org) and the Southern Ocean Observing System (www.soos.aq).
Introduction to and use of the datasets will be on an informal, drop-in basis from 8am – 4pm. Contact: Steve Diggs (sdiggs@ucsd.edu) or Pip Bricher (data@soos.aq ) if you want more info!
Celebrate the Arctic! – Monday, 18th June 2018, from 7:00 PM – 10:00 PM
This is a social networking event to highlight successes of the Arctic research community, organised by ARCUS on Monday 18th June (evening before the official start of the open science conference). It starts at 7pm in the Greenroom at the Hard Rock Hotel Davos. It is a free event with complimentary catering, door prizes, and a cash bar.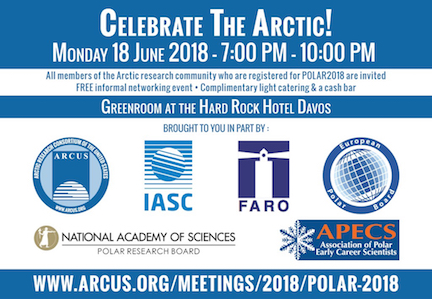 EGU Cryosphere ECS Team Meetup – Tuesday 19th June from 7:00PM
A relaxed social meet-up of the EGU Cryosphere ECS (early career scientist) team – that's the folks that write this blog!
We are always looking for new members to get involved with the blog, our social media team and organising events and courses at the EGU General Assembly. So if you are interested in knowing more about the EGU Cryosphere Team come along to our meet-up to find out more 🙂
Please email Emma (emma.smith@awi.de) for details!
Queers + Allies Meetup – Friday, 22nd June 2018 at 18:30 PM
There will be a Queer/LGBT + Allies meetup at POLAR18 in the Rinerhorn/Strela room at the Congress Centre Davos (conference venue) on Friday, 22 June at 18:30 (after the poster session). The meeting is designed as a meet-up to discuss community goals and get to know people – after the meeting the evening will move to a social location downtown!