On Wednesday 25 May, as part of the 2022 General Assembly of the European Geoscience Union, we held a "Great Debate on Open Science" that was attended by over 100 EGU participants both on-site in Vienna and online. The debate was organised by Francesca Pianosi and Jamie Farquharson with support from Remko Nijzink, Riccardo Rigon and Stan Schymanski, who also co-chaired a technical session on Open Science (OS) the day before.
The panel included professor Christopher Jackson from Imperial College London, and co-founder of EarthArXiv; Heike Langenberg, Chief Editor of Nature Portfolio's Communications Earth & Environment; Peter Löwe from the IT & eScience Department at WZB Berlin Social Science Center and the Open Source Geospatial Foundation (OSGeo); Albrecht Weerts, Expert Hydrology at Deltares; and Kirsten Elger, Repository manager of GFZ Data Services & project co-leader for FID GEO.
The goal of the Great Debate was to equip researchers who are less familiar with OS with a broad view of the current state-of-affairs; and to provide those more actively engaged in OS with an opportunity to share and reflect on the successes, limitations, and priorities for OS across all geosciences.
Many different dimensions of OS were touched upon, from open-access publishing to open data, open-source software and reproducibility of science. The Debate was lively and saw great engagement from the audience both in the room and online – questions had to be cut down after 1 hour and 50 minutes as we were approaching the end of our time block!
As we reflect back on the many points raised by the audience and the panel, here are some considerations and takeaways we want to share with you:
It's never too early for Open Science
OS requirements should be integrated into research project development from the very beginning. It was noted that data and code sharing is sometimes discussed only at the end of a project when seeking publication and having to comply with a journal's policy for OS. This is often too late, and it can undermine the journal's ability to fulfil their commitment to OS – they want to publish good papers but are left with a conundrum if authors do not have the rights to share underpinning data.
[As a side note: the question of how to handle proprietary data came up again and again, as geoscientists often work with third-party data without the rights to publish and re-distribute. What can be done in this case? A provocative answer by one of our panellists was that perhaps we should just refuse doing research in those sectors that do not open-up to data sharing. On the other hand, another panellist pointed out that in low-income countries, restricted access to data is a way for organisations in charge of data collection to cover their costs. So, the question arises of how we can best include such organisations in the OS movement].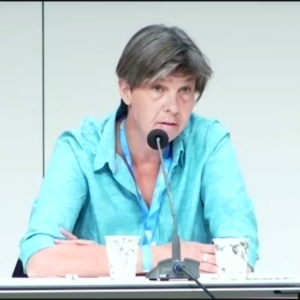 "Open science should start at the beginning, when the research is being conceptualised" – Heike Langenberg
Another point that was made is that we could and should do more in terms of training the next generation of researchers in OS best-practices. At EGU we are seeing an increasing number of short-courses and sessions on open data repository, open computational platforms, OS and citizen science. But can we go further and include elements of OS training at the BSc and MSc level? As we teach research skills or supervise research projects, why not also teach about open data, open software and open publication?
What's in it for researchers?
A recurrent point was made on how developing good quality meta-data or software documentation takes a lot of time and effort. The lack of rewards for these types of activities may push away researchers from really engaging in OS.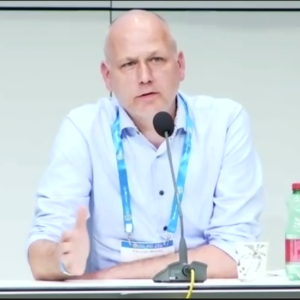 "People tend not to contribute to open source projects—they write their own" – Albrecht Weerts describes some challenges of developing open software.
One of our panellists pointed out that "you don't get your next job by being active about OS" (or for organising a Great Debate on OS, for that matter!). Indeed, the perceived dichotomy between personal advancement and the promotion and adoption of OS practices is often a barrier to open science. Again though, culture can—and must—be changed. Some ideas that were proposed involved the way in which contributions to OS are rewarded by universities: for example, universities could include contributions to OS as an element in their recruitment and promotion criteria, and reward publication of open data and software as much as papers publication.
It was also noted that besides extrinsic motivation, we should also appreciate the role of intrinsic motivation: many researchers commit to OS because they think it is the right thing to do, and this simply "feels good". And that should not be underestimated!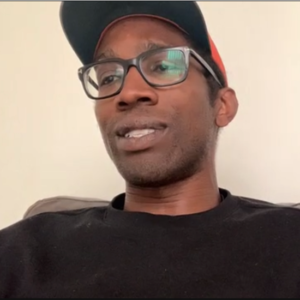 "These things are as important as our technical ability to do science … our ability to communicate it, who gets to do it, who in the future might get to derive value from our work" – Chris Jackson
Embracing OS in research and beyond
All panellists agreed that, for all the missteps and delays, we have come a long way with OS. Some panellists remembered how, when they started doing research some years ago, those advocating for open data or open software were often regarded as naïve idealists or troublemakers! Culture has really changed in this respect; data sharing has become common practice in many fields, and discussion on OS has become mainstream and less divisive.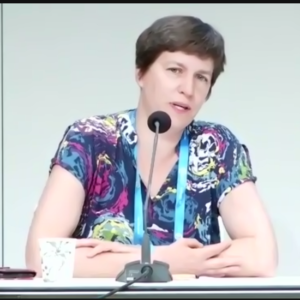 "The simple fact that journals allow the citation of data in their reference list … was the first and very very important step" – Kirsten Elger highlights some positives of the increasing interest in open science.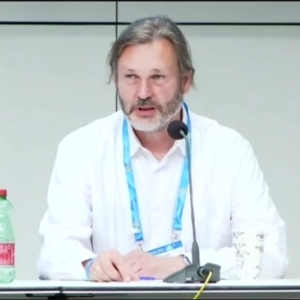 "Yee-ha! I'm going to code everything myself and slap an open-source license on it" – Peter Löwe mentions some of the… different approaches to open science practice.
Questions were raised about whether OS, and particularly sharing open-source software, may conflict with commercial or career opportunities beyond academia. Such conflict may be less sharp than expected. One panellist pointed out that publishing open-source software (OSS) does not limit future opportunities to develop tailored commercial software for specific clients – OSS is like the blueprint of the Cologne Cathedral, whose free circulation only fostered many more custom designs of Gothic cathedrals across Europe. Another panellist pointed out that, far from being discouraged, OS commitment may be now explicitly required in tenders, for example this is the case when offering consulting services to the World Bank.
The role of funders
One voice that was missing in our Great Debate was that of funding institutions. It was widely recognised by all panellists that funders play a major role in shaping and directing research practices. Not only do we need dedicated funding streams to sustain OS initiatives, first and foremost open data repositories; but they can also accelerate the uptake of good practices by requiring more stringent OS commitment in project proposals.
What's next?
The conversation continues over on our Open Science channel on Pangeo: https://discourse.pangeo.io
Get involved with the discourse on OS practices and policy, and join an ever-growing community of open science enthusiasts!