I am not a scientist by profession, but some years ago, I started seeing the far-reaching impact of geosciences as I navigated some of the Earth's fascinating locations. From wild, remote areas to urban jungles, I learned to appreciate the sciences that make sense of places, and this concept started to inspire my artistic practice. While I enjoyed my time doing illustrations to depict a few engineering projects, I became curious about linking art, communication, and the environment. And then I found that I could do just that at Europe's largest geoscience conference in Vienna, a city where every other building looks like it is inspired by a geo-related graphics. I couldn't be more excited!
When I went to pick up my EGU22 badge, I found the conference venue surrounded by big crowds. It filled me with a mix of delight and uncertainty. I wondered how the registration process would be, and yet, I felt a certain thrill from seeing the large number of people; an unusual feeling after COVID 19 reduced socialising and face-to-face interaction. My worries proved to be unnecessary. Plenty of registration booths handled the approaching masses with ease. If only airport check-ins would be this smooth! This initial impression soon set a high bar that followed through the week.
On the first day, I started early by purchasing some material for a workshop I intended to do, and then I set up my booth at EGU22.
I thought I'd go over the course I was to deliver in the afternoon, but instead, I got approached by folks from the science community. With one of them, I spoke about maps. A few minutes in, they said something like, "Ah, finally someone who likes maps as much as I do," and I knew I was at the right place here. This started a train of great exchanges about everything from outer space to tectonic plates.
The time flew, and I had to interrupt the talks to give the course. It was also a step into the unknown, as my usual audience is quite different. But like with the registration, it turned out to be a great experience.
I spoke about interpreting landscapes and invited the listeners to make their own. And people came up with fantastic ideas! Anything from essays through 2-D art to 3-D pieces.
The rest of the day, I wanted to attend others' sessions, but between making artwork and continuing my discussions with people, the time flew by too fast to do much more.
The more I talked with people at EGU22, the more I uncovered that the features I like in artistic communities, such as transnational, open-minded outlook and passion for the field, are equally present in scientific circles.
"Yay, I'm definitely at the right place here," I thought.
In the following days, I made my way around the colossal space of the conference centre — five floors of rooms and halls with a constant stream of sessions. People gave over 12,000 presentations during the General Assembly. So many great ones to attend; it was hard to pick! But that's a good problem to have, I'd say.
I found every session that I attended interesting in different ways. Some were educational in their content, others in their form — like case studies for communication. Some combined the two in an entertaining fashion, for instance, to explain why you wouldn't want to live on a planet without volcanoes. Some presentations covered things way beyond my domain, but researchers reassured me that they sometimes get overwhelmed too.
Art isn't just paintings and sculptures. And so, when I heard sentences such as "…Consistent point of view when explicitly defining sources of predictability for repositioning velocity…" I might have gotten lost, but I appreciated the art of language.
In my own course, I spoke about how one can see geo-patterns beyond the physical world. Landscapes of emotions, sediments of memories, and so on. This approach offered to see others' presentations in a slightly different light. For instance, one remarkable medal lecture was about how stable and sustainable aren't always the same thing. The speaker covered this about landscapes, but I thought that it could also apply to so many concepts on philosophical grounds.
And so, I always found plenty of ways to relate to the presentations, regardless of their topic. It was like visiting a library and liking every book there.
EGU22 also had an expo pavilion, bringing more opportunities to chat with friendly folks, like those from ESRI and NASA, and more options to learn cool things. Is a copter drone or a fixed-wing aircraft better for documenting water deposits in fields? What are the latest possibilities for experimenting with biotopes? Am I inspired yet? Well…
The process of creating can take ages. Get an idea, refine it, come up with the right technology, address potential risks, build it… But to do that within a week? Moreover, I was coming straight from another conference, so I couldn't carry lots of tools or bulk with me. But challenge accepted!
So, what did I make? I brought a hard drive with some video footage I made earlier, which I turned into an interactive digital installation. The visitors could adjust the image in real-time to blend political and geographical maps, shift their colours, and apply doses of other distortion to convert the maps' informative form into decoration. I also included scenes of crowded urban and empty rural areas to combine, switch between, and play with.
While changing the context of things, I used my photos of organic and hard-edged architecture to make this texture: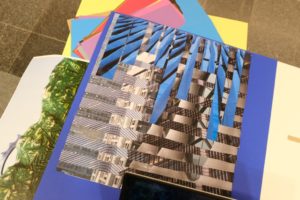 Then, a few people came to me with their projects to see if we could intersect creative science and scientific creativity. One of which was about using stylolites for reading overburden pressure. The physicality of the pushing force that bends rocks attracted me to the subject, and I thought about how I could produce something along similar lines. I came up with an idea to use cardboard, as one can effortlessly compress it, and it is an easy-to-be-sourced material around a conference centre like this. After a quick chat with a kind person from the catering team, I had what I needed and made this cube.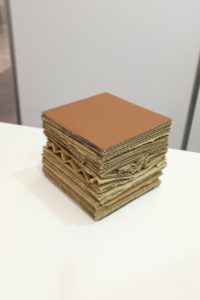 It is a project to be continued, along with a few others. Stay tuned; EGU22 will live on with me for a while. What an absolute treat!
Many thanks to everyone who chatted with me, stopped by my booth, came to my talk, participated in the workshop, and allowed me to join them for dinners to prolong the engaging conversations into late evenings. I feel honoured to be able to meet them. And, of course, monumental thanks go to the EGU team, who made all the above possible.
For those who want to get in touch with Jakub, he can be reached by email (hello@jakubstepanovic.com), Facebook, Instagram, and LinkedIn. His website is jakubstepanovic.com