Early Career Scientists (ECS) often face challenges when it comes to finding and pursuing their career path. Science offers a wide variety of options, so building a career in or around science can be quite daunting, with no clear single path to follow. While research is an obvious career choice for ECS, it can be conducted in a variety of different settings; from academic and governmental institutions, to industry, and the private sector. Amidst all these options, it is easy to get lost and wonder whether an academic career is the right choice at all.
The ongoing pandemic has made it even harder for ECS to make career choices. In pre-pandemic times, existing obstacles could be overcome or at the very least, be addressed to some degree through in-person meetings and conferences that enabled networking and informal exchange. But this is not so true anymore!
As a result, ECS often have to deal with uncertainty and have several questions like:

"What funding opportunities are available at this stage in my career?", "How can I grow my scientific network for future collaborations?", "Are there career paths other than tenure track positions?", "How difficult is it to switch between academia and industry?", "What can we do to improve the working conditions inside academia?", "Should I move across the world for a science job during a global pandemic?", "Is it possible to make this career work with my private life and family?"
To help answer these questions and offer guidance in a timely manner, the ECS working group 'Jobs and Careers' aims to bring together scientists of different career stages – both inside and outside of academia – with funding agencies and recruiters for networking and resources for career paths and jobs. Through short courses and great debates at the EGU22 General Assembly, pop up events and webinars, the group builds a platform not only for students and ECS but also for researchers in the later stages of their career path.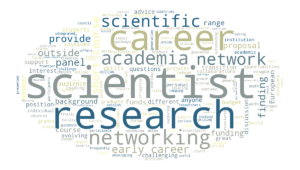 Recent activities of the working group include short courses at the previous General Assemblies. In "How to find funding and write a research grant", a panel of scientists and funding agencies shared their experience on applying to different funding bodies and provided top tips to ECS. The panel discussion "Careers inside and outside of academia" brought together scientists with a range of backgrounds to give advice on where to find jobs, how to transition between academia and industry and what are the pros and cons of a career inside and outside of academia. In addition to the events as part of the General Assembly, we also organize webinars and share blog posts and information throughout the year.
Currently, preparations for the upcoming General Assembly are ongoing, which include a speed-networking style event to bring together scientists and industry professionals, a panel discussion where researchers in different positions and career stages share their experiences, and a Great Debate on the state of academic jobs in 2022. Beyond the General Assembly, the working group also holds regular meetings where events are planned and new ideas are shared and discussed. For example, there are a number of webinars and blog posts to which the working group contributes regularly, including the recent Mentoring Webinar and the Mentoring Programme blog.
For now, the working group is primarily made up of Early Career Scientists, but we are looking to diversify and are always looking for new members. If you are interested in contributing, please feel free to get in touch by contacting the current head of the working group Meriel Bittner or the EGU Deputy Union-wide ECS Representative Jenny Turton.