The EGU 2013 mobile app is now available for iPhones and the app for Android smartphones is expected tomorrow afternoon. To download it, you can scan the QR code available at the General Assembly website or go directly to http://app.egu2013.eu/ on your mobile device. You will be directed to the version of the EGU 2013 app for your particular smartphone, which you can download for free.
Once you open the app, the home menu will show you four possibilities: you can "Browse" and "Search" the meeting programme, select presentations to be added to your "Personal Programme", or find out more about the General Assembly or what's currently happening at the Assembly on "Twitter".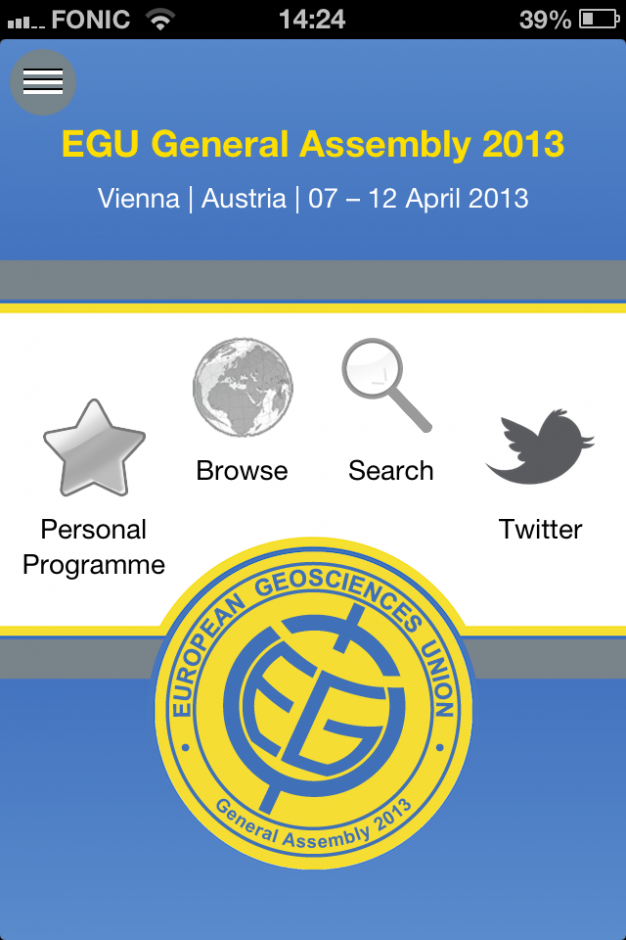 The icon in the top left takes you to the main menu, where you can read more about the Assembly, and if you find yourself lost at the Austria Center Vienna, there are floor plans here to show you the way: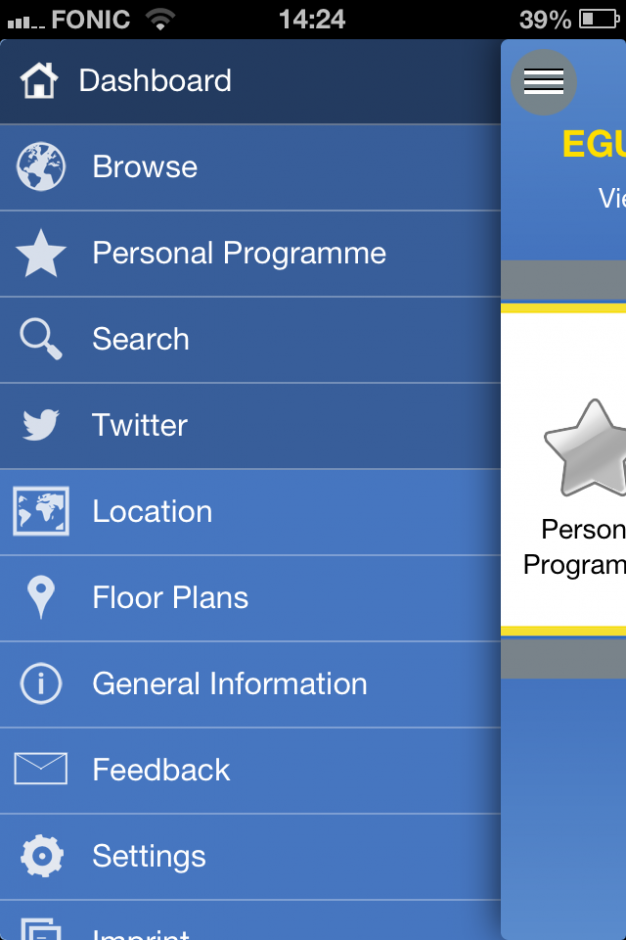 You can browse the meeting programme in "Browse" (also accessible from the dashboard), and choose a session or group of sessions (example, Short Courses, SC) for a list of talks including title, date, time and location. The coloured square indicates in what level the room is located (Blue Level – Basement, Green Level – First Floor, etc.).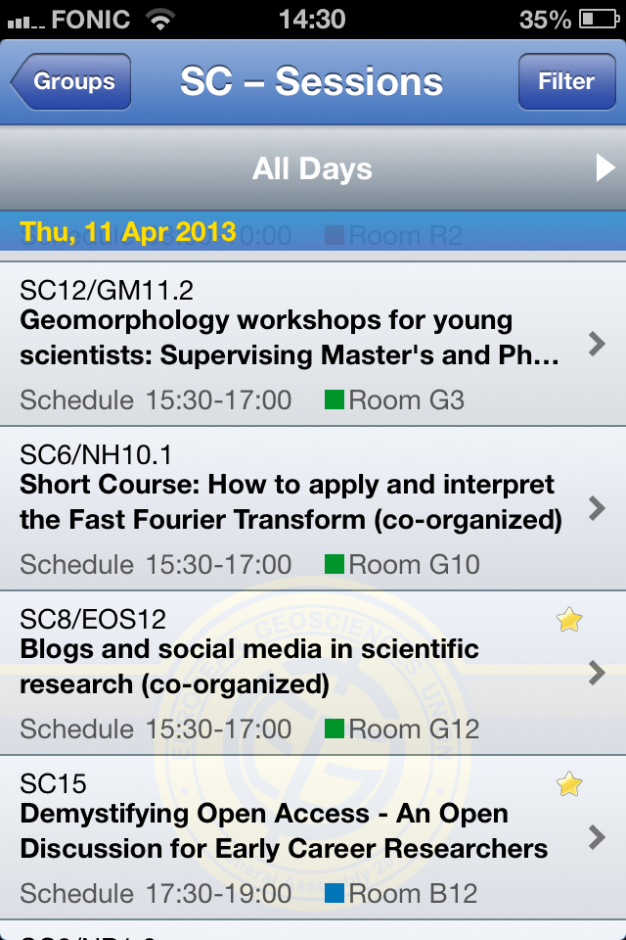 By clicking on a listed talk, you can find more information about the presentation in question. To add an oral or poster presentation to your "Personal Programme" (accessible from the dashboard or side menu), simply click on the star on the top right corner of the "Description". You can also add it to your phone calendar by clicking on the "Session in Calendar" button.
Presentations already added to your "Personal Programme" will be listed with a yellow star. Simply click on the yellow star again to remove it.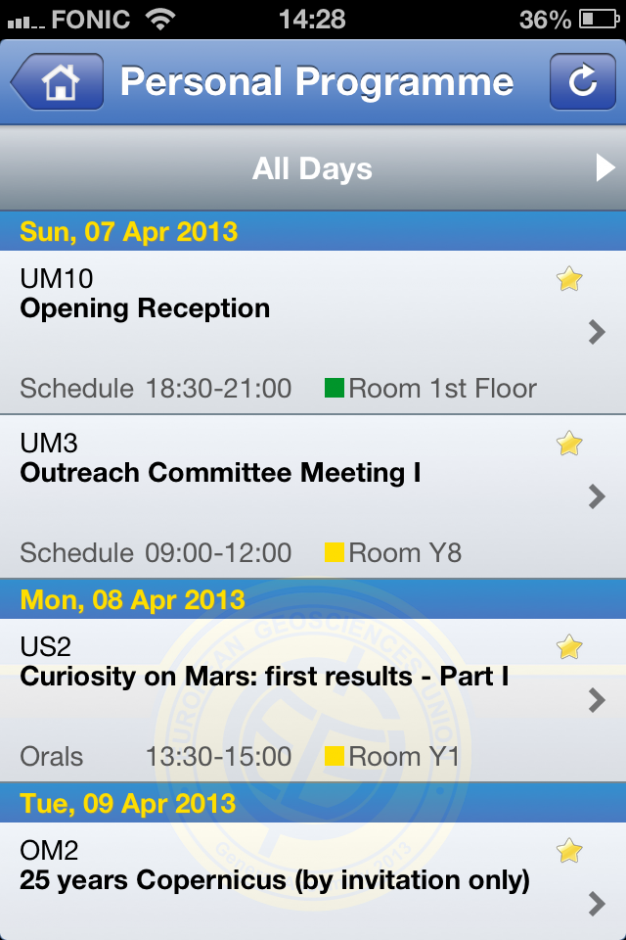 For what's going on during, and in the lead up to the Assembly, click on the "Twitter" icon. If you are unfamiliar with Twitter, this is essentially a news feed for the General Assembly, where you can follow what's going on in real-time, see what sessions other people recommend and ask questions of Assembly participants. To ask a question or highlight a great session, simply click on the bird. All tweets are automatically tagged with #EGU2013 so they will be added to the conference Twitter feed.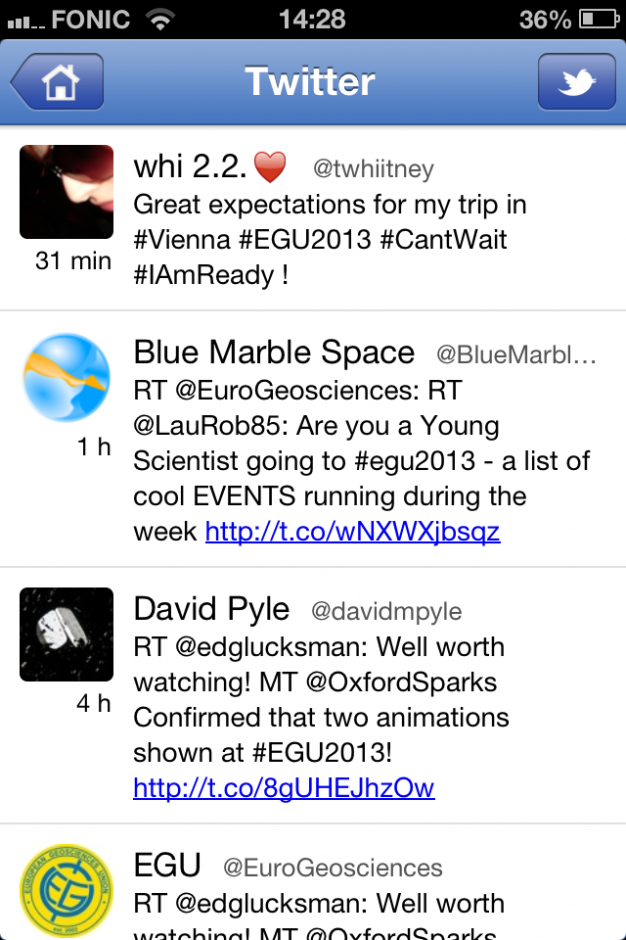 We think our conference organiser Copernicus certainly outdid themselves in creating this wonderful app. What do you think?