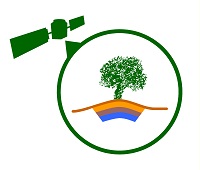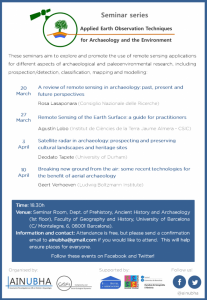 These seminars aim to explore and promote the use of Earth Observation (EO) techniques for different aspects of archaeological and paleoenvironmental research, including prospection/detection, classification, mapping and modeling. The variety of EO-related topics that will be presented in these seminars reflects some of the current trends in remote sensing applications in archaeological contexts.
Focusing on new approaches to interpret existing datasets, as well as entirely new remote observation technologies, the talks will explore concepts ranging from multi-temporal image analysis and radar data to hyperspectral imagery and the use of aerial drones in archaeological applications:
20/03
A review of remote sensing in archaeology: past, present and future perspectives
Dr. Rosa Lasaponara (Consiglio Nazionale delle Ricerche)
27/03
Remote Sensing of the Earth Surface: a guide for practitioners
Dr. Agustín Lobo (Institut de Ciències de la Terra Jaume Almera-CSIC)
03/04
Satellite radar in archaeology: prospecting and preserving cultural landscapes and heritage sites
Dr. Deodato Tapete (Univeristy of Durham)
10/04
Breaking new ground from the air: some recent technologies for the benefit of aerial archaeology
Dr. Geert Verhoeven (Ludwig Boltzmann Institute)
The seminars will take place at at 18.30 at the Seminar Room, Department of Prehistory, Ancient History and Archaeology (1st floor), Faculty of Geography and History, University of Barcelona (C/Montealegre , 6, 08001 Barcelona; see map below).
The seminar series is organized by CaSEs research group (Complexity and Socio-Ecological Dynamics, IMF- CSIC) and AINUBHA (Association of postgraduate researchers in Archaeology, University of Barcelona).