The Geosciences are at the forefront of the fight against climate change. It is Geoscientists who discovered it and explained it, and it is Geoscientists who work to understand it and its consequences. Geoscientists undoubtedly will be amongst those who will lead us to the solutions.
However, it often seems that Geoscientists are solely associated with the extractive industries, a damaging false perception of our science. It vastly deflates our perceived value and leaves us with an image crisis. Imagine you are a young person right now looking to your future, wanting to contribute and pursue a career that makes a positive benefit to society. If you see Geoscience as part of the problem you are not even going to consider it. We need inspired and creative young people: the future geologist who locates reservoirs to store carbon dioxide in; the future geomorphologist who will work out the mechanisms through which microplastics are transferred from land to sea; the future hydrologist who finds new understanding to better predict flooding that saves thousands of lives.
The Geoscience for the Future initiative aims to promote the many ways Geoscience can contribute to a more sustainable society. I caught up with its creator, Dr Natasha Dowey, to find out more.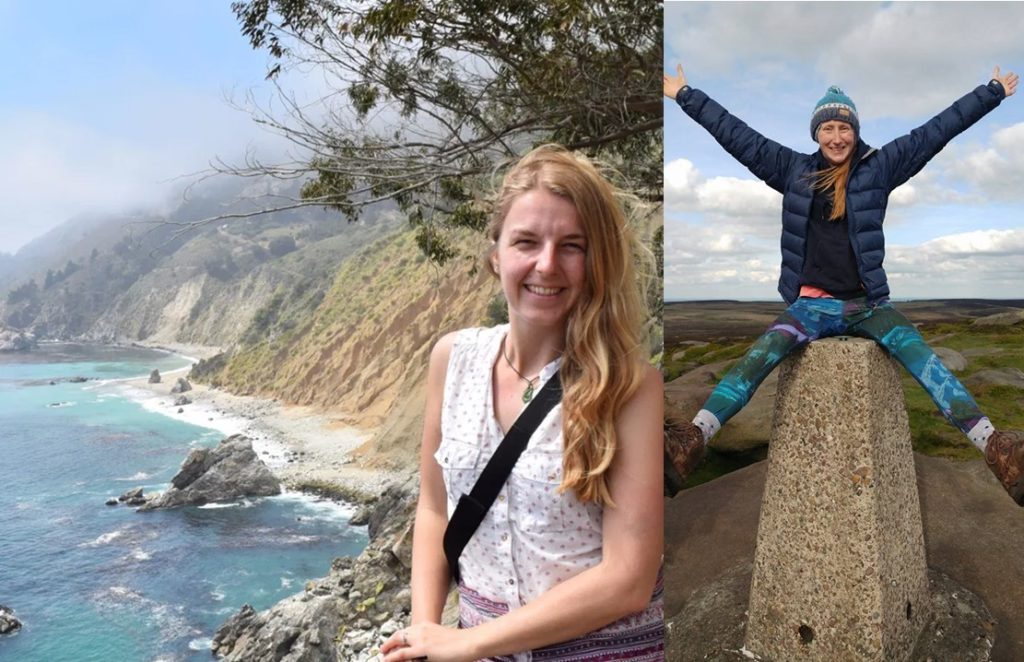 The GeofortheFuture team. Dr Natasha Dowey (left) created Geoscience for the Future and runs it with Dr Hazel Beaumont (right); both are Geoscience Lecturers.
Why did you set up Geoscience for the Future?
"Geoscience is so important to our society and is crucial in meeting the UN's Sustainable Development Goals; Geoscientists mitigate against environmental hazards, they manage vital resources like water, they work in renewable energy… If you're looking to tackle the climate crisis head on, there is no better way to do this than becoming a Geoscientist. But public opinion of the subject is really low, and student numbers are dropping.
For too long, our subject has been seen largely as a place for white, able-bodied men. There is a chronic lack of diversity in our subject in Global North countries – and those Geoscientists who are from Black, Asian or minority ethnic communities, or who have a disability, or who identify as LGBTQ+, have not been heard enough.
I started Geoscience for the Future to promote all the positives of Geoscience; all the ways in which our discipline is contributing to a great future for our planet and to represent a more diverse face of Geoscience. We want all young people to be able to see Geoscientists who look like them, with stories like their own, doing awesome things and changing the world in the ways that they want to do themselves. It's been great to have Hazel join me in this effort, we've grown in our ambition to reach and engage with as many people as possible."
What are your hopes for Geoscience for the Future?
"As a community, Geoscientists must move forward from defending the past, to instead focus on making geoscience a diverse, modern part of a sustainable future. We want to combat stereotypes about who we are and what we do and encourage our peers to join us in reframing the narrative of our subject. Geoscientists must work together, across academia and industry, to change the story and encourage the next generation to get involved.
We hope that our blogs and outreach network can connect with young people from all backgrounds, so that they may consider becoming Geoscientists, to find minerals to create batteries to store renewable energy, to explore for geothermal energy, to work in communities across the world to reduce vulnerability to geological hazards… to make a difference to society."
How can people get involved in Geoscience for the Future?
"Hazel and I are always on the look-out for awesome stories of Geoscience for our blogs, particularly those that showcase diversity, international geoscientists, and interesting multi-disciplinary collaborations. Our focus is the broad umbrella of Geoscience for a more sustainable future; take a look at the posts we have had so far and you will get a feel for it.

We also have the new #AskAGeo hub, an outreach network where students and teachers can contact professional Geoscientists from a range of backgrounds and countries, working in a range of jobs. We currently have around forty Geoscientist profiles on there and would love to develop this resource even more. If you're keen to join, we just need a profile picture, a little bit of blurb, and a social media contact. We are promoting this already on our social media but we are aiming to start doing targeted events with schools this year. If you're interested in writing a blog, or joining or network, please reach out to us Twitter, Facebook or Instagram on @geoforthefuture, or drop us an email at geoforthefuture@gmail.com."
You can find out more and get involved by visiting the Geoscience for the Future website.